We are all after that next winning trade.
Like many other traders out there… you may wake up early to watch CNBC, check the news, hit the chat rooms…
It's not bad to keep abreast of those things… but what's the plan… listen to others?
I try to stay away from listening to the talking heads
And all those chat room guys are just touting the stocks they are in using the hold and hope strategy… they aren't trading for wins.
Every day is the same… today's the day, it's gonna pop… those short-sellers are going to get crushed… blah blah blah…
I don't waste my time with the hold and hope strategy… there's no edge.
What I do is take a more proactive approach to trading… I actually find my own trades, imagine that… and I look for trades that will make me money quickly… no holding and hoping.
All you need is a simple stock screener with the right criteria and the scan does the dirty work.
It's way quicker, way easier, and way more likely to put winners on your screen…
Scanning For New Trades
When I say all you need is a simple scan… I really mean it… you don't need special software with complex algorithms…
Anyone can run a scan and find the stocks that are ready to trade.
And you can find plenty of free options for screeners online… your broker likely has the capabilities as well.
What's in a Scan?
Obviously, we need a trading strategy first, that goes without saying… but I just said it.
The purpose of a scan is to find stocks that fit the criteria of your trading strategy, quickly and easily.
Who wants to be randomly picking stock symbols to pull up and look for trades? Chances are 99% of those symbols won't have a setup or even meet the basic criteria of your system at that moment in time.
A scan lets you define the specific criteria so you will only be looking at stocks with potential… sure they won't all be trades… but they will be potential trades, so you aren't wasting your time.
Time is money… so scans have massive value and are very simple to develop and run.
At this point, you are probably wondering why you aren't already using one… or better yet, why hasn't anyone told you about them before?
Well, whatever the reason… after today finding trades gets a lot easier.
Developing in a Scanner
I personally use Finviz to run my scans… and it's super easy.
Creating a screener only takes a few clicks of the mouse, and once you get it set the way you want it… you can even save it so next time you are just one click away from your tradable universe.
For the most part, I trade penny stocks and look for basic technicals and my simple chart patterns.
There are a lot of criteria to choose from so no matter what it is you look for in a stock, it's probably there.
For example, one thing you can do is filter for stocks crossing above key moving averages…
So you could create a scanner for stocks with average volume above 1 million, relative volume above 1.5, and the 20 SMA crossed above the 50 SMA.
Below is what the Finviz screener looks like… Up top, you have 3 tabs full of different parameters you can filter by… and below you have the results… the screener took thousands of stocks down to just 13…

How could you possibly find stocks that are meeting your trade parameters when there are thousands?
That's the value of a stock screener… by using a handful of dropdown menus, you can narrow down thousands of stocks to a focused core that meet your trading criteria.
You can screen for fundamentals like earnings, margins, and growth… technicals like moving average crosses, candlestick patterns, and gaps… and basic descriptive elements like price range, volume, and industry… and of course so many more…
You can learn the exact criteria I use in my scans and how to set the screener up… and of course how to use it with my system. Get started here… with my free stock trading starter pack.
To show you a full view, let's look at a stock this screener pulled up a while back and see how it played out…
Look at the chart below… AAPL is an example of a stock that you could have found in a basic screener like the one above… the blue oval on the chart shows where the 20 SMA crosses above the 50 SMA…
Once the screener narrows in on stocks matching your inputs, all you have to do is look for a trade setup by rolling through the charts.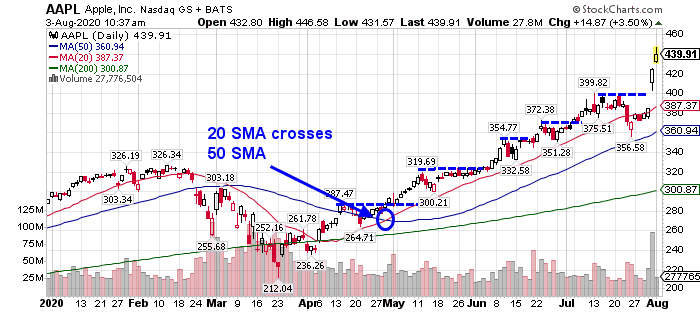 In this case, you can see AAPL gapped up and pulled back to previous resistance… which held as support…
While in the new consolidation range, the 20 sma (red line) crosses above the 50 sma (blue line) putting AAPL on your scan.
Now when AAPL breaks above the new resistance level from the previous gap up, you have a potential buy entry… depending on your own criteria for such a trade.
As you can see once the cross happens and AAPL breaks out, there is a nice move up in the chart…
Trading without a stock screener puts you way behind in your trading… you will miss trades more often as you simply won't have them in front of you…
And missing trades means missing paydays.
Now that you know how simple and powerful screeners are, you don't have to waste time with inefficient ways of finding trades…
Not only that, but you will benefit from having more potential trades in front of you… giving you that much more opportunity.
To learn how to use Finviz stock screeners in just minutes a day… and narrow in on the stocks that best fit your parameters for a profitable trade setup… as well as how to trade my setups…
Check out my Free Stock Trading Starter Pack…