This week we hit a catalyst play in the EV sector… or should I say the potential of being in the EV sector… yeah you read that right… just the potential.
EV has been a catalyst play on the tail of Tesla, so excitement in the sector is nothing new..
I've been writing about and trading EV stocks for a while now…
But this week it was a one-off play from a company that isn't actually currently in EV. They are simply announcing the desire to enter the field.
This happens every so often in pennies…
Companies, trying to keep their price up to keep from being delisted or maybe to grab some insider profits, will announce the intention to enter whatever industry is super hot at the time and the stocks go soaring…
But it's usually nothing more than smoke and mirrors… or pipe dreams.
Regardless of that… the whole thing sets off some insane rallies.
Often short-lived, but powerful and profitable nonetheless.
And this week the most recent insanity was set off by a press release from SPI energy… 
On top of which… the big move actually lined up with a live training I was doing in my Platinum room on Wednesday…
So my members witnessed it all in a live lesson…
And I'm gonna walk you through what happened and how to trade these with the real life example from my live training last Wednesday.
SPI Soars on "Potential" of EV
This was all set off by SPI Energy Co. (SPI) on Wednesday.
SPI Energy Co., Ltd. provides photovoltaic solutions for business, residential, government, and utility customers and investors.
And then last Wednesday the company announced plans to launch an Electric Vehicle subsidiary… noting the plan to follow Tesla into the end to end business strategy for sustainable energy.

Tesla is on a tear…
So let's build some EV's, easy enough right?
This sent SPI soaring over 4,000% from a close of $1.05 to a high the next day of $46.67.
Insane if you think about it… from a market cap of about 15 million to 700 million overnight… just from an announcement?
An announcement of something that is far more unlikely than it is likely…
Welcome to penny stock land.. Where it's all about the excitement!
But that's okay really… As long as you know the reality, there is a lot of money to be made on these moves.
And I mean A LOT…
Just look at what a couple of my members were able to pull out of SPI**


And there's nothing different about these trades than any other trades… other than the magnitude of the move.
The size of the move isn't something you can control…
It all comes down to controlling what you can… which is having a strategy and sticking to your setups.
Sometimes you'll get small moves, and sometimes you'll fall into a monster like SPI on Wednesday… just by trusting your setups.
My Live Lesson in Platinum Wednesday
Here's what happened with SPI on Wednesday… and how my members cashed in during a live training I was doing on "Gap Up" stocks.
I trade live every day in my Platinum chat room… and that's exactly where I was when SPI took off…
In fact, I wasn't just there… I was teaching a lesson on "gap up" stocks and SPI was the stock I keyed in on for the lesson…
The room opens up every morning before the market and I'm in there trading, talking, teaching, and looking for the next moves…
I started a lesson on Wednesday at 10am EST and at that time SPI was hitting the criteria for trading a "gap up" stock after a pullback.
First off it had gapped up that morning opening at $3.54 after closing the previous day at $1.05.
And after gapping up, the stock was in pullback mode.
Talk about good timing…
The stock had gapped up on the "entering the EV market" news… and there was clearly A LOT of demand for it.
But often (not always) there will be an initial pullback on some profit taking.
That doesn't mean the demand isn't still there, it's just a way for the stock to breathe and get ready for another push.
So after the pullback, I was talking about watching the opening range and looking for a potential buy on a break of the highs…
And of course, as always, my strategies are very keyed-in on volume. I want to see the real demand fly back in as it breaks above the opening range after the pullback.
We opened it up, looked at gap ups and pullbacks… and SPI was front and center as it was right in its pullback at the time…
We set our eyes on the $4.20 mark for a potential break above the highs and another move up.
And…. Well, let's go to the chart…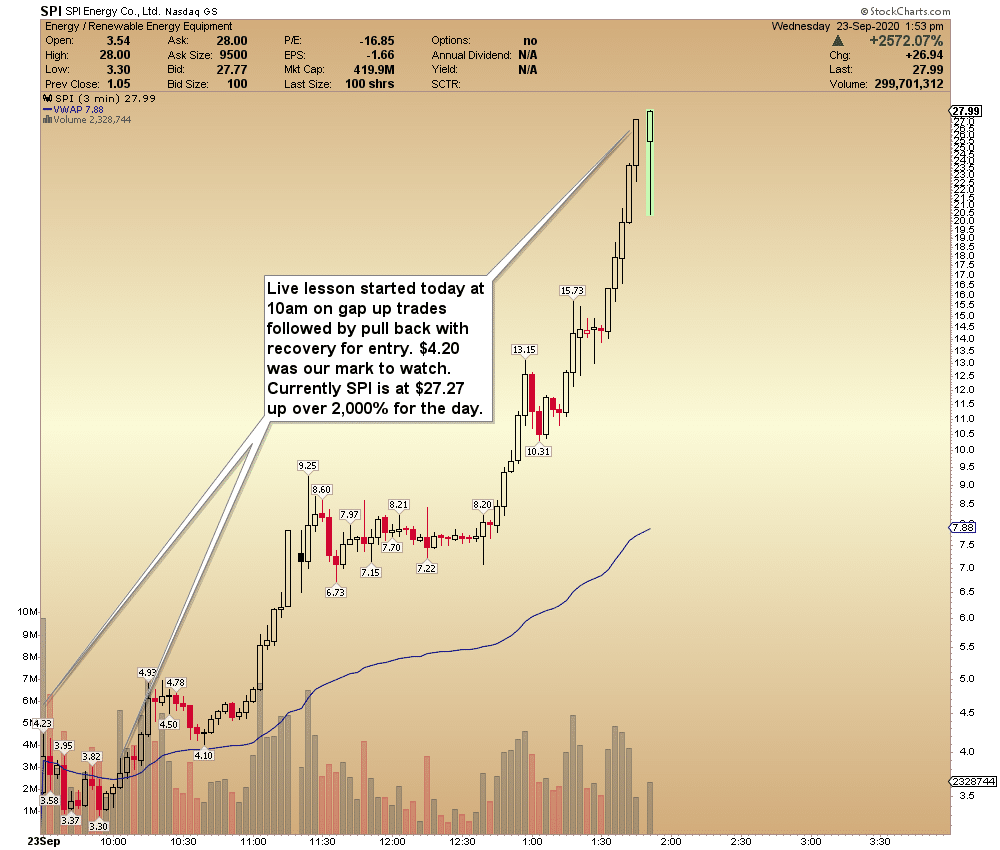 SPI straight up exploded…
Clearly not every stock is going to move like this… it's an outlier.
But something you will find in penny stock trading… this does happen.
So if you stick to your setups, you will step into explosions like this from time to time…
You just need to be ready to take advantage of them when it does happen.
And that's just what my members did**

If they are really going to follow Tesla, shouldn't I just hold it forever?
I laugh and cringe at that question.
Here's to Smoke and Mirrors…
This isn't the first time SPI has "followed the money" or the trends. 
In September 2017 SPI decided to get into Blockchain:

And just last September 2019, SPI energy announced the launch of a Hemp and CBD business… 
Each time they jump on a bandwagon, the stock soars… but as you can see in the chart below…
…so far, nothing has stuck… is EV the one that will finally workout for SPI?
Time will tell…who really knows… I mean at least this time it's in their wheelhouse..
Who decided Hemp was a complimentary business?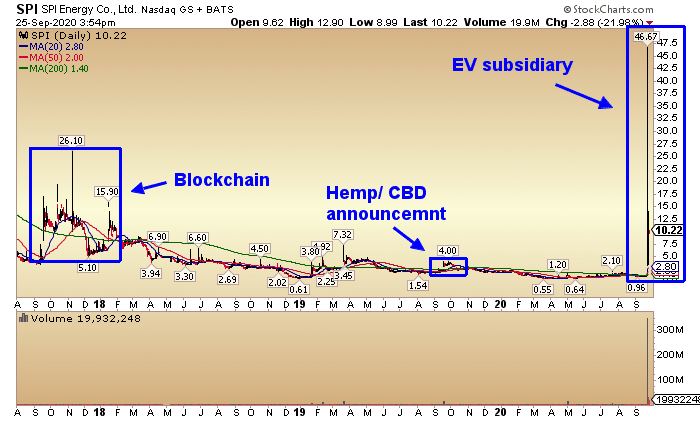 What I am really trying to show you is how so many of these penny stock news releases are just ploys to get excitement behind the stock.
Whether management needs a way to keep the price above $1 to keep from being delisted or they are helping some insiders pull some money off the table… the end result is a lot of excitement, but not a lot of substance.
But again… that's actually quite okay by me…
These moves are money makers for those of us that know how to trade them.
Stay in reality and trade the setup not the illusion. Don't marry the news… simply trade your plan and take your profits.
My members got to see this trade unfold right in front of them as I taught a lesson on trading a  "gap up" stock after a pullback…
You, too, can be there every day with me and my members… Join Profit Prism Platinum…
You'll get the education, alerts, watchlists… and of course access to my live trading and chat room… where I am right there on screen every day.
If you want to be a trader, Learn from the best… Join Profit Prism Platinum Today