I've talked about volatility a lot as of late.
For most, it's proving to be very challenging.
Not so much for me though. In fact I recently added a new service… Weekend Wiretaps, which has me pulling money from the market over the weekend.
I get it the weekend is our break from the market. It's a time for fun and relaxation.
And with the stock market closed… you must be wondering how I can possibly pull that off?
But that's just it, I'm not actively trading.
And I'm not taking some random trade here. I have very specific criteria I am looking for to find the best trade to take over the weekend.
The key is, I am not dealing with the market itself, such as the SPY… the ETF tracking the S&P 500…
… nor am I trading the stocks of household companies…
You see the market and blue-chip stocks are currently in a news-driven cycle… and leave you at the mercy of weekend headlines… which could be catastrophic… especially right now.
So instead of keeping up with and worrying about the news over the weekend… when there is nothing you can do about it…
I get to spend time being active, getting things done and relaxing with friends and family.
This is why I trade stocks that are moving due to their own catalysts, they aren't affected by the overall market chatter…
And I created a strategy to take advantage of weekend moves in those stocks… Weekend Wiretaps…
You probably have a lot of questions, so let's dig in with the 411.
Tapping into the Market over the Weekend
At the end of the day on Friday, I run my custom scan to narrow in my single best stock to hold over the weekend.
I place a trade in this stock on Friday afternoon and then go out and enjoy my weekend with no stress.
And don't worry… I have specific criteria I look for… mostly based on the demand coming into the stock, mixed with a chart pattern and a catalyst to propel the stock higher.
That's all it takes… and I don't have to spend any time worrying about what is happening in politics, Covid-19, the global economy or anything else in the world.
I don't have to read all the headlines, or even worse try to make sense of them…
Just pick the very best setups in stocks giving me the highest odds of making a move Monday… and start each week off with some green.
And members of my service get a trade alert every Friday afternoon letting them know my very best trade idea to hold over the weekend.
Not only is it easy to follow, you know exactly when to expect the alert each week.
Take a look at last Friday's trade.

Inovio Pharmaceuticals, Inc. (INO)
I sent out an alert and entered a trade in INO last Friday.
The rectangle on the chart shows the two day trade… Friday being the first candle, where I entered the trade and held it over the weekend.
And the second candle is Monday when I pulled in 13%.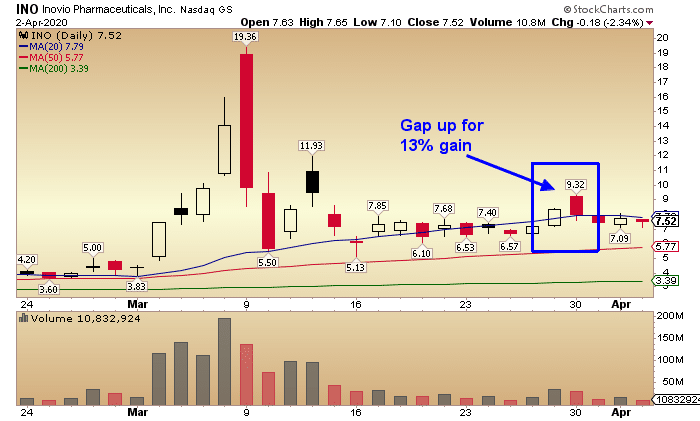 I'm sure you are looking at Monday's candle and thinking how ugly the big red bar is. Here's the answer:
I am looking for trades that have a high likelihood to gap up on Monday morning or make a move on continued momentum early that morning.
So I enter Friday afternoon, just before the market closes and exit first thing in the morning on Monday… most of the time.
That's the beauty… even though the Monday candle was an ugly red bar, I still cashed in for 13%.
You may think 13% doesn't sound like a lot, but when is the last time you saw a double digit return doing so little in so little time.
And not every trade will be 13%. While there will undoubtedly be a loser here and there, there will also be some monster winners.
Just look at BIOC…
Biocept, Inc. (BIOC)
BIOC netted me a massive 75% return… over the weekend.
If that doesn't make you tingle I don't know what would.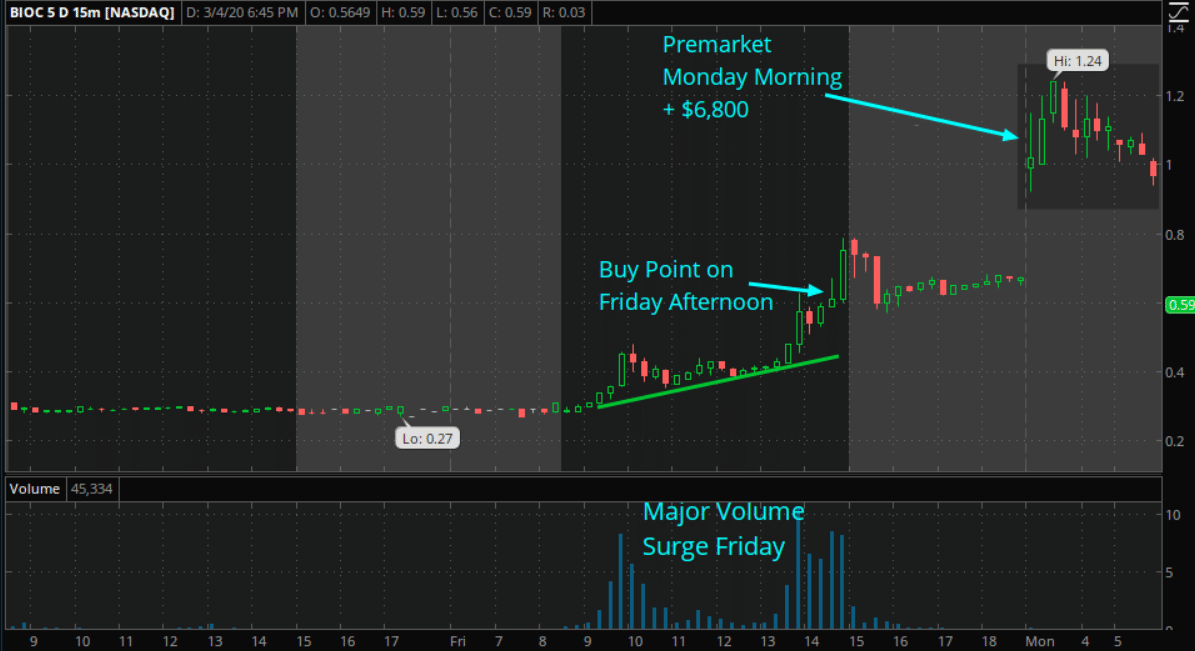 And I'm not the only one who cashed in on BIOC:


So what about when the Market is down?
Well like I said, I am trading stocks that don't move with the market.
Just check out PASO, the March 13 Weekend Wiretaps alert.
Patient Access Solutions (PASO)
I pulled in $1,000 by holding this over the weekend…
And Monday morning when I cashed it in for $1,000 profit… the market was down 2,300 points — that's massive!
This is why I am able to enjoy my weekend even when I know I have a trade on… I'm not worried about the market.
I'm looking forward to adding to my profits come Monday.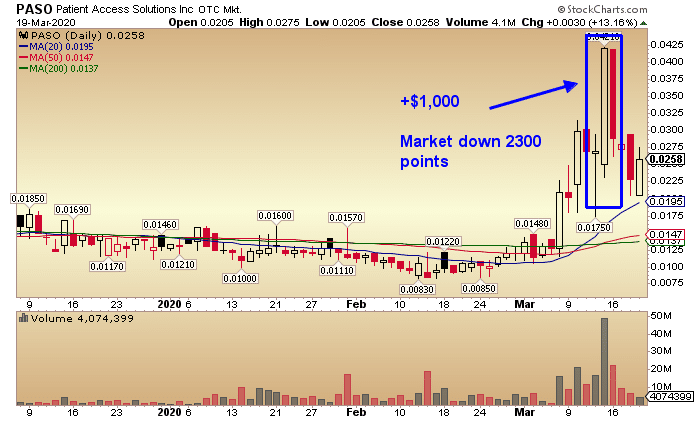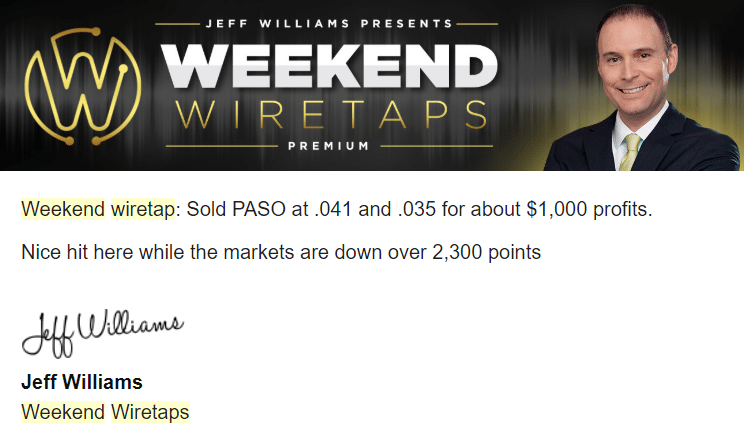 Mar 13, 11:02 AM
bill b: In PASO at .0308, out at .0337….+$725
Not convinced?
Check out IPIX from my March 6 Weekend Wiretaps alert.
Innovation Pharmaceuticals Inc. (IPIX)
I held this over the weekend and what happened Monday?
The market gapped down 7% that day… but I was cashing out for a 20% profit with IPIXgapping up.
And you will probably notice the big red bar IPIX made that day… you saw this before.
Even though it ended up going down on the day…
… my trade was to catch the move over the weekend into the morning, which netted me a cool 20% on a gap up…
And this was while the market was gapping down 7% and hitting circuit breakers.
And although this is a new service I just launched, it is by no means untested. I have been doing this for a long time, trading the strategy with the members of my Platinum chat room.
Having worked out the kinks and getting great results is why I was so excited to launch it. To be a part of it, click here.
And to show you I've been doing this long before now, here's a trade from back in September, before launching this as a standalone service.
Guardian Health Sciences (GHSI)
GHSI was my trade on Friday Sept. 13…
Come Monday, GHSI gapped up for a great return over the weekend…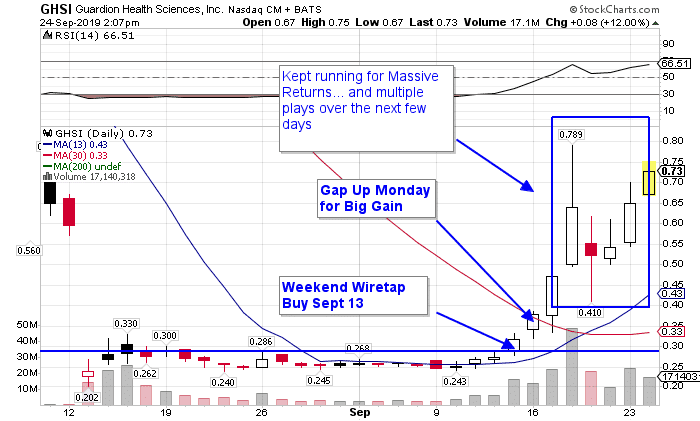 And by the 18th, just two days later… the stock was up over 100% and many of my members cashed out big…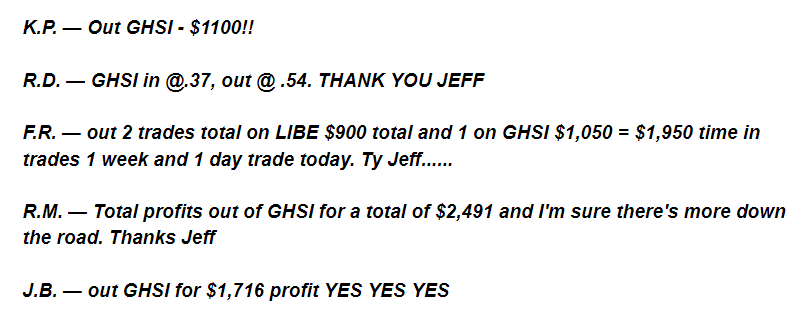 As you can see from the examples above, my strategy to find these weekend trades has been working in many different market environments.
The Weekend Wiretaps service is now up and running, this is your chance to get in early.
But that's not all…
This Tuesday April 7th at 8PM EST, I will be hosting a live class for my Weekend Wiretaps members. I will go over the progress since the launch a few weeks ago. I will talk about what's next and explain the trades in detail.
As well as, answer any question you may have.. Get in now or you may miss your shot to be there live and learn all about the trades…
My next Weekend Wiretaps alert is this afternoon, so don't delay getting in. You can grab today's alert along with a seat at the live webinar on Tuesday…