There's a shift towards sustainability… it's not new by any means, but related stocks are starting to perk up in a big way.
And that's all that matters when it comes to trading.
Sustainability has been a buzz word for a long time now, we all know that.
Heck on the investment side, there have been some huge gains over the years.
But for traders, we need something more than a slow long term move… we need volume and action.
And right now things are really picking up in the sustainable energy industry.
TSLA may be the Big Dog we all know and love. With every passing day TSLA has become a more viable option when searching for a new car… and the stock has been soaring.
So what if you missed TSLA?
Well that's feeding the frenzy for every little company that "could" be the next thing in the industry.
We just witnessed NKLA rocket on its IPO to pass Ford in market cap, and it has yet to make a sale.
So if you want to see some of the stocks making crazy moves right now, look no further…
I've lined up 4 hot sustainable energy stocks that are making moves today…
Plug Power Inc. provides hydrogen fuel cell solutions for the electric mobility and stationary power markets.
PLUG's technology touches everything in the hydrogen realm from powering material handlers, providing backup power, dispensing and refueling, Robotics and Aviation… to maintenance and tech support.
Let's go to the chart.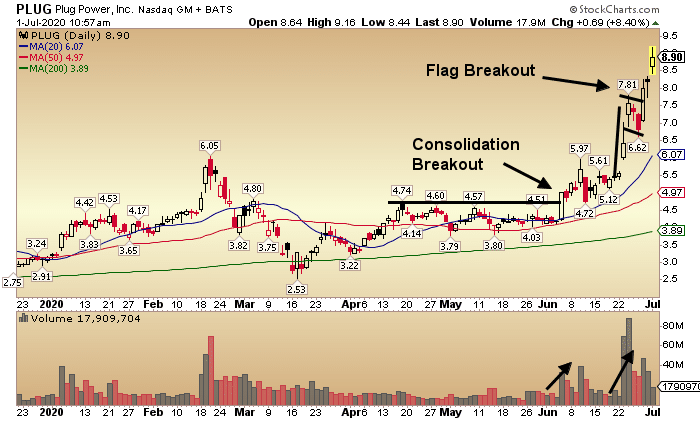 PLUG broke out of a nice consolidation base June 4th setting off the big move higher.
The recent extension came on the heels of an acquisition with PLUG raising its long term revenue target based on the deal.
And at the same time, PLUG benefited from a price target hike to $14 on June 24th.
Then just yesterday J.P. Morgan raised their target to $8.50 yesterday adding fuel to the continued push higher today.
With the consolidation breakout leading into a flag pattern and breakout, you have to admire that chart for a second before moving on…
It's always helpful to study the patterns you trade whether it's happening now or you already missed it… learn before you earn.
Workhorse Group Inc. (WKHS)
Workhorse is a technology company focused on providing drone-integrated electric vehicles to the last-mile delivery sector. We're talking about battery-electric delivery vans, drones, and of course telematics performance monitoring systems that are fully integrated with the vehicles (real time monitoring and stats).
Major Catalysts: They have been working with UPS for years now, testing their drones and UPS has already ordered and worked with their vans. And UPS will be making more decisions on fleet changes later this year, so that's a potential future catalyst depending on the decisions made.
Just today a BTIG analyst upped his price target to $26 citing a "first mover" advantage from the earlier UPS van order.
Lots of potential in the field and with that lots of speculation. Always trade your setups and follow your plan.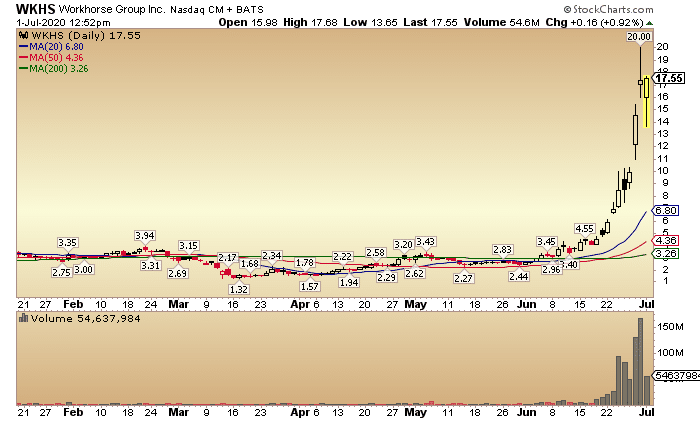 Blink Charging Co. (BLNK)
Blink operates in the EV charging station arena by partnering with businesses & property owners to install Blink's EV charging stations at their location. Instead of buying the charging station Blink will instal it, own it, and operate it for them… sharing a portion of the revenue with the property owners.
I can't help but picture a vending machine operator when I read that. But to fit the needs of any business, Blink actually offers multiple business models including joint operation and ownership… or outright ownership with tech support etc.
The Blink network currently connects more than 23,000 charging stations across the United States.
Bloom Energy (BE)
And lastly for today, Bloom Energy (BE). Their mission is to make clean, reliable energy affordable for everyone in the world.
I like the sound of that. But what's the reality it's coming from BE?
The company has a server that delivers clean, always-on electric power by converting fuel into electricity through an electrochemical process without combustion.
Designed for modularity—they can be clustered together in various configurations to form solutions from hundreds of kilowatts to many tens of megawatts fitting the needs of pretty much any company out there.
So what's got BE popping lately?
Here's a snippet of a company press release on their website from June 29.

In it, they state that Bloom and Samsung Heavy Industries have joined a joint development agreement to realize their vision of clean power for ships by putting Bloom Energy Servers on SHI ships.
They estimate that it could grow to a 300-megawatt (MW) market annually for Bloom Energy, which is major considering that would almost double what they have accomplished to date.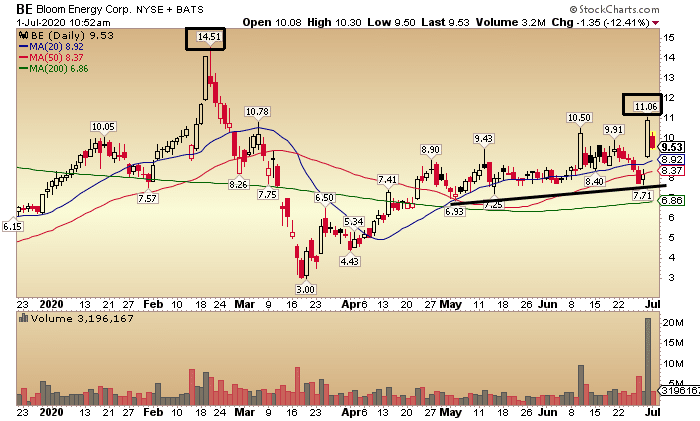 And looking at the chart you can see BE popped on the news yesterday from around $8 to $11 breaking previous highs for months back.
Today we are seeing a pullback from the highs but with the 20 day above the 50 day, watch for BE to hold the support line above $8 and if it can break back above $11, the next high is $14.50.
With BE, keep in mind this is a very speculative stock. Play the price action not the long term investment potential.
Bloom has been around a long time and has yet to accomplish much of anything. It's a penny stock for a reason.
And when it comes to these 4 stocks, BE is probably the least exciting to me personally.
But I'm no industry expert and it's not about my personal excitement for a product…
When trading it's all about the price action.
So while I might like a product of one company better than another. I'm going to trade the stock that gives me my setups.
All 4 of these stocks can make great additions to your watchlist as there is a lot of excitement around this industry…
And that's leading to some powerful moves in these stocks and others…
To learn more about trading and how I approach the market…
Grab my Free Stock Trading Starter pack…