First things first, if you don't know what a short squeeze is, you can get all the info right here.
But why should you care in the first place?
Well, when a short squeeze gets going… those who bet against the stock flood the exits — and that causes stocks to skyrocket with "no ceiling in sight".  
In fact, if you get caught on the wrong side of a short squeeze… you could literally blow your account out in short order.
However, if you know how to play the long side… It could be a monster payday!
There are specific market forces that create the fuel for an epic squeeze.
When I stalk explosive opportunities in the market, I focus on the overall concentration of short interest (days to cover and short percent of float), and the recent price action.
In the right setting, those two simple indicators allow me to spot potential parabolic moves in stocks.
Once the shorts panic and start to cover, it creates a demand that can not be matched… and in turn, creates the most powerful move you will ever see in the market.
The good news for you, I am always watching stocks that have the potential of getting caught up in a squeeze, and today I am going to share those stocks with you…
Here are the top 2 short squeeze candidates that I am watching right now…
Nymox Pharmaceutical Corporation, a biopharmaceutical company, engages in the research and development of drugs for the aging population.
With demographic shifts over the next decade, this is an interesting company to look at.
Of course when we talk about a short squeeze none of that really matters. It's mostly about the technicals.
The news and product development can lead to a catalyst however, that's why I like to take a quick peek at what they do and what is going on right now.
Concentration of Short Interest:
Short Ratio (days to cover)   — 19.8
Short Percent of Float  — 8%
With 19.8 days to cover and 8% short interest, the concentration isn't on the super-high range. But that could be fine because at least it shows there are still some people that believe in this company.
A look at the price action: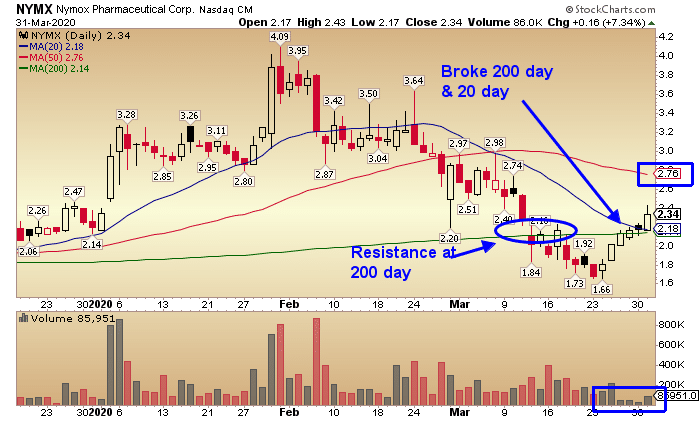 Coming off a downtrend, NYMX made a good pop off the bottom.
The stock was facing resistance at the 200 day MA. On the move up, it broke above it and is currently holding above.
And that brings us to the next point.
NYMX was in a nice uptrend based on its own news and company performance. It got crushed with the market.
If the underlying fundamentals are still there…. Is it primed to come back?
What I'm Watching For:
What I want to see in NYMX is for it to hold above this support level at the 200day MA. 
If it holds above here, I want to see some real volume come in on the move up. This could get me in.
There will be resistance at the 50day just under 3.
If the stock can get above there, this would start to put some pressure on the shorts.
Atlanticus Holdings Corporation (ATLC)
Atlanticus Holdings Corporation provides credit and related financial services and products to the financially underserved consumer credit market in the United States. It operates in two segments, Credit and Other Investments, and Auto Finance. 
When I hear the underserved in the credit markets, generally lower income and bad credit is what come to mind. Which also leads to some crazy interest rates.
I'm not about taking advantage of people. And while there is a need, the tactics leave something to be desired.
So while it's not really the type of company I would invest in, a quick trade… now that's different.
Concentration of Short Interest:
Short Ratio (days to cover)   — 46.8
Short Percent of Float  — 14.28%
As you can see the concentration of short interest is no joke.
Recent Price Action: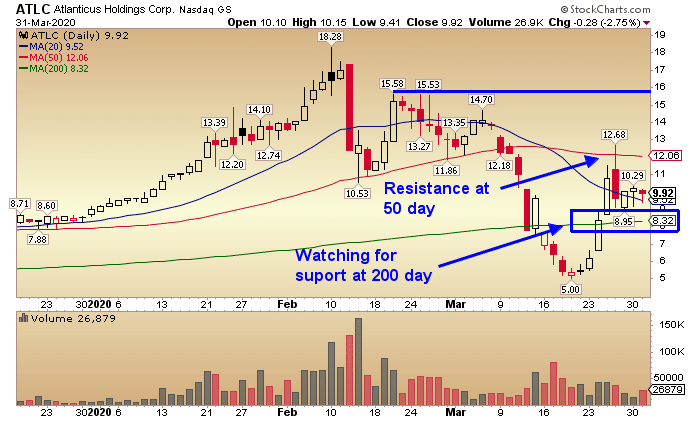 Looking at the chart, ATCL is coming off a V-bottom. Not as much volume as I'd like to see on that though.
And like NYMX, it broke above the 200 day. ATCL squeezed up through the 200 day straight to the 50 day before hitting resistance from the shorts trying to hold their ground.
It's showing support at the 200 day.
What I'm Watching For:
I want to see that hold that level, and while there is resistance at the 50 day, it could get another squeeze if the buyers can push it through that level.
The next level from there would be in the 15 range. And above there to 18 the shorts would be running for the exits as their position will turn against them.
Final Thoughts
Both of these stocks offer potential that can lead to a short squeeze.
I will be keeping a close eye on each of these for their potential to put some pressure short sellers.
But while I am watching these stocks… I am also trading every day with my core Profit Prism system… and I am absolutely crushing the market.
If you want to keep an eye on potential short squeeze stocks and see how I make money on a daily basis,
Join Profit Prism Platinum Today!
Related Articles: