I'm going to show you how to make trading simple…with catalysts.
So much is going on in the world and therefore the markets.
While it can get overwhelming…if you focus in on what the catalysts are and what they are moving, it's really a great time to be trading.
Look at the election. With the change at the top…new legislation is being proposed for the cannabis industry to open up the markets in the U.S.
Whether it passes today or not, most believe it's on the way sooner than later.
What does this mean to you?
Well I'll tell you what it means to me…great trading opportunities in the cannabis sector.
And what about all the positive vaccine news lately…excitement about potential economic recovery?
You've got plays in retail stocks that have been hurting… not to mention oil prices and oil companies making moves off the very low and near bankrupt levels we've been seeing from the pandemic.
And I'll show you exactly what I mean…
Cannabis Catalyst Trades
Active from the proposed federal legislation changes…SNDL along with the other cannabis stocks have been coming off lows since the election.
And man have there been some great setups trading into this catalyst.
In the past few days I personally pulled 3 trades off in SNDL…two of them for 24% and one for 22%.
Last Friday SNDL broke out of the range at the end of the day on high volume…something I look for every day in my Stock Profit Pro trading room.
I grabbed shares to hold overnight on a momentum run to the .40's
And come Monday morning I was grabbing a 24% return before the market even opened.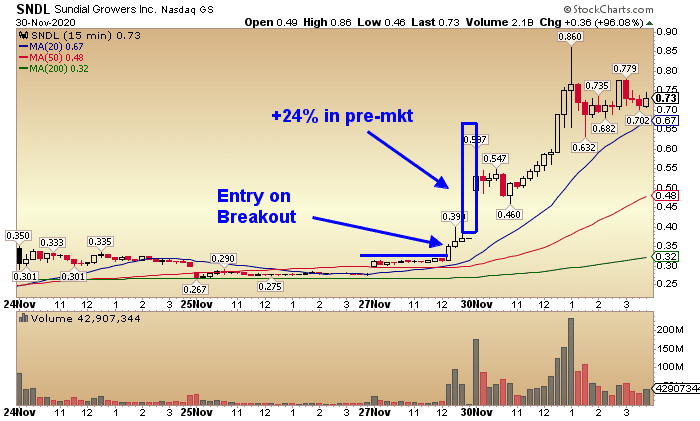 But it didn't stop there…
After the market opened I let SNDL create it's opening range.
The stock pulled back after a gap up, holding the gap for support…
And when it traded back above the opening range…I jumped in and alerted my members to the trade.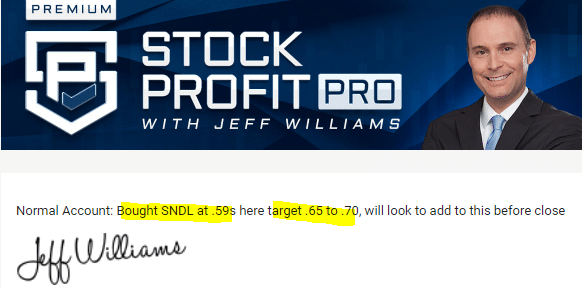 This trade took off, getting to my target way faster than expected…which is not uncommon with these momentum plays.
So being the smart trader that I am, I locked in my second 24% gain just 30-min later…and went back to watching for setups.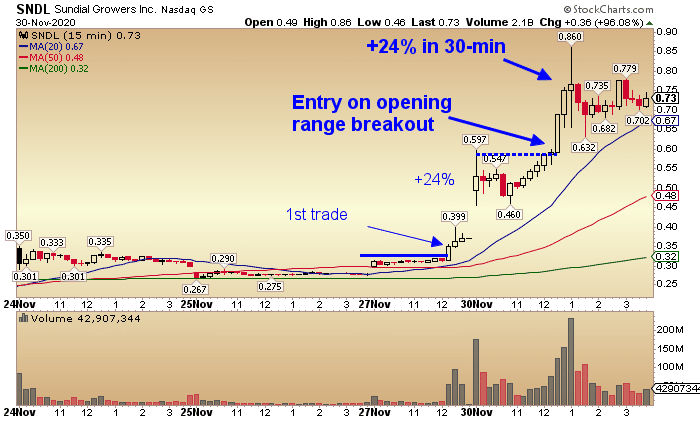 Could I have held it overnight like I usually do?
Sure, but I know with the current market conditions, my best bet was to take the quick gain and watch for a new setup as I would likely have a chance to get back in if I wanted…
Being at my target, I didn't want to let that slip away.
Something I preach in my Live Trading Room is to take the gains while you have them.
No one ever went broke taking profits.
Now if you thought I was done with two separate 24% winners…well I wasn't.
Keep in mind, there's a catalyst playing into these trades.
And I had one more trade up my sleeve.
I was able to get back in for an end-of-day momentum trade for the 2nd day in a row.
SNDL consolidated after my last exit and I jumped in towards the end of the day for an overnight push to the .90's.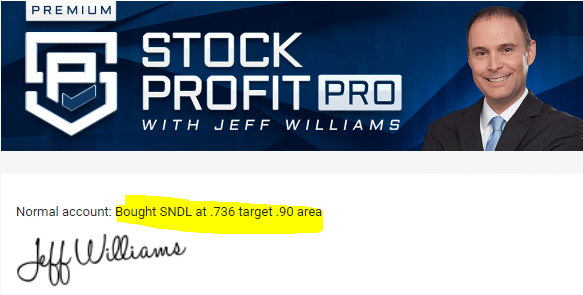 And Tuesday morning I once again woke up to a profit…this time 22%.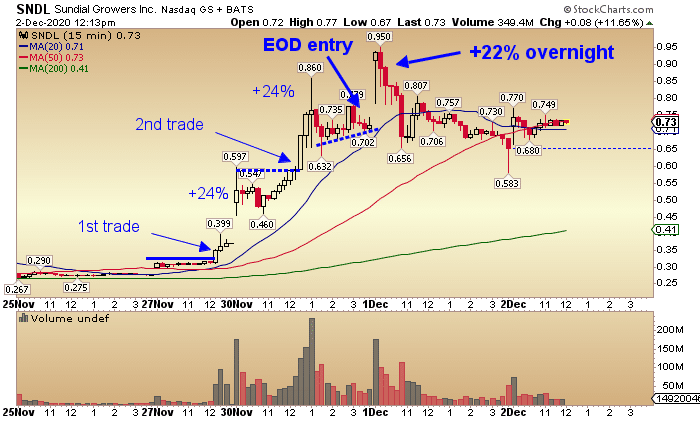 All of this in just a few days on one stock with a sector catalyst.
There are so many other cannabis stocks out there, you could have been finding setups like these all over the place.
I teach all of this in my Stock Profit Pro trading room…where I spend most of the trading day…
Teaching, trading, and having fun with my members.
I'm looking for stocks with increased demand and momentum to push the price up…overnight.
As you saw in SNDL, sometimes the stock moves so fast I'm grabbing my profit the same day.
But the other two trades were both classic overnight momentum trades.
Don't waste anymore time wondering how to spot good momentum trades like these.
When it comes to the specifics of what gets me into a trade…
I teach it live Every Day in my trading room…but not only am I teaching it, I actually take my trades right there… walking my members through each step… all live.
Get your trading moving forward… Join Stock Profit Pro Today
Movement in Oil & Gas Stocks
And for another look at making simple sense of all the noise in the market these days…
Here's a quick look-in at an industry trend in Oil & Gas.
Like my SNDL trades above…
When a catalyst is present, you won't just find one stock…you'll have a lot of potential setups if you keep your eyes on the whole industry.
With positive news on the vaccine front, oil prices have been making their way back up…along with stocks in the industry.
QEP popped after a long consolidation in the mid .80's and is currently up 12% today inside a flag pattern with resistance at 1.87.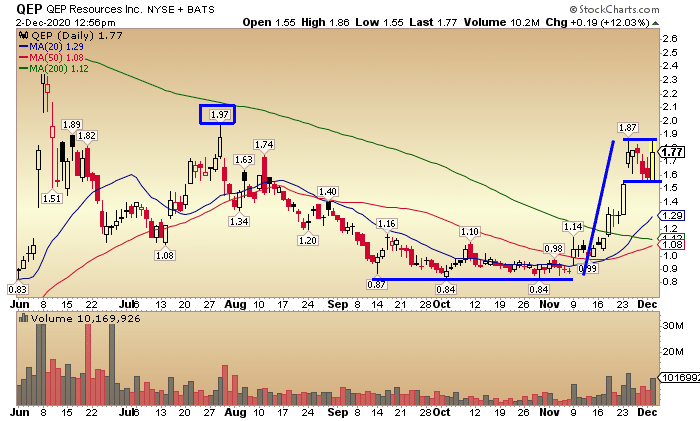 OEG is off it's highs, up 9% here…
Will the support level at 1.20 hold for a bounce up?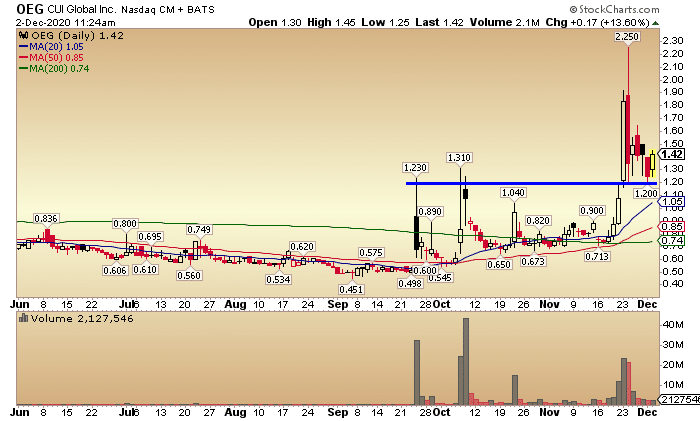 CDEV is currently up about 9% as well, forming a flag pattern above the 200-day moving average.
After a long base in the .50's, the stock shot up forming the flagpole.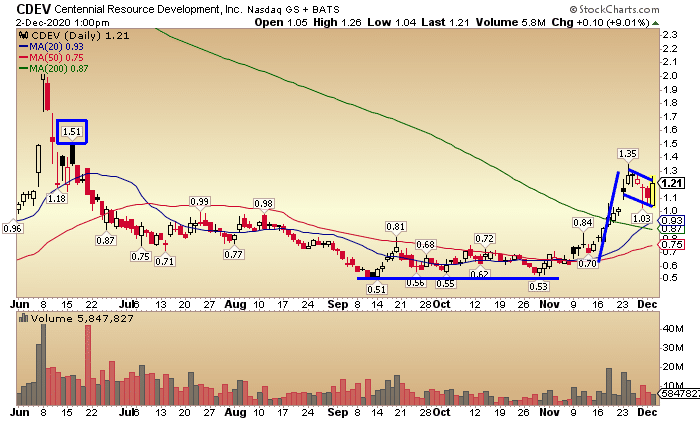 SLCA is coming off support at the 4.25 level and hit resistance at the previous swing high in the mid 5's.
Currently trading down from the resistance level, I'll be watching to see if it can continue to hold the support at 4.25 or take another shot at breaking the 5's.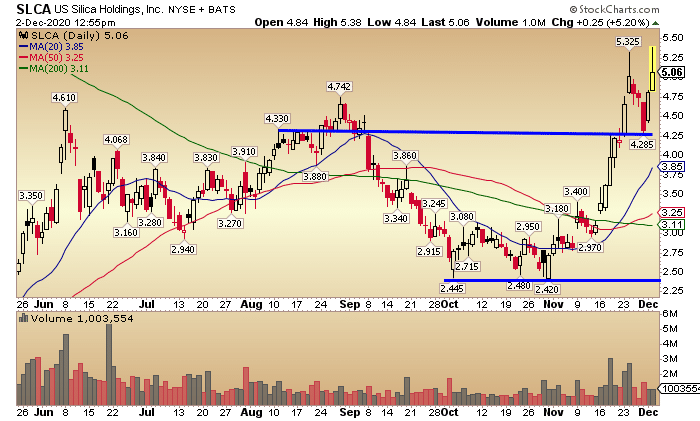 What I want to point out here, besides the strength of the industry as a whole…that being related to a catalyst affecting everyone…
…is the date they all started these moves.
If you look at the charts, you can see it was around the time of positive news on the vaccine front.
So if you keep your eyes and ears peeled for catalysts, and instead of being overwhelmed with what it all means, just break it down to a simple plan…
You'll find simple places to grab great setups.
I break it down every single day in my Stock Profit Pro trading room…so you can learn live.
Today's Biggest Movers
CATB +38%
CRIS +24%
RETO +22%
NXTD +20%
MTC +18%
To get the most out of your trading, you need to be in my Live Trading Room.
This is where I spend the majority of my day…trading, teaching, and having fun with over 1,000 members.
Learn the strategy, see it live, trade with friends, and do it every day…