The best moves in stocks come from something meaningful to the underlying company.
So what is this mysterious force?
Catalysts.
And it's not mysterious at all…
It's basically a fundamental reason for a stock to move.
Things like surprise earnings beats, a new product launch, clinical study results, accounting fraud, a new market… or they could come from things like economic stimulus deals or the Coronavirus.
If you really want to find a stock that can lift-off, a catalyst is an important piece to the puzzle.
And that's what has made my strategy so successful for me…
I trade the charts… but that's not all.
I like to trade stocks that have a catalyst behind them.
The Dynamic Duo if you will… put a catalyst behind a powerful chart pattern and watch what happens.
And I'm going to show you exactly what I mean with my recent trades in GAXY…
Galaxy Next Generation (GAXY)
Galaxy Next Generation (OTCQB:GAXY) is a provider of interactive learning technology solutions for a fully collaborative instructional environment. And they also began making plastic shields for desks called Cov-Shield.
So right off the bat you can see where the catalyst is coming from right?
The Coronavirus.
With the need for distancing in schools, GAXY is set to take advantage of the need for technology to create space in the classroom setting.
Now let's take a look at the specific catalyst trades…
New Sales and Partnerships – Catalyst Trade #1
On Aug. 7, GAXY was making a move out of a consolidation.
But it wasn't just any move… look at that volume spike.
That tells me there is trader conviction in the breakout.
I alerted my members to a trade at .005 and GAXY was so hot that day, I alerted them again at .0081.
Then in a press release on August 10, GAXY announced that it was receiving new orders and additional potential interest for a range of its products, from interactive panels to Cov-Shield.
They mentioned over $250,000 of sales in Cov-Shield products in the past month, the signing of new resellers, and several summer installs for its interactive panel line of products.
And you can see what happened next… the stock shot up over 400%.
In this case the catalyst was announced on Monday… but my setup happened Friday.
What gives?
Well that's the beauty of my trading strategy.
I'm looking at supply and demand in stocks that have underlying catalysts.
GAXY already has an underlying catalyst from the Coronavirus and has been on my radar since the beginning.
Sometimes there are people that have knowledge of something about to happen… the "people in the know."
If they buy just before the announcement, it increases demand pushing up the price.
And my strategy picked up on it in GAXY… giving me and my members a chance to take advantage of the catalyst ahead of time.*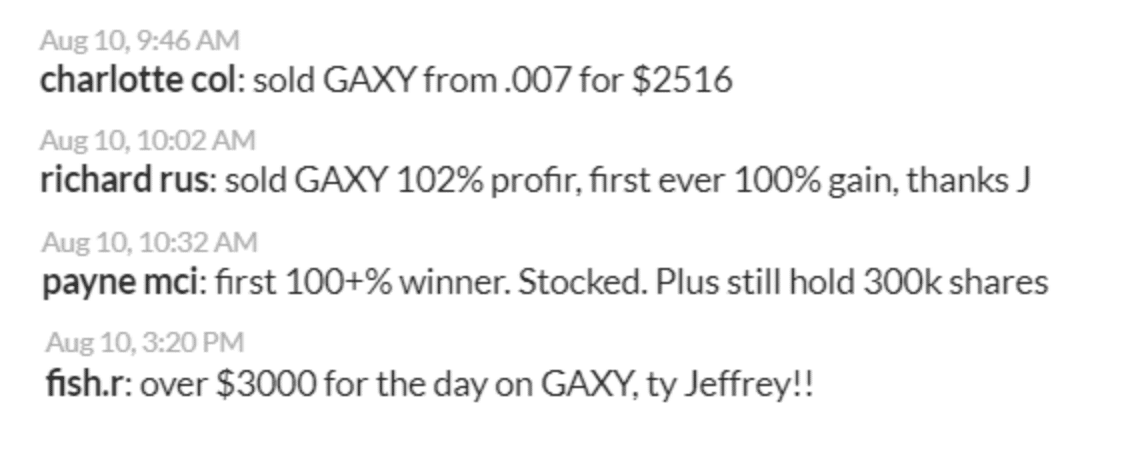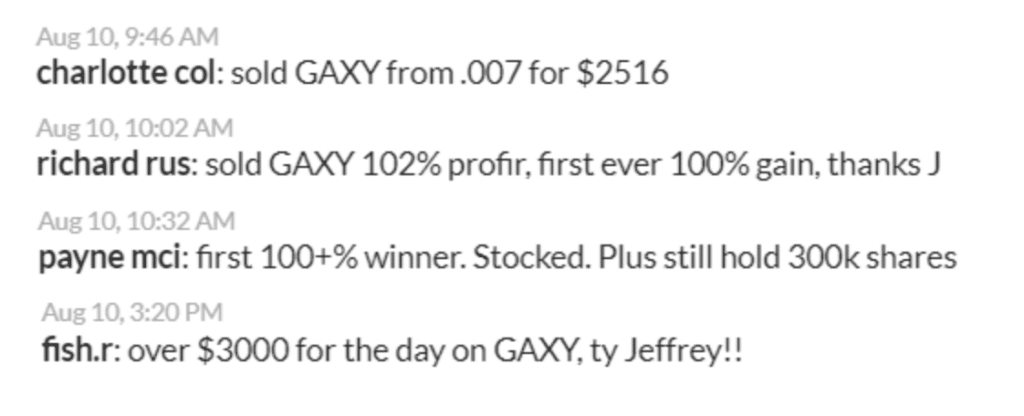 Huge New Contract – Catalyst Trade #2
On August 18, GAXY announced its most significant contract for their Cov-Shield line of products to date….
Partnering with Hillsborough County Public Schools of Tampa, Florida for 20,000 Cov-Shield face-shields units.
It is the third largest school district in Florida and the 7th largest in the United States.
Now there's a difference between this trade setup and the last.
Whereas the first trade setup happened going into the news announcement… this one actually happens after.
But that's the benefit of using both chart patterns and catalysts… You know when to get in.
Looking at the chart…
On August 18, GAXY gapped up on the news but traded down the next couple days.
The cool thing here is we now have a view of the supply. Sellers are up around .03 as seen in both the previous high from the Aug 10 news and the high on Aug 18.
This is our resistance level the stock needs to clear this for a buy.
As you can see, GAXY starts to work its way back up and volume picks up as it breaks above the highs…
That gives a good entry point where demand has now overtaken the supply…
And with a recent catalyst in the stock I sent out an alert to my members and jumped in…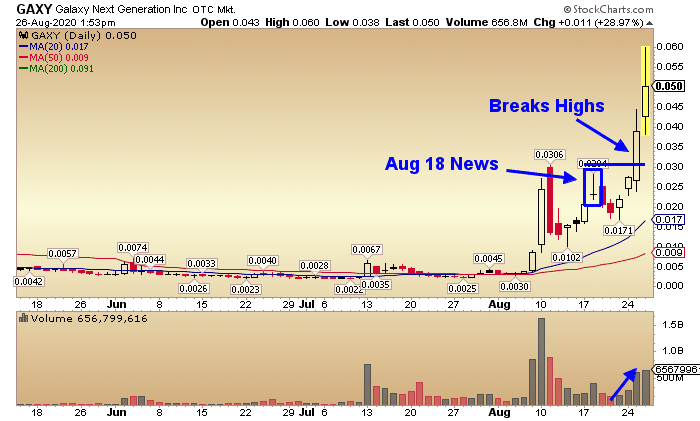 This morning I woke up and grabbed a quick 35% gain overnight.
And again, I wasn't alone in this breakout trade.*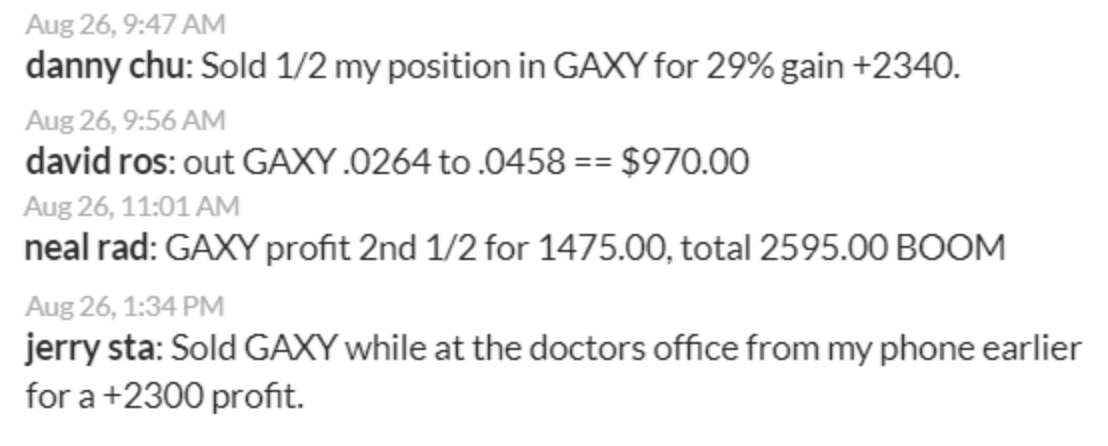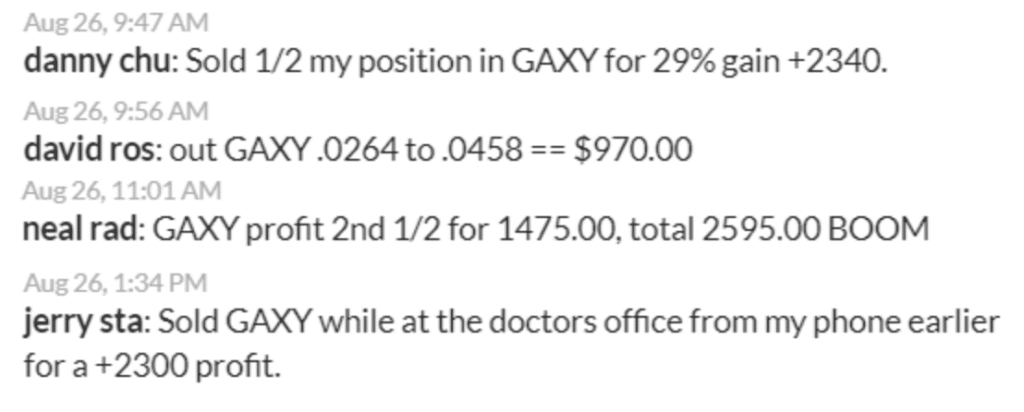 Final Thoughts
While chart patterns and technical analysis can tell a story about the supply and demand for a stock, there is always an underlying reason for its movement.
The demand is there because of a catalyst whether it's public knowledge or not.
This is what makes me successful.
I trade stocks that have more than just chart patterns… although I use those for my entries.
I like to trade stocks that have some sort of underlying catalyst that gives them real demand behind the move…
And causes them to move regardless of what the overall market is doing.
To learn more about my strategy… check out my Stock Trading Starter Pack
*RagingBull does NOT track or verify subscribers' individual trading results and these individual experiences should NOT be understood as typical as or representative. Please see our Testimonials Disclaimer here: https://ragingbull.com/disclaimer