The virus is spreading extremely fast. And with 50 million people being locked down in areas of China and no vaccine in sight, there's no telling what the numbers will be by the end of the week.
On top of which there are questions as to whether China is under-reporting numbers, so they may be quite a bit higher already. But either way, it's only getting worse.
We've reached the point that the markets are taking notice now. The US markets got a beat down on Friday.
And taking an even worse beating… the Shanghai Composite closed down nearly 8% on Monday after being closed for a week during the Lunar New Year holiday.
That's with the Chinese government's attempts to stabilize the markets, so yeah, it's pretty bad.
With the market a mess, there is one place you can look for upward pressure on a stock… and that's with the cornonvirus play.
Here are my 4 best virus stock plays to watch this week… CODX, NAVX, VXRT, and BIMI…
And I'm going to walk you through each one.
Co-Diagnostics, Inc. (CODX)
Co-Diagnostics is a molecular diagnostics company with a unique, patented platform for the development of diagnostic tests.
The play here is on their ability to develop a test that can distinguish between pathogens that are closely related and can provide confirmation without false positives and false negatives.
Looking at the chart, 3.60 is the next chart high with a support level in the mid 2's. With the stock currently trading closer to the highs, it's going to be volatile. Which is pretty clear on the chart with every other day gaps and moves in the opposite direction.
Watching for a move up off of support may be the way to go, but I will be watching all levels as a break on highs can also set up a trade.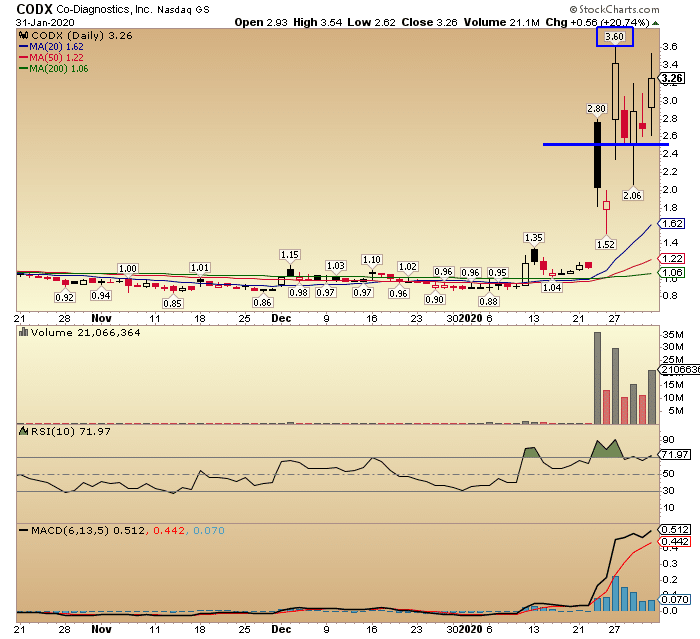 Novavax, Inc. (NVAX)
Novavax is a vaccine play. In 2013 they had developed a vaccine for the MERS which is also a coronavirus.
It's a tough play because of the need for trials and government approval etc… granted what's not a tough play when it comes to all the speculation involved with potential profit pockets from the virus outbreak.
The stock is coming off a support area around 6.50 with a next chart high at 9.32. Get access to my live trading chat room for more trade setups and alerts… and lots of training.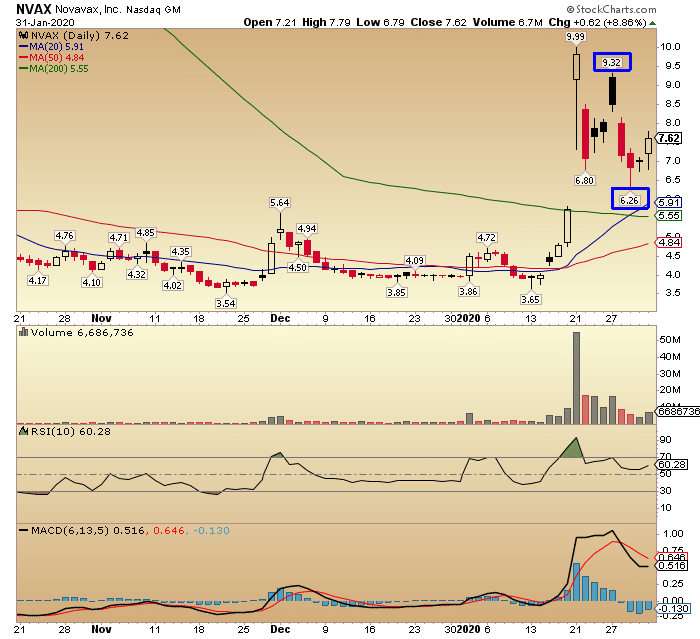 Vaxart, Inc. (VXRT)
Vaxart is another vaccine play. They have a proprietary oral vaccine platform (VAAST) and are working to develop a coronavirus vaccine based on this technology.
And if developed there is a potential logistical advantage of an oral vaccine when rolling out a major vaccination campaign.
VXRT is trading in a pretty wide range from .70 – 1.50. It is also in the gap fill area between 1 and 1.50. VXRT could fill the gap to 1.50 area and if we get a break above there, we could see it in the 2's.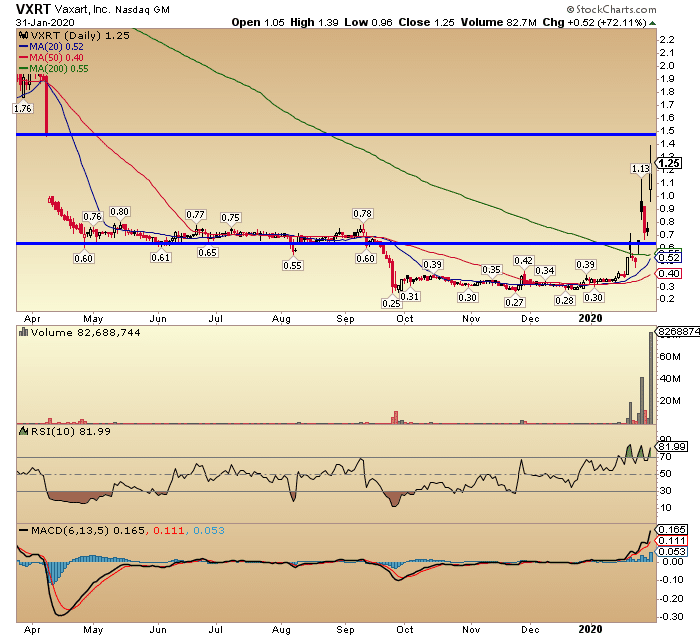 BOQI International Medical Inc. (BIMI)
This is a strange one. Recently an energy conservation company… They bought a pharmacy company and are now transforming into a Chinese medical and health service provider.
The Company has approximately 300 retail locations and a pharmacy benefits system with more than 30,000 members in China.
The company stayed open during the Lunar New Year holiday to do its part to combat the spread of the virus and is working to maintain sufficient inventory of drugs and medical supplies, such as surgical masks, rubbing alcohol, and antiviral drugs, etc.
The price is currently where I like it but I am watching as long as it's above 3. I will want to see how it acts at support and there is potential for it to be a big mover with 5.70 and 6.30s as next highs…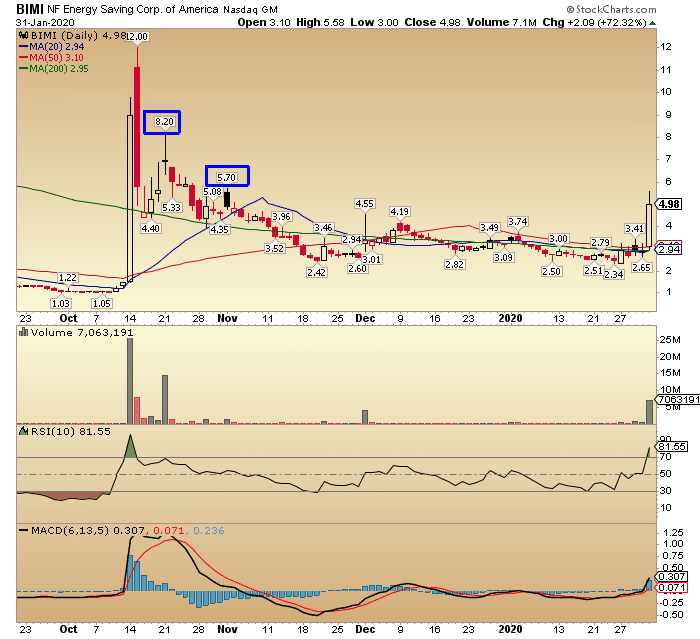 When dealing with something with so many unknowns, such as the coronavirus, the stocks will generally be more volatile and potentially riskier, so I won't just jump in because of hype. I will be watching each of these for the right setups.
I don't deviate from my system. No matter what the catalyst, I always use the same criteria for entering a trade. And that is why my trading is so profitable and consistent.
I will be watching all 4 of those stocks for coronavirus plays… If a trade sets up, as always, I will be alerting my members with all the details.
Join Profit Prism Platinumto get access to my live trading chat room and be a part of the discussion I have with my members as I explain my trades and teach all aspects of my system.