If you aren't prepared for the week, then you're putting yourself behind the curve.
I'm not kidding.
I wouldn't dream of coming into a trading week without being prepared.
You want to be ready for whatever the market throws at you.
Whether that's jumping on a great trade setup on your watchlist or…
Actively scanning for new opportunities.
Why is this so critical?
Because if you're trading off the seat of your pants, you're more likely to make emotional decisions (chasing stocks up or trading out of fear)…
I always have a watchlist going into the week…
And to get you started on the right foot, I'll walk you through a few stocks I'm watching.

After a move to nearly $10 post IPO, ADTX took a nosedive and has been in a long consolidation range under $2.
Friday, the stock broke above that range with a close at $2.20 on a little spike in volume.
Is this the start of something new…or just a blip on the radar?
I don't know for sure, but if it is the start of something, you know I'll be all over it.
I'll be watching the previous highs at 2.44 and 2.58 and then the 200 day at 2.84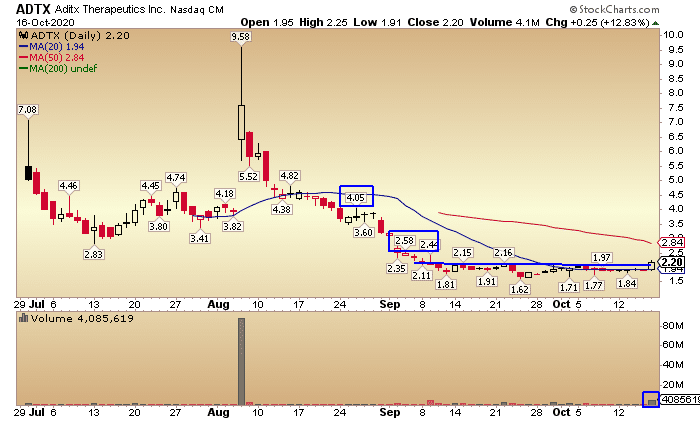 Hertz Global Holdings, Inc. (HTZ)

As you know, Hertz filed for Chapter 11 bankruptcy protection at the end of May.
Well Friday, Hertz just announced $1.65 billion in debtor-in-possession financing for use on inventory and operating expenses, allowing them to continue to operate as they work to find a way out of Chapter 11.
This helped send HTZ surging on a massive amount of volume with the stock hitting a high of nearly $3 from a low of just $1.01 the day before.
Does this mean Hertz is going to make it? Way too early to call that.
All this does is buy some time for the owners of its debt to work out the best deal they can…for themselves.
So when it comes to an investment, there's way too much risk here.
But I'm not here to invest, I'm looking for good trading opportunities and this is exactly the type of news that often opens up some great potential.
I'll be watching for HTZ to hold above $2 and move up from there.
If we see the same volume from Friday, it could get really interesting on a break above $2.50, with the 200 day at $5.64 and previous swing high at $6.25.
ReWalk Robotics (RWLK)

ReWalk recently beat analyst expectations with a lower than expected loss of (.22) vs. (.27) expected.
And the stock gapped up above the consolidation range on higher volume.
However, it didn't close strong so I'll be watching tomorrow to see if it can stay above the $1.30 range and make a further move up…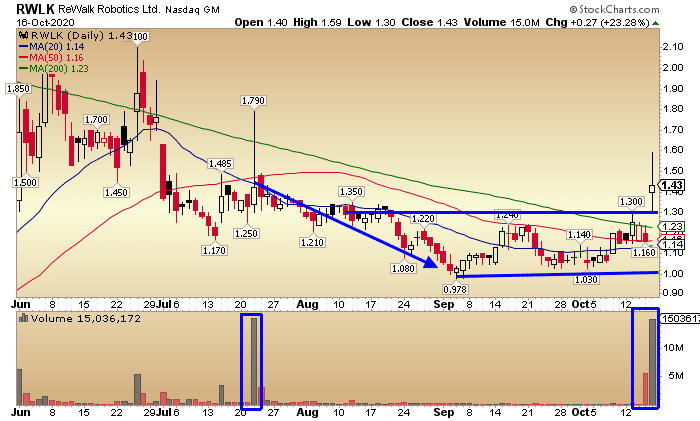 SG Blocks, Inc. (SGBX)

SG Blocks, Inc. (SGBX) and Blink Charging Co. announced that they entered into an agreement to place Blink's EV charging solutions along with SG Blocks' container-based modular building structures.
Not a lot of detail on expected revenue potential yet, probably just a hype piece.
But looking at the chart… volume surged as the stock gapped up over the 200 day moving average and a previous higher consolidation range.
It then traded down the whole day back to the 200 day…clearly people weren't as impressed with the announcement as they had hoped.
But with that level of volume, it's worth keeping an eye on tomorrow.
If buyers come back in and it bounces off the 200 day, there could be a decent play here.
I would definitely want to see a high level of volume in order to be interested. If volume dries up, I'll be looking elsewhere for trades.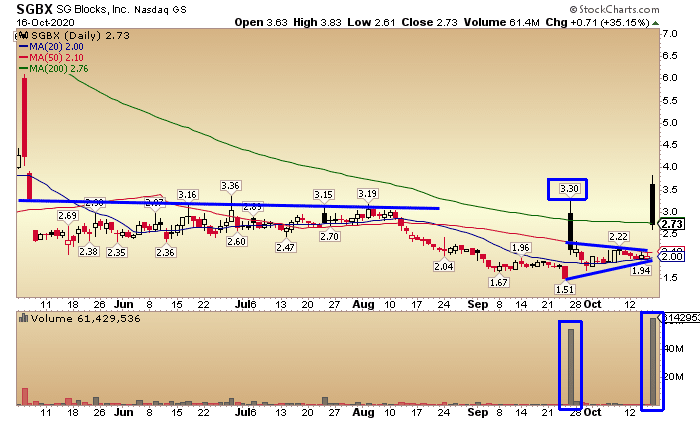 Those are just a few of the stocks I've got my eye on for tomorrow.
I actually send out a video watchlist to my members every night so everyone knows exactly what I'm looking at the next morning.
That doesn't guarantee these are going up or will even set up as a trade.
But this is how to come into the day prepared…with a list of stocks with good potential for a trade.
Once the day gets going, however, it could change and I could be finding better setups in other stocks.
And that all goes down with my members in my Live Platinum trading and chat room.
If you want to learn more about the setups I look for, check out my Free Stock Trading Starter Pack.