Dow 30k is rocking today.
But you know what's bigger?
Penny Stocks.
Just ask my members.**
Dec 4, 10:26 AM
Alex G. — @ Jeff, i just wanted to tell you thank you for teaching us and myself. I take what you've taught me and from last week im up $30k
Dec 4, 10:29 AM
Cindy L. — In one of my accounts I was holding Walmart and Target and probably made a total of $50. Penny Stocks are great.
I've been seeing a lot of great trades going off in my Stock Profit Pro trading room…
When it comes to trading…this is the place to be.
Experienced trader, part-timer, or complete beginner…we have it all.
And here's a taste of what you'll learn…
On Wednesday, I showed you SNDL. Today I'm going to show you a few more big hits you've been missing AND what I'm watching this afternoon.
As I mentioned on Wednesday, with the cannabis legislation changes making progress, this sector is on fire.
And if you were in my Stock Profit Pro trading room, you would have been there for these moves…
MCOA broke out of a consolidation pattern with a spike in volume and after jumping in, I was able to grab an over 100% gain in just one day…
And the stock wasn't even done with its move…in just 2 days, the stock was up over 600%…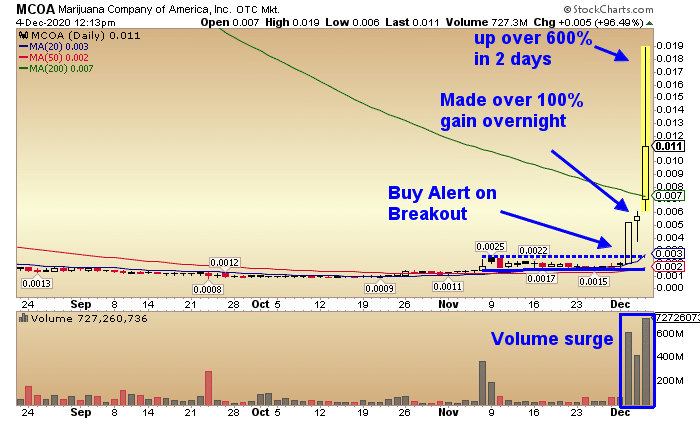 And my members took advantage of it**



CBD Life Sciences, Inc. (CBDL)
Another trade we talked about in my Live Trading Room…CBDL on a breakout that occurred December 1.
There was money to be made by the end of the same day, and even more by holding the pullback…or getting back in on the move up off the pullback.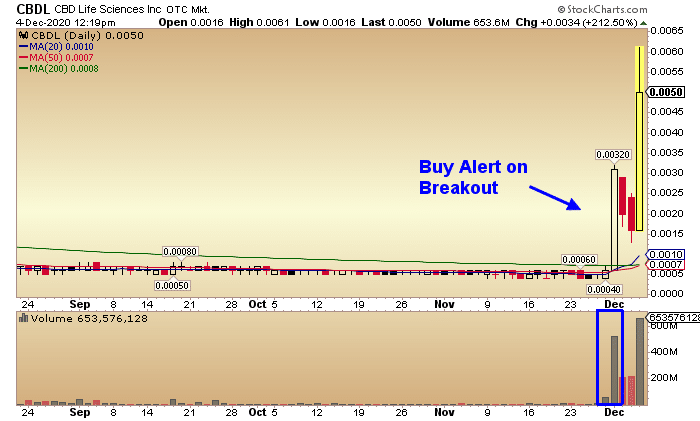 We talked about all of the options and my members went to town**



I break down the charts every single day in my Stock Profit Pro trading room…so you can learn live.
If you didn't join up during the last open enrollment period…you'll have to wait a little longer.
But that doesn't mean you'll have to wait to learn the strategy or start receiving alerts you can learn from…
Join Profit Prism Today…and you'll be on your way to trading like a boss.
Here's What I'm Watching Today
PPSI +64%
HEMP +52%
AQB +26%
CDEV +12.8%
IO +12%
BB +9.5%
Don't waste any more time without a strategy or trading plan…
With Profit Prism, you'll get my nightly video watchlist with details on the exact levels I'm watching and what will get me into a trade.
You'll also get my full educational suite to learn everything you need to make this your own, along with trade alerts of trades I take with my own real money.
What are you waiting for?
**RagingBull does NOT track or verify subscribers' individual trading results and these individual experiences should NOT be understood as typical as or representative. Please see our full disclaimer here: ragingbull.com/disclaimer