When you wake up for work on Friday…
Does your mind go straight to the weekend?
It's okay if it does…
I would think that almost everyone is excited on Friday just knowing it's the last day of work before the weekend.
And to be honest… most traders probably look at it the same way.
But not me…
When I get up on a Friday, I'm stoked… not because it's almost the weekend…
But because I know I have a mission to find that one special trade to hold over the weekend.
A trade that gives me an opportunity to make money while I'm relaxing with my family and friends.
Getting in on Friday… and looking to be out with profits on Monday.
Today I'm going to show you exactly what I mean by a stock with momentum going into the weekend…
With a close look at Alternet Systems Inc. (ALYI).
Alternet Systems Inc. (ALYI)
This is a recent Weekend Wiretaps trade.
It's not that hard to find stocks like this, you just need to know what to look for.
And for that I have a list of criteria that help me determine if a stock could be in for a continued momentum push over the weekend or not.
Some of the things I look for are percentage gain on the day, relative volume, and chart patterns.
I'm simply looking for an increase in demand that can push the stock up over the weekend.
As with all of my strategies, I like to keep it as simple as possible… learn everything right here…
Now let's dig into this trade…
As you can see ALYI was trading in a consolidation range for the past month.
And August 27 it got a little surge in volume, but didn't make it out of the range.
The very next day, ALYI got a huge volume surge and broke above the consolidation range.
When this happened I jumped in and sent an alert to my members at .0125…

Now normally I will be looking for this momentum to play out over the weekend and cash in on Monday morning…
But ALYI wasn't having it… the stock just kept surging.
And I'm no dummy.. If I can grab a 60% return in a couple hours, I'm going to get my profits.
I can always get back in.
And that's what I did, taking a 60% gain* off the table and alerting my members to my latest move.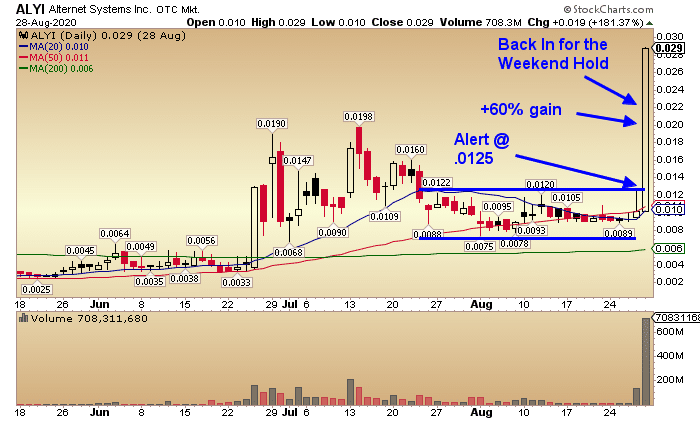 But I also wasn't done there… I'm looking for a weekend momentum play and ALYI was checking all the boxes.
A little closer to the end of the day I am able to see another opportunity for a good entry that will let me take this home.
Sending out the alert to my members at .0224, I'm in ALYI again…

This time for the weekend.
And here's what happened on Monday…
ALYI hit a high of .0579.
That's over 150% from my 2nd alert… and over 360% from my 1st alert.
Suffice it to say, there was a lot of room to profit on this trade.
I pulled out another $2,500* on Monday from my second trade from Friday.
Here's how some of my members did**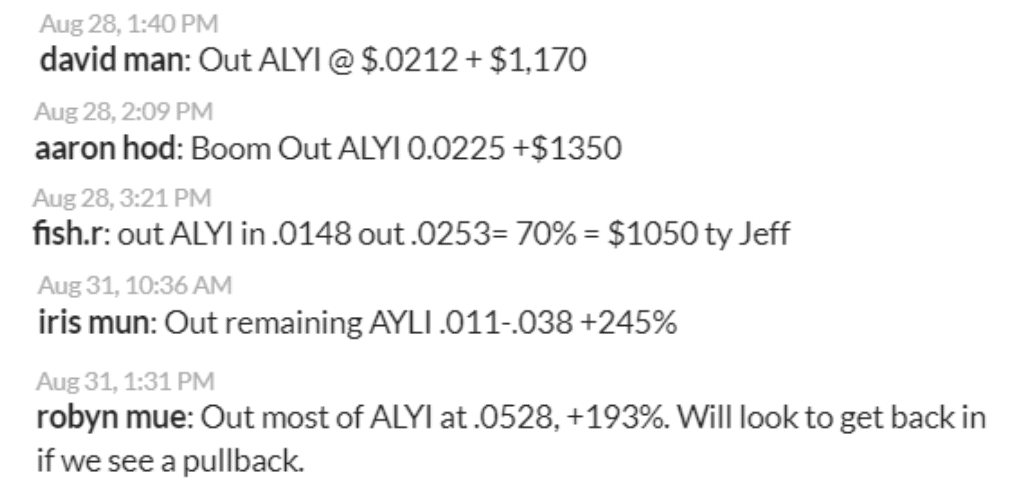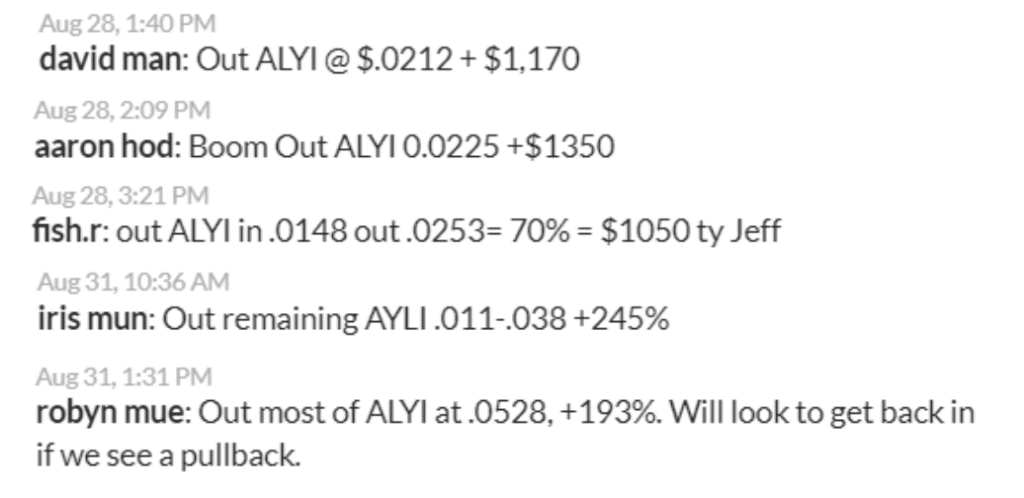 When I'm talking about my Weekend Wiretaps service, I'm talking about one trade a week.
I'm looking for my best trade idea every Friday to take advantage of a stock's momentum over the weekend.
So I'm looking for a stock that's showing me the strength to carry it forward to a buy imbalance on Monday morning… getting me in on Friday and out on Monday.
And that's what I found in ALYI last Friday.
There's nothing better than starting my week with profits.
That's not to say it always works out exactly like that.. Sometimes I end up holding a few days but the goal is to get in Friday and out early the next week.
And do it again the next Friday.
This is a great way to get your start to trading as it doesn't take a routine that would put you at a desk all day every day…
…and you don't need a ton of money to get started.
It also comes with the education to learn how to find the trades on your own.
It's really about you learning to trade… not just following.
If this sounds like something you want or need…
*Results presented are not typical and may vary from person to person. Please see our Testimonials Disclaimer here: https://ragingbull.com/disclaimer.
**Raging Bull does NOT track or verify subscribers' individual trading results and these individual experiences should NOT be understood as typical as or representative. Please see our Testimonials Disclaimer here: https://ragingbull.com/disclaimer.