Do you know what's next for the market?
With tech stocks becoming a little shaky from profit taking, it could be time to protect yourself from wild market swings… just in case.
When the market gets more volatile, swinging back and forth, trading losses can accumulate quickly if you are not careful.
If your trading system is too rigid and not flexible enough… you better have a good idea of what the market is doing next…
If you don't, it's important to find ways to protect yourself from uncertainty.
And I'm going to show you exactly how I do that, as well as, tips you can use to limit your exposure to market volatility.
Quick Gains for the Win
When you aren't sure what's next for the markets, one thing you can do is simply limit your exposure to the uncertainty.
How do you limit exposure?
It's quite simple actually… by not being in the market for long periods…
When you are looking to grab big moves, you are left exposed to the wild unpredictable swings.
It's great when the market is rolling straight up, but not so great when things get wild.
When the market gets more volatile, you very likely start seeing stops get hit, just to watch the stock turn back around again.
It's important to recognize the overall market conditions and know if your system can operate profitably within it.
If not can your system be tweaked/ adjusted?
Tighten, or Loosen stops

Trade less, be more picky

Take profits of the table quicker

Shorten trade time-frames – Limit Your Exposure to the Swings
Here's how I handle trading when things start to get a little "swingy"
I simply find stocks that are ready to pop and then I get in and out on the pop… This way I'm not exposed to the longer time frames in the market…
Look at the chart for SBFM.
Just last week I was watching this stock as it broke above resistance from the earlier moves higher.
The stock was holding support at the 20 SMA… and when it finally broke out, volume spiked up significantly…
Seeing the strength and increased demand for the stock as it broke out, I jumped in at .0234 and added some more at .0285 as the stock continued to show me strength going into the close.
And what happened next?
As you can see, SBFM popped up the next morning and I was able to grab my profits quickly.
Well before the move down the day after that.
I took advantage of a quick move for profits, while effectively limiting my exposure to the longer term back and forth swings that ultimately might take a trader out before making the next move up.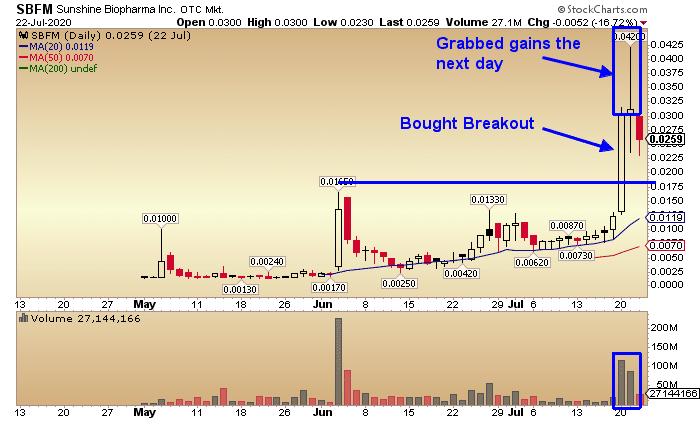 I've been able to limit my exposure to the uncertainty and wild swings in the market by trading in and out for quick profits…
Penny stocks move the beat of their own drum…
I am grabbing quick profits and moving on to the next trade… over and over.
I never worried about what's going to happen next in the overall market because my system is primed for any market…
Learn how to take advantage of stocks ready to POP overnight with my Free Stock Trading Starter Pack