Last night I was in random mode on Netflix and found myself watching a show about tiny houses.
Part of me wondered why… or more like HOW?
I can't imagine my two rambunctious kids being cooped up in 150 sq ft with me and my wife… and I definitely can't imagine trying to trade in my live members chat room.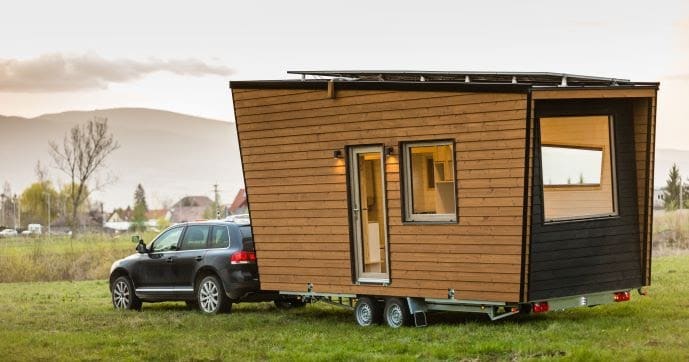 If you've been in my live chat room… then you've witnessed a time or two when I've had to step away to help navigate an argument between the kiddos.
Now imagine if I was trying to trade and coach you in a tiny house. It might get a little frustrating for everyone.
However, another part of me gets it…
As the king of small account trading, I understand going small… err tiny?
Sometimes it's a necessity.
As much as people want to glorify doing it (minimalism, environmental impact, sustainability, more focus on life), the number one reason is still money.
If you look into the people actually "going tiny," sure they may have those values but money is still the leading factor.
And that is something that makes sense to me.
It's the same reason I developed a system that can grow your small account FAST.
When I started out I didn't have a lot of money… I was just trying to make ends meet and get the hell out of debt… a tiny house wouldn't have sounded so crazy back then.
But what if I said you don't have to downsize to a tiny house to get out of debt?
Listen, if you want to live in a tiny house, I say go for it.
But if you would rather take your tiny account and grow the crap out of it… I've got the answers for you… 
I trade penny stocks for a reason. And it's definitely not because I think they are going from .10 to $100 anytime soon.
I trade penny stocks because they give me the best opportunity to grow my small account in a short amount of time.
Think about the big companies like Apple, Google, Microsoft, etc.
At over $1,000 per share, what's the likelihood of any one of those stocks moving 50% overnight? What about 10 or 20%?
Sure maybe on earnings day you can see a 10% move… but that's an extremely risky trade off of pure speculation… and not a trade that can be found daily.
Penny stocks on the other hand offer those returns on a daily basis. No joke. Just look at the top movers on any given day. The majority will be penny stocks every time.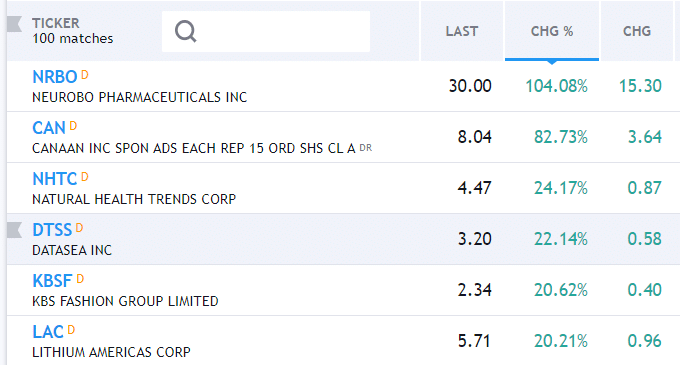 Look at the list of top gainers from the other day… only one stock on here is above $10 (the threshold for my scanner).
Today I don't even look at a trade unless there is potential for 10% or more overnight, and I really like to see 20%+.
Momentum Pops
The next piece to the puzzle is knowing which stocks to trade.
Never get into trading without a proven and reliable system. Period.
To learn how I crush the market with triple digit returns, click here.
When it comes to trading, I look for momentum. And I'm not talking about a stock that's been rocking up for months and just keeps going.
I'm talking about stocks that have created a nice consolidation base, building up the energy to pop like a rocket. I'm looking to trade the momentum on the pop.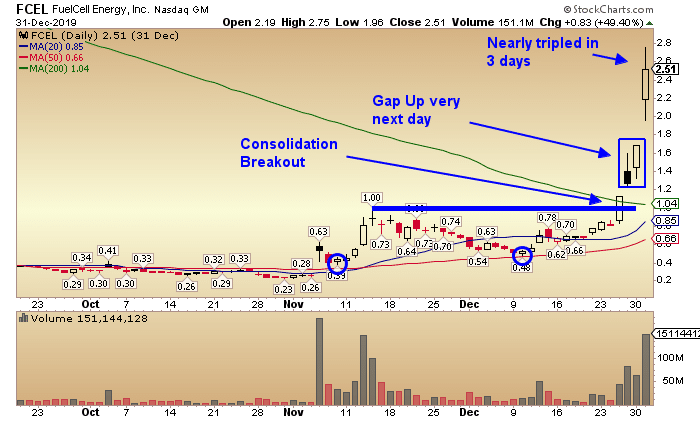 The key here… don't anticipate the move. Get in ON the move. Make sense?
Let me clarify… Don't buy a stock while it's consolidating in anticipation of a pop, it may never come. In which case you just tied up your capital for no reason.
And even worse, it could break to the other side and crush your account. Why risk it when there's an easier way?
What I do is wait for the stock to start making its move up. And the best part, I don't have to sit there watching and waiting on the same stock for months…
I have a custom scanner that does the hard work for me… It finds stocks that are beginning their moves.
This is where I want to focus my attention, by getting in on the momentum of the breakout.

Quick Shots
The last piece of this little puzzle answers the question of when to get in and when to get out.
There are a couple of things to keep in mind here.
First, I'm playing the momentum of the breakout… what's that mean? My play is the breakout move, not where it will be in a week or a month.
And two, I'm trading mostly worthless penny stocks… so I don't want to be in this thing in a week or a month because I really don't know what might happen.
My point is, holding on to these stocks doesn't make much sense does it?
So when do I get in? On the breakout… And when do I get out? On the breakout…
Of course I have a few things I am looking at to confirm a trade… such as elevated volume and a strong close. But for simplicity, I get in and out on the volume surge when it breaks out.
You see, penny stocks don't generally have positive earnings or really anything great going on at all.
So when something creates a breakout, I want to be sure I am in and out while the money is still flowing into the stock… and I definitely don't want to be caught when the volume dries up.
And who am I kidding… if I can make a double digit return overnight, why would I take on the extra risk just hoping this dog of a stock all of a sudden hits it big?
No way… Go grab 10, 20 even 50 percent or more overnight and watch how fast that adds up.

Stacking It Up
In fact, just take a look at my most recent challenges:
In the second half of 2019, I had two small account challenges… 3k into over 30k in 4 months… and 3k into 21k in just 2 months.
I started my first challenge of 2020 and in just 1 month, I'm up over 350%.
I do this over and over because I want to show you it can be done… and I want to show you how to do it…
I'm not going anywhere, this is my passion. So if you want to finally take control of your account and make something of it, learn from the very best, Join Profit Prism Platinum today.
Otherwise you might want to start looking into tiny houses.
Skip the tiny house by growing your tiny account…
Related Articles: