I talked about the 3-wheeled EVolution yesterday, and today those stocks are not letting us down…with AYRO, SOLO, and FUV all making big moves again.
If you didn't get to take advantage of this big run, don't get caught by the FOMO monster.
Watch for pullbacks, support and resistance levels, and chart patterns for a time to enter…or join my Stock Profit Pro trading room to be on top of it all every day.
Stocks don't go straight up…there will be pullbacks and consolidations in any big run, so be patient.
Today I want to take a look at a few stocks that are also benefiting from the move towards sustainability…just like the EV stocks we looked at yesterday.
Ideanomics, Inc. (IDEX)
Ideanomics (IDEX) facilitates the adoption of commercial electric vehicles and supports next-generation financial services and fintech products.
Consolidating in a trading range between $0.80 and $1, IDEX hit a bottom at .81 and again at .80 before making a close above the range.
The stock pulled back to the top of the channel, testing support and held above with another gap up the next day… (shown in the blue circle on chart)
Holding above the breakout point, demand came in lighting a fire for the big move up today.
Next high is at $1.85 and the 52-week high is above there at $3.98.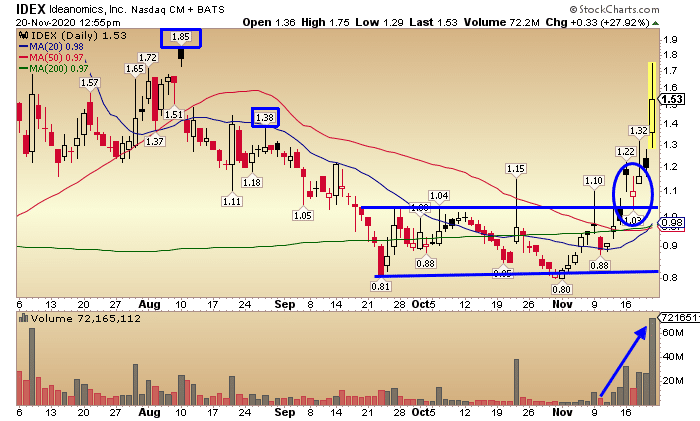 Join me in my Stock Profit Pro Live Trading Room, as I walk my members through my trades and what I am watching every day.
Sunworks, Inc. (SUNW)
Sunworks, Inc. (SUNW) is a solar company doing everything from providing and installing systems to managing and financing systems on all levels from residential to commercial applications.
After basing out for a month, SUNW picked up some steam breaking above the range in the mid-3's.
Today it's getting follow through for a rise above the previous high at $4.85 and next highs from here are up in the mid 8's.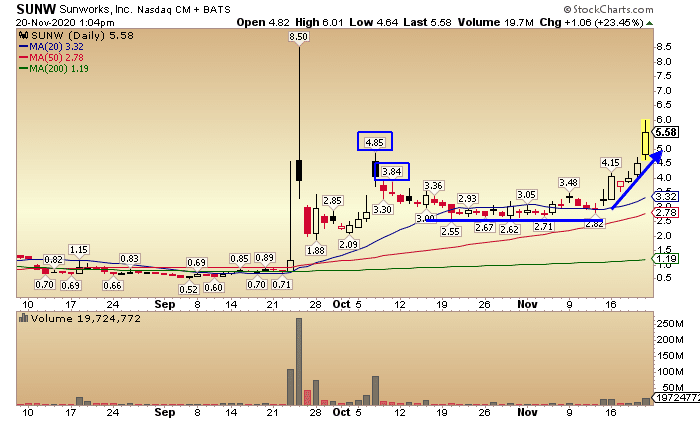 Westport Fuel Systems, Inc. (WPRT)
Westport Fuel Systems Inc. (WPRT) engineers, manufactures, and supplies alternative fuel systems and components for use in transportation applications worldwide.
The stock has been in an uptrend since March and wedging over the past month…
With the break higher out of the wedge, WPRT just hit a new 52-week high on a big spike up today.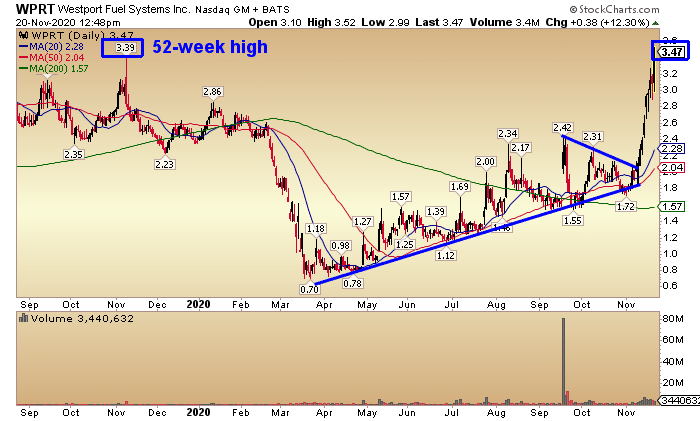 Net Element (NETE)
The chart for NETE looks a lot like SUNW.
After the big spike at the end of September, the stock pulled back and found a consolidation range.
After breaking out of the range last week, NETE retested the breakout point…
After finding support there, the stock began its move up and is getting big follow through momentum today…with next highs at $15.75.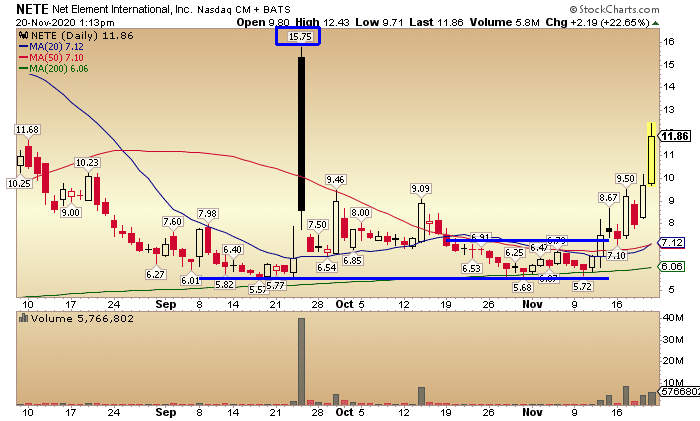 Don't waste anymore time on the sidelines wondering how to spot good momentum trades.
When it comes to the specifics of what gets me into a trade…
I teach it live Every Day in my trading room…but not only am I teaching it, I actually take my trades right there… walking my members through each step… all live.
Get your trading moving forward… Join Stock Profit Pro Today
Stocks I'm Watching Right Now
AYRO +44%
TTNP +23%
AEZS +21%
CAN +19%
GHSI +15%
WWR +9%
To get the most out of your trading, you need to be in my Live Trading Room.
This is where I spend the majority of my day…trading, teaching, and having fun with over 1,000 members.
Learn the strategy, see it live, trade with friends, and do it every day…