With an upswing in coronavirus cases throughout the country, led by surges in Florida and Texas. Some states have begun to not only pause but roll back reopenings.
The uncertainty around this makes it hard to know exactly what's next for the market.
At times the market has completely shrugged off corona news… but it's getting very hard to ignore this new surge.
No matter how the overall market reacts, there is one thing you can do to stay safe…
Trade a catalyst.
When you trade a catalyst you don't need to overall market to make your trade.
Take a look at the latest on these prime coronavirus vaccine plays.
And I'll show you why it's best to trade the stock and not the market.
Inovio (INO)
Inovio received $71 million from the government last week to ramp up production of the company's devices that deliver experimental vaccines to the skin.
The stock has more than doubled since.
So while the market was taking a hit… INO made a big move up based on a catalyst.
And it's not something you had to know about beforehand.
The 2 arrows to the far right show possible entries on breakouts from different levels of the consolidation patterns.
As you can see there was a lot of opportunity from this catalyst… after the news came out.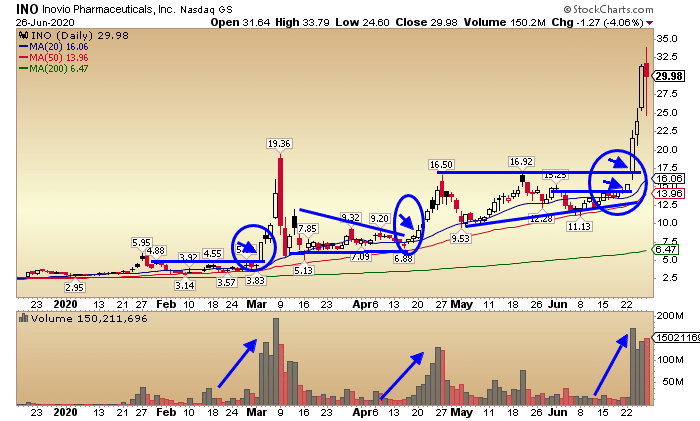 But even before that…
INO is one of the stocks that has been in the news during the coronavirus pandemic, so it's not like we haven't had our eye on this before today.
Going back to March there are plenty of technical breakouts after consolidation (arrows on the chart), and notice the volume ramping up on each move up.
These are the things I look for when finding my momentum trades each day…
VXRT (VXRT)
In an aim to accelerate the development of a vaccine the U.S. government has funded Operation Warp Speed a non-human primate challenge study and VXRT is involved.
The shares pretty much went warp speed on that announcement.
But again. Being a COVID play, there have been plenty of trade setups along the way.
Looking at the chart, you can see nice setups out of consolidation in both late February and April… and of course a few days ago on the newest "Operation Warp Speed" catalyst.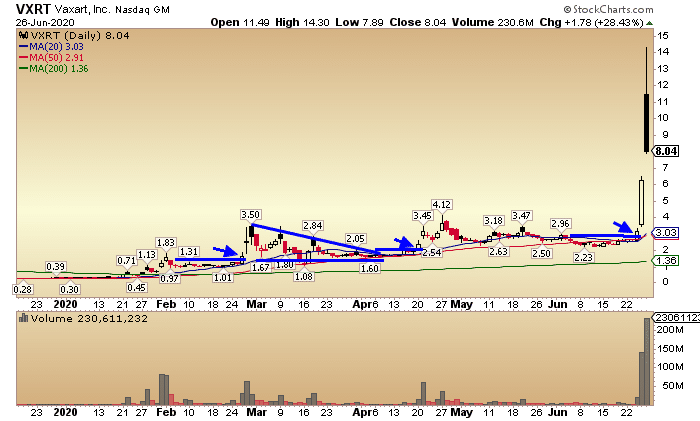 Not only do catalyst plays like this give you the opportunity to trade without fear of what the market is going to do next, they also provide the opportunity for massive returns.
Catalysts, especially in penny stocks can really set a buying frenzy off.
Moderna (MRNA)
MRNA took a hit last week due to a report that they may not own all the intellectual property that has been used to develop its RNA messenger candidate for a Covid-19 vaccine that was the first to enter human trials.
That's something to watch here…
And this isn't the first time MRNA has been sketchy with the public.
The news that jumped the stock to $87 was from a company press release that lacked sufficient data to really back up any claims.
You can see what happened once that became the highlight… it sank to $46 in just over a week of trading.
This is why I don't trade a catalyst as a long term trade.
Instead, I use catalysts along with the charts to find quick pops of momentum.
Anyone that traded the pops in MRNA made huge gains…
And you can see from the arrows on the chart, there were multiple plays using charts with the COVID catalyst to make some great trades in MRNA, regardless of the back and forth of how pumped up some of the claims may be.
Novavax (NVAX)
And check out Novavax today… NVAX has been one of the biggest winners of the COVID vaccine catalyst.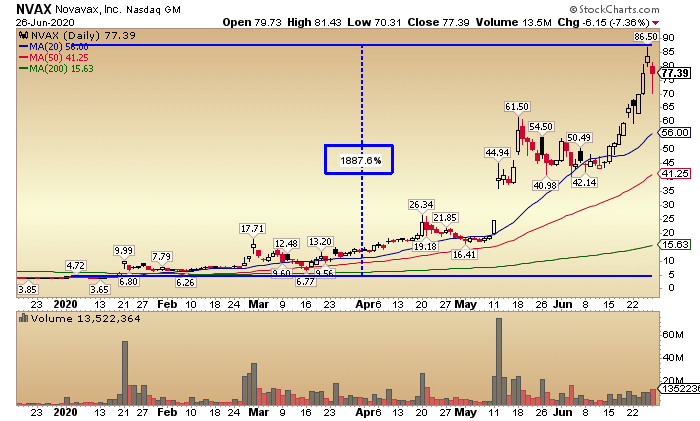 With the stock already trading near $80 up from a mere $5 in January… Just this morning multiple analysts raised their price targets to over $100. That's that power of a catalyst.
No matter what is going on in the market there are always catalyst plays.
If you want to make money without having to worry about the overall market, you need to focus on stocks that don't care.
Stocks that are moving on their own from catalysts like the search for a COVID vaccine moving INO, VXRT, and MRNA, and NVAX to name a few.
To learn more about how I use basic technical analysis to find catalyst momentum stocks…
Check out my Profit Prism trading strategy