There's never a shortage of catalysts ready to push stocks to new heights.
And with low prices and low floats, penny stocks are ripe for big moves out of nowhere.
For that reason, traders are always on the lookout for the next penny stock catalyst play.
And once they find it… it usually doesn't stop there as traders then try to make connections to any stock they can…
What I mean by this is many times when one stock takes off, others in the same industry follow suit… even if the catalyst is specific to only one company…
This is what I call the "Sympathy Play."
I see this over and over… and it's not just in penny stocks.
Today I'm going to show you an example from last week, so you know exactly what I'm talking about…
And how to capitalize on it.
Last Week's Sympathy Play
A sympathy play is when a catalyst affecting a specific stock is used to pump up other stocks that aren't directly related to said catalyst.
For example, one company's news or earnings will often push up the prices of other stocks within the sector… even if nothing actually happened to the other companies.
They get the pop up off the potential they could benefit…
First The Catalyst
Last Wednesday SPI Energy Co. (SPI) rocketed from a company specific catalyst and set off a number of sympathy plays as a result.
SPI Energy Co., Ltd. provides photovoltaic solutions for business, residential, government, and utility customers and investors.
And then last Wednesday the company announced plans to launch an Electric Vehicle subsidiary… noting the plan to follow Tesla into the end to end business strategy for sustainable energy.
Tesla is on a tear…
So let's build some EV's, easy enough right?
This sent SPI soaring over 4,000% from a close of $1.05 to a high the next day of $46.67.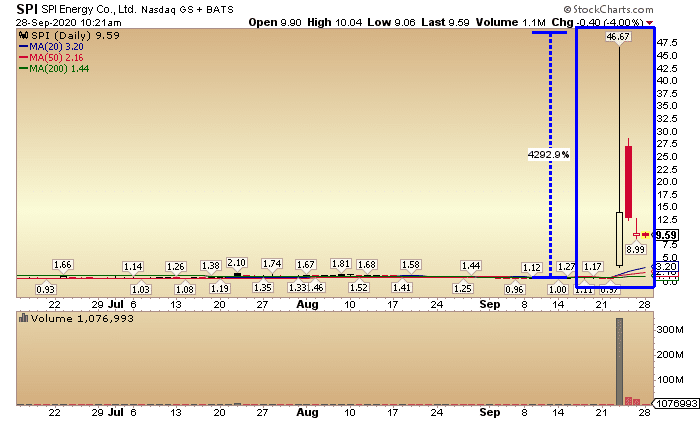 I happened to be teaching a lesson in my Platinum room as this happened…
And just look at what some of my members were able to pull out of SPI**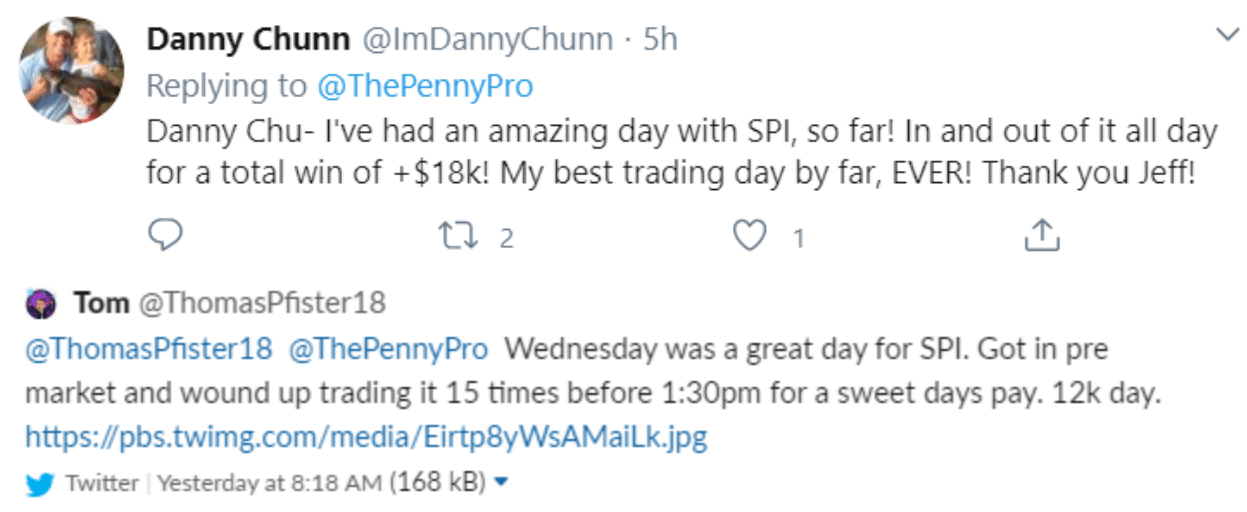 There's nothing different about these trades than any other trades… other than the magnitude of the move.
It all comes down to using your strategy and sticking to your setups.
Sometimes you'll get small moves, and sometimes you'll fall into a monster like SPI on Wednesday… just by trusting your setups.
The Setup
Here's what happened with SPI on Wednesday… and how my members cashed in during a live training I was doing on "Gap Up" stocks.
SPI had gapped up that morning on the "entering the EV market" news, opening at $3.54 after closing the previous day at $1.05.
And after gapping up, the stock was in pullback mode.
At this point I was watching the opening range and looking for a potential buy on a break of the highs…
And of course, as always, my strategies are very keyed-in on volume. I want to see the real demand fly back in as it breaks above the opening range after the pullback.
We set our eyes on the $4.20 mark for a potential break above the highs and another move up.
And…. Well, let's go to the chart…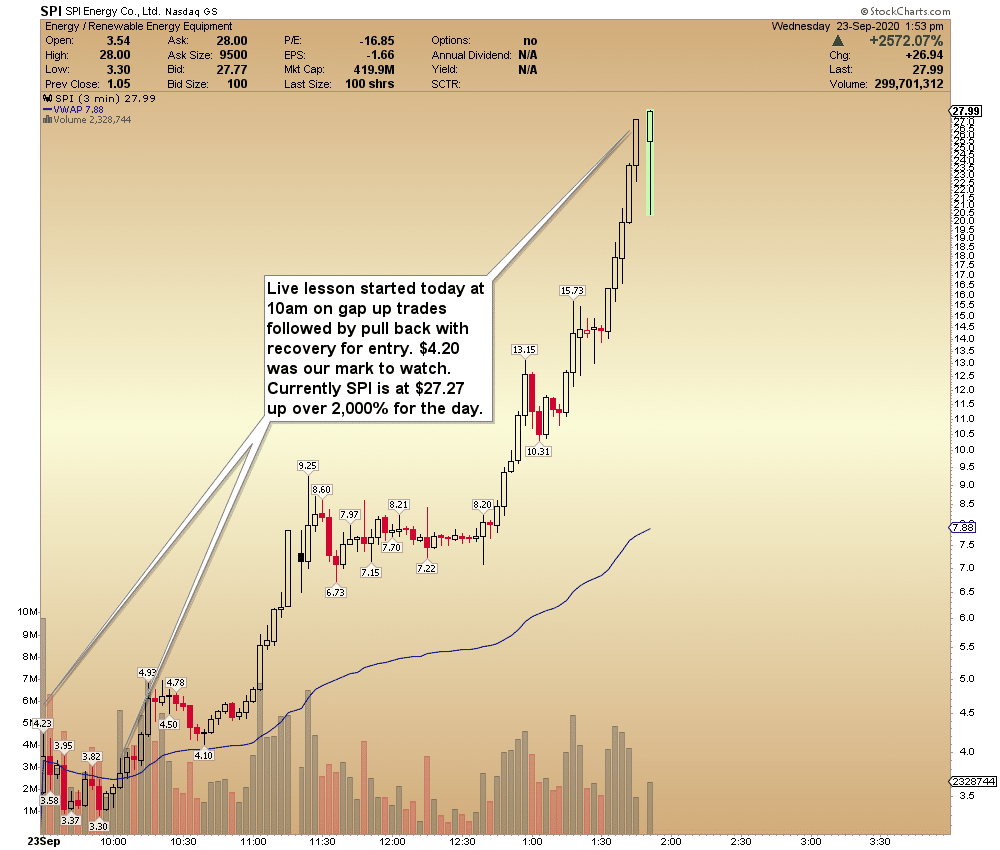 SPI straight up exploded…
Clearly not every stock is going to move like this…
But something you will find in penny stock trading… this does happen.
So if you stick to your setups, you will step into explosions like this from time to time…
You just need to be ready to take advantage of them when it does happen.
And that's just what my members did**

And Then, The Sympathy Plays
And right along with SPI, over the next couple days we saw SUNW, NETE, and CBAT all taking off on "sympathy" plays.
First let's look at SUNW as it got the most press related to being up in sympathy.
Like SPI, SUNW is in the solar industry making it ripe for the sympathy play. 
And take a look at this chart…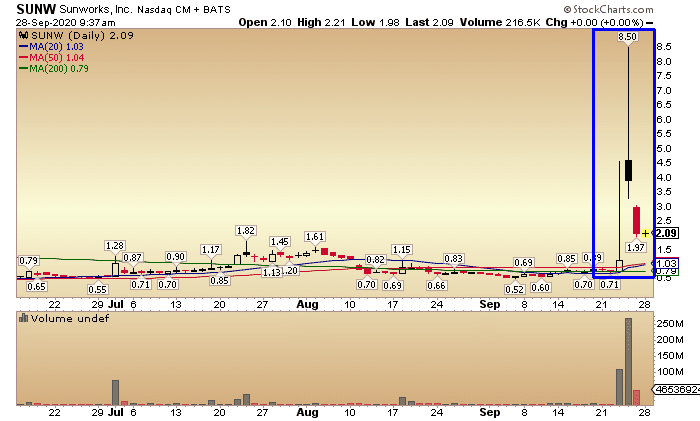 As a classic sympathy play…
There was no stock specific news in SUNW.
It shot up because SPI was at one point up over 4,000% and traders needed another stock to push.
The first place to look for a sympathy play is other stocks in the same industry in order to take advantage of the current mood around that industry.
And that's where SUNW was sitting ripe for the taking…
Here's how some of my members benefited.**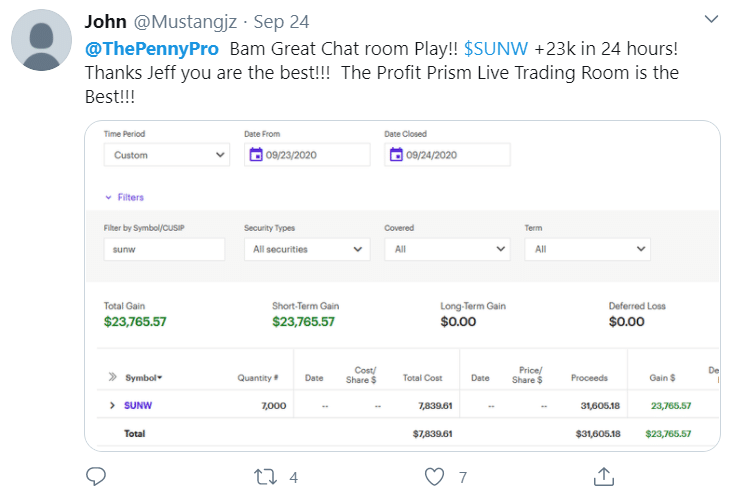 And then there was NETE.
This just goes to show how well known the sympathy play is.
Check out this press release right after SPI took off…

NETE was going nowhere before this.
SPI took off and even the Mullen and Net Element company executives took note, releasing the previously announced merger… 
Basically trying to remind/ point out that this stock has some sort of relation to the industry…
And the stock took off…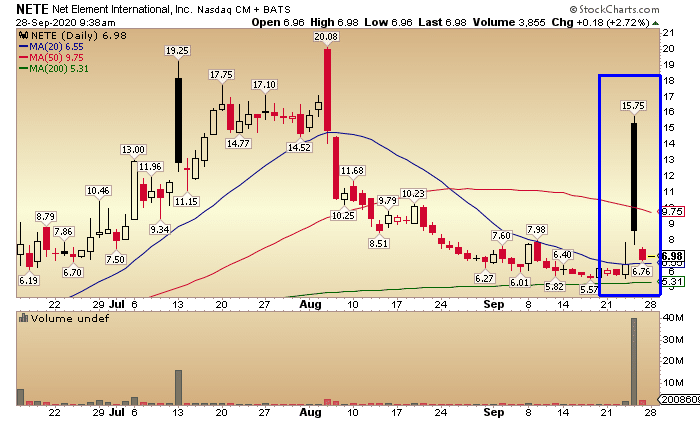 Here's another in CBAT…
CBAT specializes in lithium batteries. One of the applications for their batteries happens to be electric vehicles and with that… the stock exploded.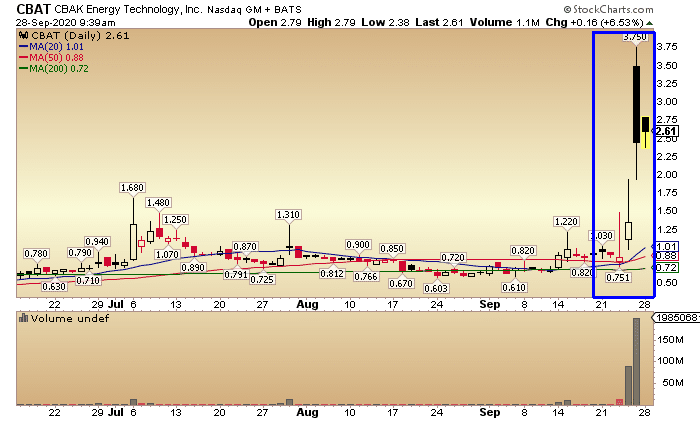 This is the "one off play."
CBAT isn't going to be making electric vehicles, which was the news that sent SPI flying…
So why on earth would CBAT get this kind of spike when it's so far removed from the specific catalyst?
That's the power of the sympathy play.
Traders are looking for action, so they are ready to find even the smallest connection to a stock that's flying in order to make a quick buck.
And you can use this in your trading too, just by understanding it.
I know my members do.**

Look for stocks with big volume spikes in the same industry and related industries and then stick to the setups you know and use every day.
With Profit Prism… you'll get the strategy and setups I use every day…
Along with education, alerts, watchlists… and of course access to my live trading and chat room… where I am right there on screen every day.
If you want to be a trader, Learn from the best… Check out my Free Starter Pack Today
*Results presented are not typical and may vary from person to person. Please see our Testimonials Disclaimer here: https://ragingbull.com/disclaimer
**RagingBull does NOT track or verify subscribers' individual trading results and these individual experiences should NOT be understood as typical as or representative. Please see our Testimonials Disclaimer here: https://ragingbull.com/disclaimer