Listen up. if I were to tell you there is money to be made in the market over the weekend, your thoughts would go straight to the overlapping hours of some foreign markets.
Or maybe the forex market which is a true 24/7 global market. And don't forget Bitcoin… many brokers offer weekend trading for that as well. Which makes sense being that it's a currency.
But you probably don't care about any of that. After all, it's just another thing you need to learn about. And there's risk to it.
At the same time, the weekend is our break from the market. It's a time for fun and relaxation.
Why would you want to trade 7 days a week?
I know I don't… but I am not sitting at a desk trading, or even checking my phone… but I AM making money with weekend trades.
Now do I have your attention?
I am going to show you how to enjoy your weekend activities and make money at the same time…
Your Weekend Wiretap – ZSAN
It's not just any trade. I have very specific criteria I am looking for to find the best trade to take over the weekend.
One single trade that provides me with extra income to use however I want. What's better than weekend money?
I mean weekend money that you don't have to work on the weekend for…
If you are anything like me… you would rather spend time being active, getting things done and relaxing with your friends and family.
I get to do all of that while bringing in extra income, and I can't think of a better way to spend my weekend.
Can you?
Let's take a look at how. It's called the Weekend Wiretap… and you can get access as part of Profit Prism Platinum (which also offers so much more on top of the weekend wiretap)
Every Friday, my system is set to find the single best stock set to gap up on Monday morning.
I just run my proprietary scan, flip through the charts for the special pattern that sets me up for a Monday payday, place my trade… and enjoy my weekend with no stress.
That's all it takes. And I don't have to read all the headlines or, even worse, worry about how they may affect my trade over the weekend because penny stocks move on their own catalysts.
I just pick the very best setups with the highest odds of gapping up or making a move on Monday morning… and of course my members get the alerts as well.
Just last Friday, November 14th, my scanner picked up on ZSAN.
I shared my Weekend Wiretap trade and my members were able to get in on the trade with me.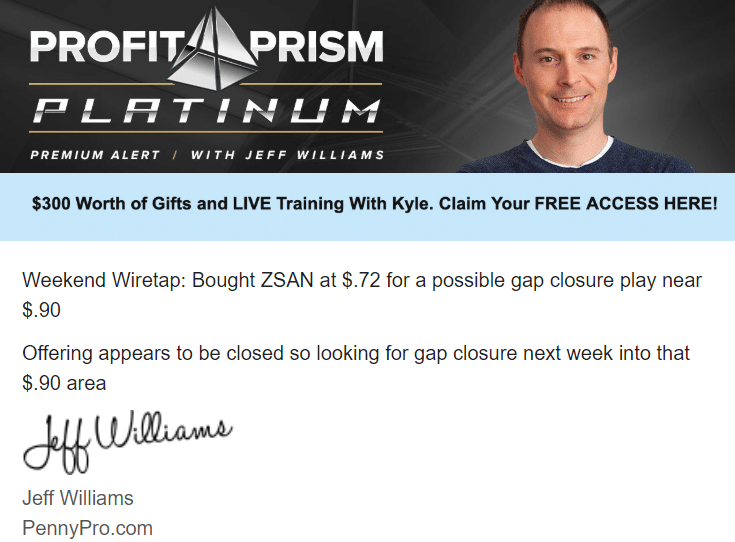 We relaxed over the weekend and on Tuesday, due to the holiday, ZSAN made its move and we grabbed our profits from the weekend trade.
In the Chart, you can see the Buy line on Friday… and the target range below the 20 day SMA in the area of the gap fill.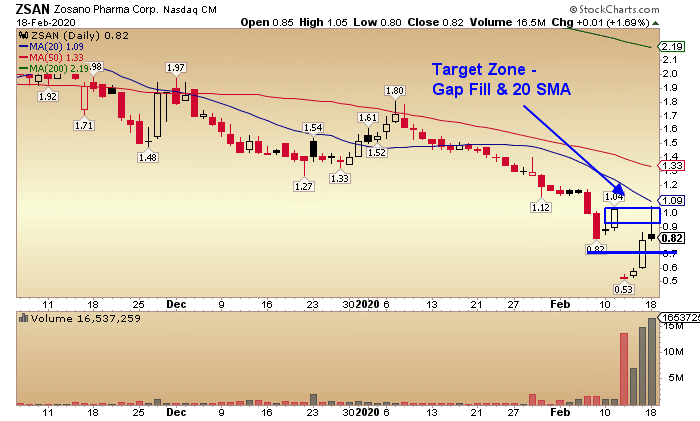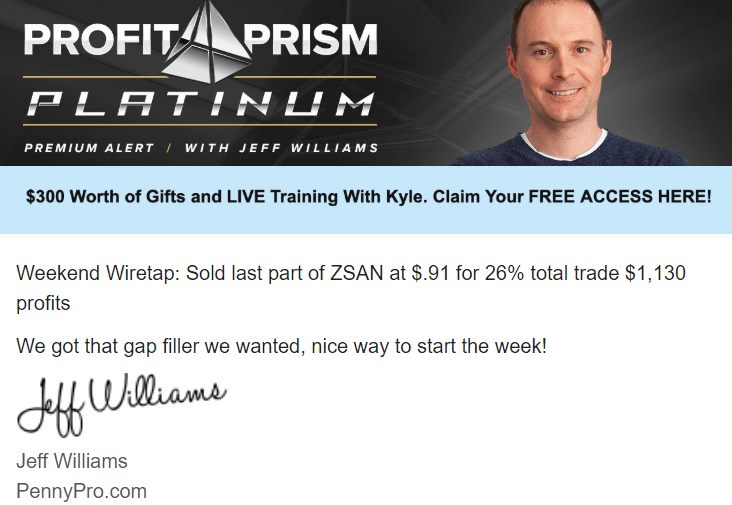 Well, needless to say, ZSAN made the move I wanted and my members cashed in…
Jonathan N. — Out of ZSAN at .90 for 21%!!!! $267 profit
Neal R. — ZSAN profit out at .92 for 225.00
Don P. — What an awesome weekend wiretap selection, Jeff! Thanks!
Timo — Out of ZSAN @ .94 +24.5% YEA!
Daniel M. — out of ZSAN at .92 from .768 for 19.8%
The system is simple to use… I find the best stock ready to gap up or make a move on Monday morning, so we can benefit from extra income over the weekend.
Enter on Friday and wake up to a payday on Monday.
You saw what last Friday brought… don't miss this Friday's trade.
Related Articles: