Wait. Why am I talking about TSLA, I trade pennies right?
Well, just a second to look at this.
Electric Vehicle (EV) companies, big and small, have been on fire lately…
And if you look at the little guys… It's not that these tiny companies all of sudden started producing amazing results.
It's that TSLA has been lighting the way…
What happens when you can't afford a stock like TSLA at $1,600 per share?
Well I know what I do.
I find companies that are in the same industry and look for potential.
After all there's a lot of room in the EV industry.
And that's where TSLA becomes very interesting to a penny stock trader like me.
It's going to be a very interesting week for EV stocks with TSLA reporting earnings after the bell this Wednesday…
So I'm going to walk you through the charts of some of the names I've been watching the past few months.
The Leader, Tesla (TSLA)
Two days out from an earnings release with high expectations, the TSLA chart is looking really bullish.
The stock had a big one day spike to a high at 1797.99, but closed the day around 1500.
Factoring the spike out, TSLA is putting in a strong move, as I type this, to break out of this consolidation area inside the triangle.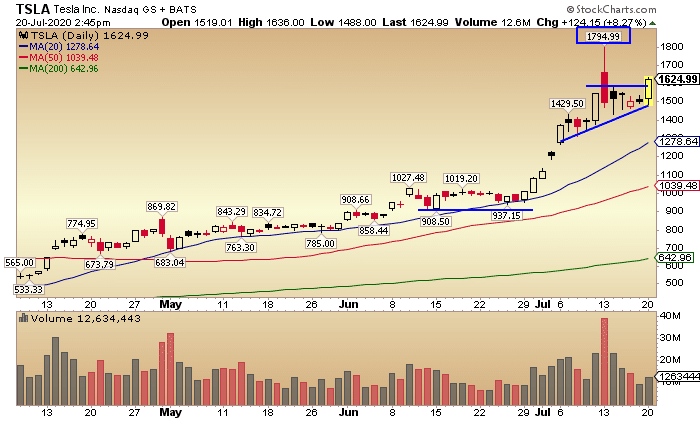 NIO Inc. (NIO)
Since its IPO, NIO has been regarded as the TSLA of China…
Now that alone makes my ears perk up. But if you look at the numbers, it's nowhere near what TSLA has been doing in terms of production, deliveries, and sales.
Shoot, TSLA may be the TSLA of China in the end.
But that doesn't mean NIO hasn't done anything. With a surge in deliveries reported last month, the stock is rightfully the number two on Robinhood traders' radar when it comes to EV.
Looking at the chart of NIO, on a move down, it touched the 21 day sma but held and closed the day holding support at the gap…
That coupled with today's current move off of support is showing bullish momentum towards previous highs of 13.95 and 16.44.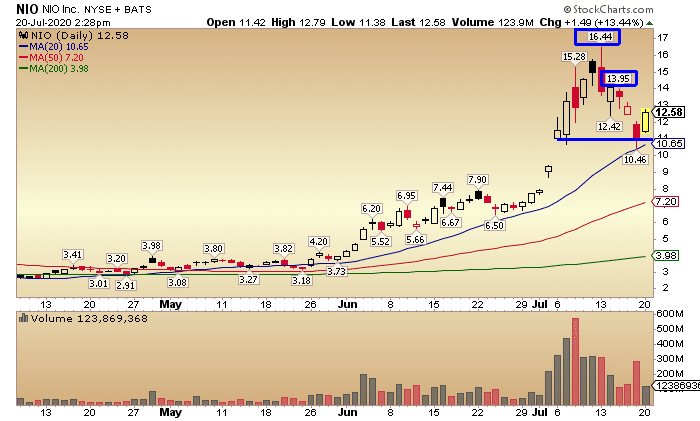 SOLO
Here's another EV player in penny stock land that rode the TSLA wave up.
But this stock isn't looking as bullish as NIO here.
SOLO found its support on the other side of the gap around the 21 sma.
Currently it's trading inside the gap, and therefore I would need to see it break the upside of the gap to get interested.
With TSLA earnings just two days out, anything is possible in this sector right now.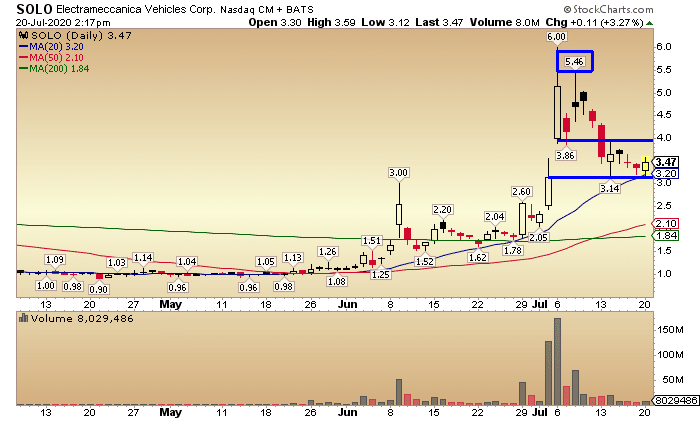 Workhorse Group (WKHS)
WKHS is making a decent move up inside the consolidation range.
I'll be keeping my eye on this as it works towards breaking out of the range.
If it can fully clear the range, the next high is 22.90.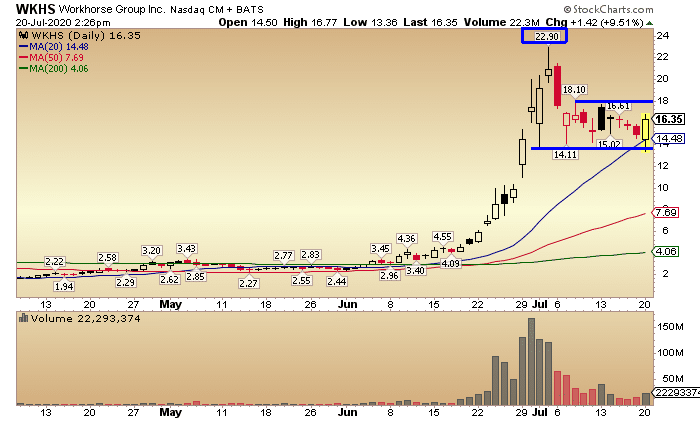 AYRO
AYRO also broke down into the gap but held support on the other side and also held above the 21 sma.
And like TSLA, the stock is making a very bullish move as it's breaking the upper level resistance as I am typing this.
I'm watching the volume and price action very closely on this move right here.
Just because TSLA may be out of your price range, doesn't mean you can't trade the strength.
You just have to know where to look and of course don't jump in blind…
Read the charts…
To learn how I do this… grab my Free Stock Trading Starter Pack Today