On Monday I shared a story on how I was attempting to break out of a trading slump.
I bring it up again, because a lot of times, when traders run into a wall, they'll make drastic changes to their trading. 
They'll jump on trying to learn a different strategy, or add an unnecessary indicator. Hoping by making one or two tweaks—they'll stop the bleeding. 
That's not how you pull out of a slump. 
Today I want to give you an update on my trading. 
But more importantly, outline the steps I took to break out of my slump and get back on the green team. 
I'll teach you how to:
take accountability, 

pinpoint mistakes before you make them, 

adjustments that make an impact (not worsen the situation)
As of yesterday's close, my tiny $500 account is now sitting at $7,235. 
That's a 1,347% return… and it's only been two months.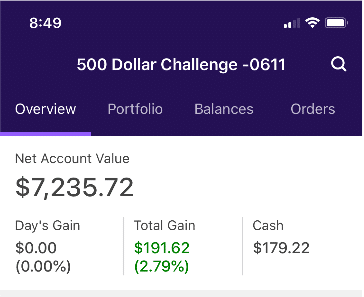 There's a reason I was able to get out my trading slump so quickly… and easily.
Let me show you now. 
Why It Works
So here's the deal…
Trading penny stocks (and small caps) is a big part of why my strategy works in ANY market.
You see, these stocks don't move in sync with the overall market trends.
They move according to their own catalysts and that provides opportunities, every day.
And that's exactly what I do… by playing the momentum in those stocks.
How to Trade It… the Right Way
Let's go to the charts.
To see how this works more clearly, here are a couple examples of the trades that pulled me out of my slump.
And there is nothing different about these than any other trade I have taken.
The slump simply occurred because of my own mistakes. By getting my mind right and back to my strategy, I was able to get back on track… fast.
Take a look at ABUS: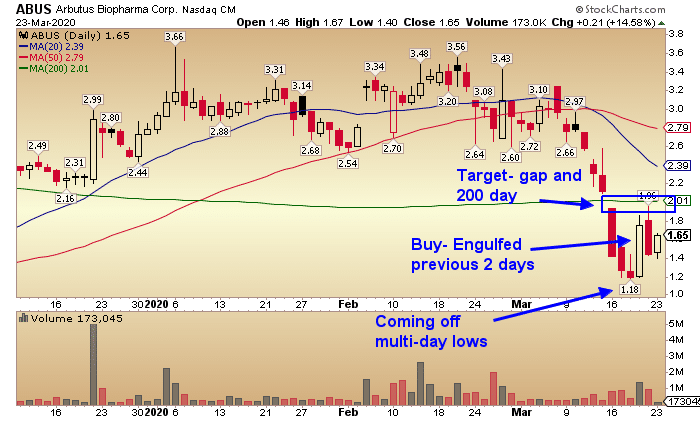 What did I like about this stock?
It was coming off lows from the past couple days and stepping up throughout the day.
As I was watching this at the end of the day, volume ramped up and it was trading really strong… breaking above highs and engulfing the candles from the previous 2 days.
I jumped in at 1.60 after it fully engulfed the previous candles looking to catch the momentum into the next day. (a basic component of my strategy)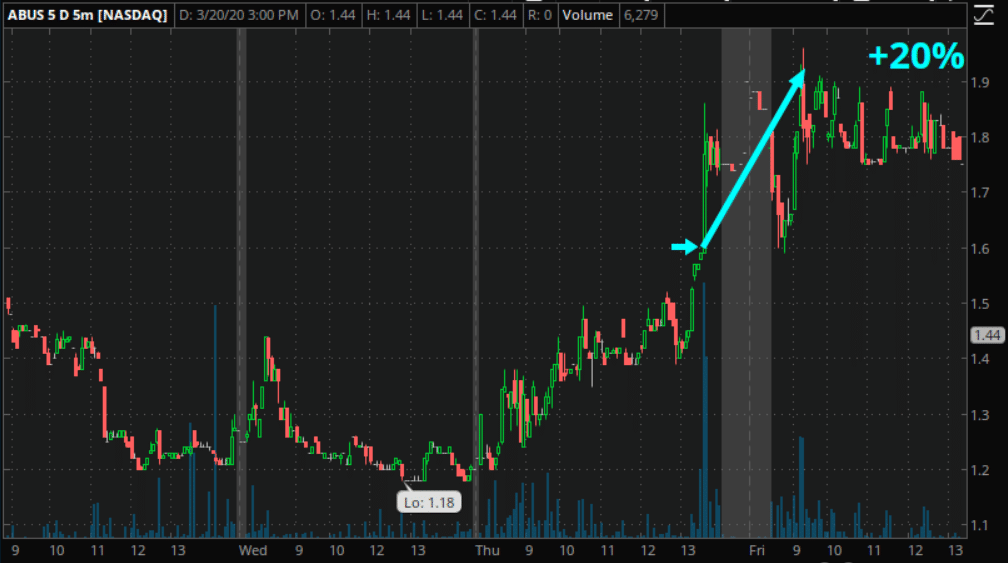 And that's exactly what I did for a quick overnight 20%.
As you can see I grabbed this profit first thing in the morning before it trailed off the rest of the day.
This is another key part of my strategy. I am looking for quick pops. I'm not trying to hit a home run on every trade… although those will come too.
By targeting key levels I can grab small gains over and over with less risk.
Looking at the first chart, I spotted resistance levels at the high of the gap candle and the 200 day moving average. Both major resistance levels, coming together.

By looking to grab profits just under that level I was able to pull in 20% while sleeping like a baby the night before.
To further explain my strategy and why it works, let's look at another trade.

ABMC opened on a big gap up and then traded back down to retest the previous day highs, which held as support.
The rest of the day the stock was making higher lows while forming an ascending channel.
What happened at the end of the day was exactly what I look for in my trades.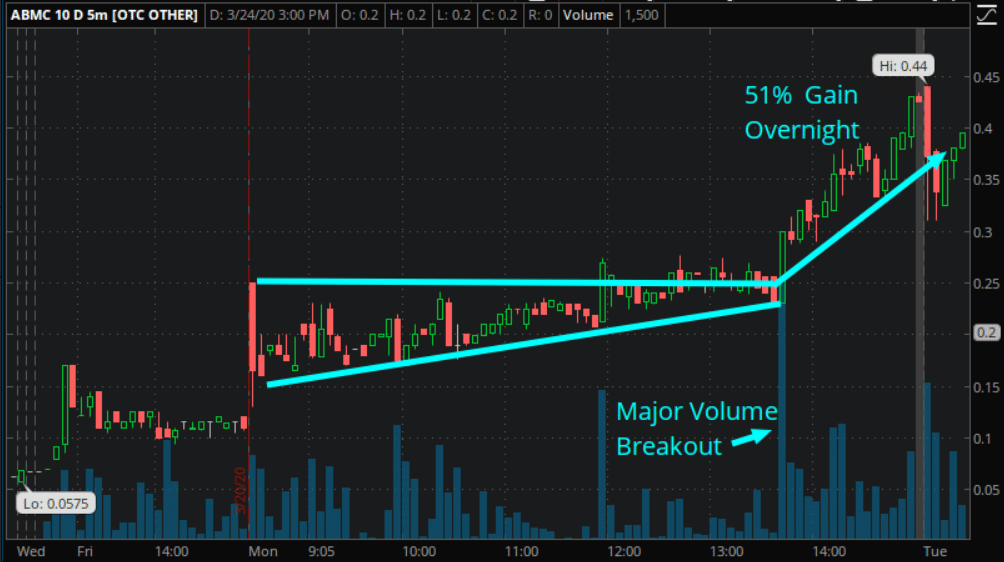 Volume spiked on a break above the channel. I jumped in at .245 and the momentum carried it away, allowing me to lock in a clean 51% gain the next morning.
I like to keep it simple with my strategy.
I know what I'm looking for and I don't hesitate to get in… nor do I hesitate to get out with profits.
That's the power of the Profit Prism system.
What is the Profit Prism Platinum service all about?
Well, it's so much more than alerts…
Everything it takes to become self sufficient. Trading strategies, live training in my members chat room, and a one of a kind member's community built for success.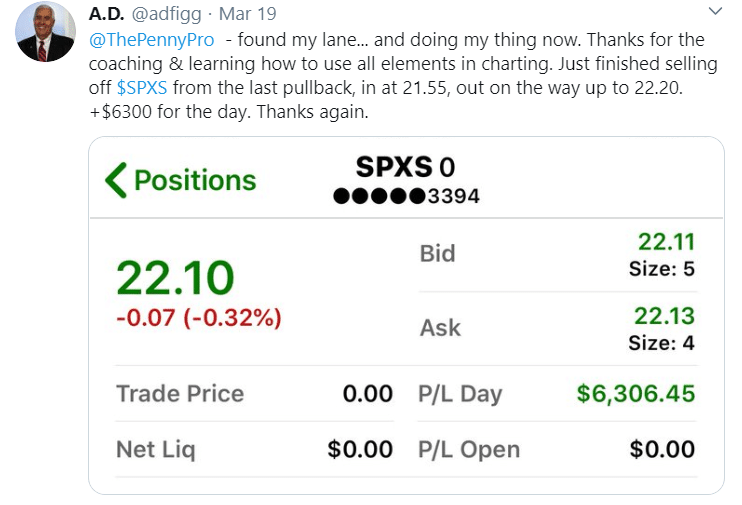 Above is a member tweet. He isn't just following alerts… he has learned to trade on his own… and THAT is the goal of my service.
I want you to have the confidence to find your own trades and of course be profitable…
That's the beauty of my member's area.
I am there everyday. Trading live, answering questions, talking about trades, and providing live training.
And it's not a bore, this isn't just me being a talking head… all my members are active… that's how you learn and become a better trader… 
Helping one another.
And my trading strategy isn't complicated.
It only takes a few lines on a chart and a little experience, which you will get as part of the Profit Prism Platinum community.
After running my custom scan… I run through the charts, talk about them with my members, and choose the stocks I think have the best chance of making a move the next morning…
This is all done in about 15 minutes at the end of the day… So once I am in the trade, I just go about my evening.
The next morning, I wake up and take my profits… it's that quick.
If your small account size has kept you from trading or being successful, that's what this service is all about… to show you how to be successful and help you learn how to do it.
Related Articles: