The markets are closed tomorrow, so let's make it count today.
I'll keep it short and sweet with the idea of focusing on what's setting up going into the afternoon trading session…
Check out my list of stocks I'm watching to potentially grab some gains before I'm sitting back relaxing with my family, watching some football, and eating some great food.
I hope you enjoy the Holiday…and your break from the markets.
Without further ado…
Guardian Health Sciences (GHSI)
After a long downtrend, GHSI formed a little cup-and-handle breaking out of that on the 19th.
Today the stock is up a little over 7%, nearing the previous high of .262…
Will we see strength in the close to push it through, or will the stock take a breather to set up another day?
Next chart highs at .274 and .355.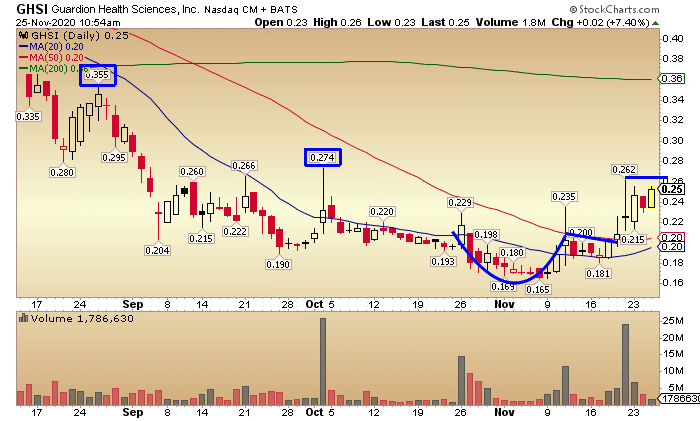 To see what I'm trading live…
Join me in my Stock Profit Pro – Live Trading Room, as I walk my members through my trades and what I am watching every day.
Applied Optoelectronics Inc. (AAOI)
AAOI is trading into the gap today.
I'm watching for continued strength with a pick-up in volume.
With the 50-day above at 9.80, there's some room to that level.
But I will need to see how it's acting towards the close.
It's the day before a market holiday, so be careful about jumping into trades with no volume confirmation.
You could get caught in a false breakout.
It's a good day to be patient and sit on your hands if you don't see what you want.
You can learn a lot by watching…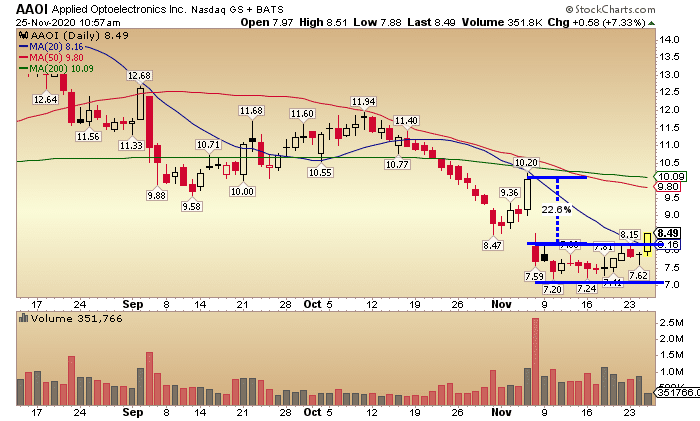 NF Energy Saving Corp. (BIMI)
BIMI is breaking out of the recent consolidation range and currently trading near the intraday high.
I like a good breakout, however I am watching the volume levels here. It's not exactly a big spike, which worries me.
Something to keep on eye on going into the close.
Above we have the 200-day at $2.38 and a previous spike to $2.70 as resistance levels to watch.
And again, without a good increase in volume, be careful of false breakouts today…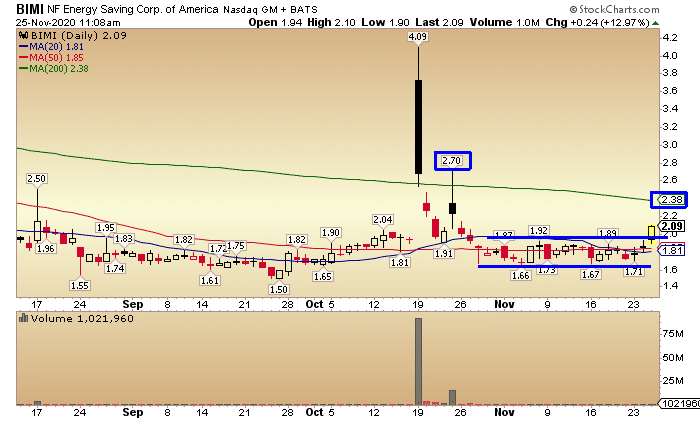 At the end of the day, it all comes down to the demand levels increasing enough to push the stock's momentum, will we see it or not…
Don't waste anymore time wondering how to spot good momentum trades.
When it comes to the specifics of what gets me into a trade…
I teach it live Every Day in my trading room…but not only am I teaching it, I actually take my trades right there… walking my members through each step… all live.
Get your trading moving forward… Join Stock Profit Pro Today
---
Afternoon Watchlist
COCP +47%
TOUR +29%
ACST +25%
PGEN +17%
KODK +16%
---
To get the most out of your trading, you need to be in my Live Trading Room.
This is where I spend the majority of my day…trading, teaching, and having fun with over 1,000 members.
Learn the strategy, see it live, trade with friends, and do it every day…
Join Stock Profit Pro Today