We've all sat and watched a stock just rolling up like it has no cares in the world.
Each time it pulls back, it stays above the previous low.
Then it moves back up to break above the previous high, creating another swing higher.
The question is how do we take advantage of this price action?
Well you've come to the right place.
This is what I like to call a stair step pattern.
And I trade it a lot…
This is a pattern formed by a strong stock… and there are actually a number of ways to trade it.
Such as playing the pullback at support or buying on the next break of a high.
But don't worry, I'm not leaving you with just that…
Today I'm going to walk you through BRTXQ, as it first starts to form this pattern.
And show you when I got in, and how I knew to get in…
Along with the signs that the second swing higher had the potential to make this a runner.
BioRestorative Therapies, Inc. (BRTXQ)
BRTXQ looked to be forming one of my bread and butter trade setups, the stair step pattern.
Simply put, the stair step pattern forms from a series of higher highs and higher lows.
If you see it on a chart it looks like a staircase… each higher high is another step up.
BRXTQ had made a swing up to .007 and then pulled back to .0019… at this point it looked like it could begin a stair step higher, but…
To confirm the setup, the stock needed to break above the previous swing high at .007… which it did on Aug. 24.
Basically it needed to make at least one step higher after the first move up.
This is how I knew where to put my entry… buying on the confirmation of a swing higher.
One extra note here is that volume also spiked up on the break higher… This gave me that added confidence in the move.
And that's when I sent an alert to my members at .0101…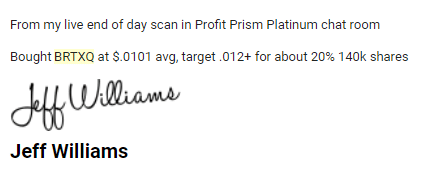 First targeting the area of .012 for a quick 20% gain… and as you can see in the chart below, BRTXQ hit that easily.
With a high the very next day at .0144, over 40% above my alert price.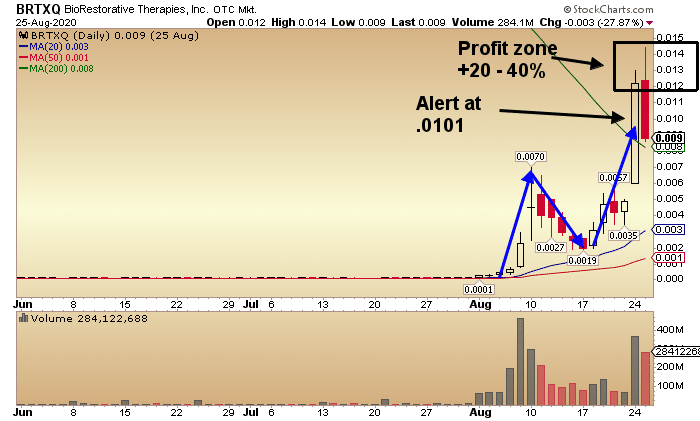 But the stair step pattern wasn't over yet…
After the quick 40% pop, the stock pulled back which is all part of the pattern… consisting of a series of higher highs and higher lows.
But here's where a few little insights help point to the potential strength of the next breakout.
On the pullback, BRTXQ stayed above the 200 day sma AND the previous breakout point.
All it needs to do to keep a stair step in play is make a high low on the pullback.
But staying above the breakout point showed even more strength.
And when the stock broke above the new swing high at .0144..
Well you can see for yourself…
We got a runner…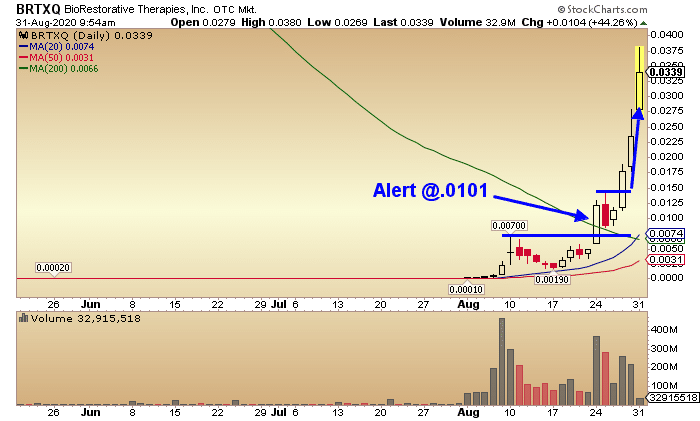 BRTXQ shot off like a rocket… hitting a high this morning over 276% from my trade alert at .0101.
But what if you took your 20 – 40% profit on my alert?
Would you have missed the next big leg?
Well that depends… were you paying attention?
Here's how you would have played it…
For a stair step pattern to stay intact… it needs to continue to make a higher high, after a higher low.
So the next buy point after making a new higher low would be above the previous swing high.
Just like the first alert… buying on the breakout with a spike in volume.
Which would be at the time the stock is making the next leg up in the stair step pattern.
And as you can see, it shot off like a bottle rocket.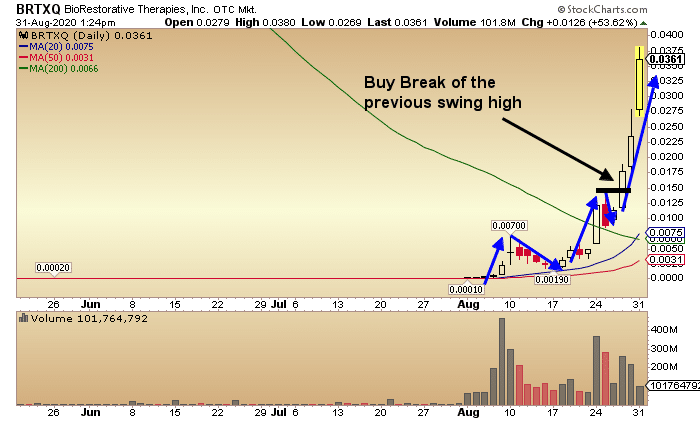 As mentioned earlier… when looking at the pullback, there were a few signs of strength to pick up on.
Specifically that the stock held above the 200 day SMA and the previous breakout point on the pullback.
As with anything, the more things that line up the better.
So what can you do to learn more about these setups and trading in general?
Well, when it comes to my members… My goal is to teach them to trade.
So with any stock I send an alert on or talk about in my chat room… they don't just follow me…
They will be able to trade it according to their own plan.
Just look at some of the different levels my members traded BRTXQ at*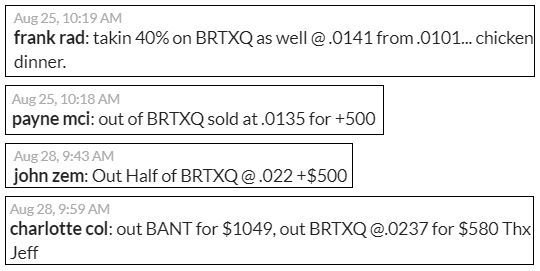 Some members were in and out on the first profit range and others were there for that second wave up…
No matter what your comfort level is… I'm here to help you.
I like to keep things simple with my Profit Prism strategy…
And I am Live in my Platinum chat room, every day… teaching, trading, talking and having fun with my members.
If you really want to learn to trade… That's the place to be!
Get Access to my live chat room now…Join Profit Prism Platinum Today.