The fear monster is in full swing.
We've been inundated with toilet paper hysteria and I for one can't look at another toilet paper meme.
But the underlying message from all those memes is a message of the reality we are facing in the markets right now.
FEAR!!
So do we Buy or Sell?
First off, I'm not a licensed financial advisor, I'm a trader, so I can't tell you that or even advise you on it. What I can do is teach you to trade.
But as far as I can tell, this thing just started and the headlines have yet to turn.
In fact, every day there's a new issue… or 7 that we didn't have the day before. Creating the whipsaw and negativity we are seeing in the markets.
With no clear idea on what the full negative impact this will have on the economy as of yet, it's hard to find/ know the buy zone.
In my opinion, there is more market mayhem to ensue, so for me, I am still feeling it out before stocking up.
But the one thing I know I can do in this market is to stay the course with my trading, and continue to make money. And making money on a daily basis sure helps keep the fear monger at bay.
As you know I mostly trade penny stocks along with some small caps and because they don't move in step with the market, they can make some great moves up… even in a market crash.
In fact, it's because of this that I am pulling in some really big returns right now.
Maybe you are too. Or maybe you're filled with fear or shock from the recent market moves.
There's no need to panic because while I can't advise you on how to run your portfolio when it comes to trading I've got you covered.
I have the recipe for this market… and I am known for my ability to teach people how to trade.
To get started, I'll walk you through a couple of really interesting story stocks I'm watching right now. Why I'm watching them, the levels I like, and the price action I'm looking for…
Stocks I'm Watching Now
Huge move up Friday.
Then stimulus from the Federal Government comes in and the futures pointed down almost immediately after.
Why?
More cancelations, closures, travel bans, shut downs, you name it. The coronavirus is a major disruptor.
So here we are on a Monday, with all that happening and given the whipsaws we've been witnessing let's settle in a little and just see how things develop today.
No need to get antsy, patience is key in this market.
For those reasons, I don't have a huge watchlist to get the week started. But I know it will develop nicely as we get into the week and the market gets moving.
Let's get into it, below are a couple of interesting stocks I'm looking at to start my week.
To know what I'm watching and more importantly what I'm trading in real time, click here.
OraSure Technologies, Inc. (OSUR)
One look at this chart and it seems someone knows something we don't.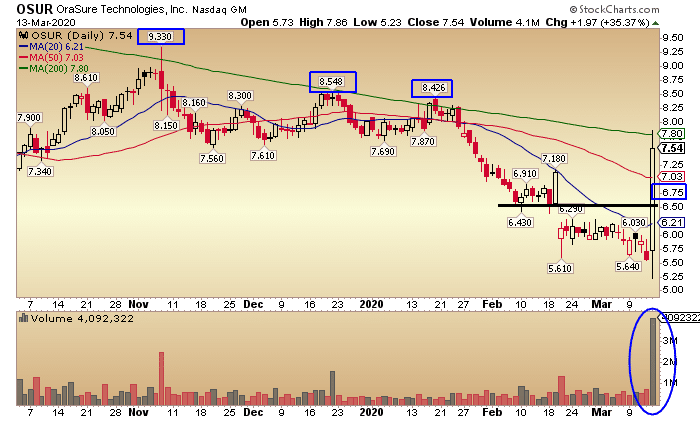 Take a look at the recent news and there's nothing out there.
Now take a look at what the company does.
Pulled from the company website:

With the need and lack of testing for the coronavirus, could OraSure be pivoting to produce a test for the virus now?
I don't have the inside information but with the price action from Friday, I will be watching this one closely.
Key points from the chart:
Huge volume on the breakout

Pierced the 200 day and pulled back

Next highs to watch, 5.43 and 9.33

On a move like this, I will watch for a pullback and see if it holds. A 50% retrace will put it around 6.50

The close of a gap also happens to be around 6.50, so that will be a great area to watch for support.

I will be watching the price action in the 6.50 – 6.75 range.
Gamestop (GME)
No doubt this one dog of a stock. What a mess we have here.
Everything is going digital and GameStop is 7 steps behind, leading to declining sales and profits.
So why am I watching this?
Take a look at the chart. There's an interesting story behind this move. Is this a kids-are-stuck-at-home-coronavirus play?
It could be, but there's more to this move and I'll get to that in a second.
First, the move I'm talking about is from last Thursday and Friday.
Gap down and move up Thursday to gap a little higher Friday and a strong close.
Volume wasn't high so maybe the conviction isn't there yet, or someone is accumulating.
But now let's take a look at the deeper story here because it's an interesting one, and it's just getting started.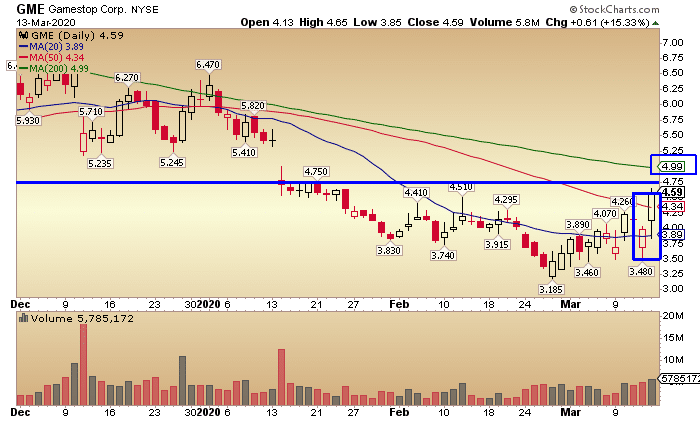 Little background on the death of this company.
I already mentioned as we all know, everything is digital. So where does that leave Gamestop?
Well slowly dying out.
But this is where it gets interesting.
What you may not know is that an activist investor group owns about 7.5% of the company.
And after making a deal that left them without a voice for the past year, they are now able to voice their concerns and demands publicly. Which they are not shy about.
First things first they are demanding stockholder representation on the board.
This was announced Thursday and that is what first caused the stock to gap down. But after that initial response, the stock made a strong move up.
Maybe investors are seeing the intervention by activists will add value instead of negative conflict. It's only been two days, so it will be a good one to watch as time will tell.
But one more interesting note to this story: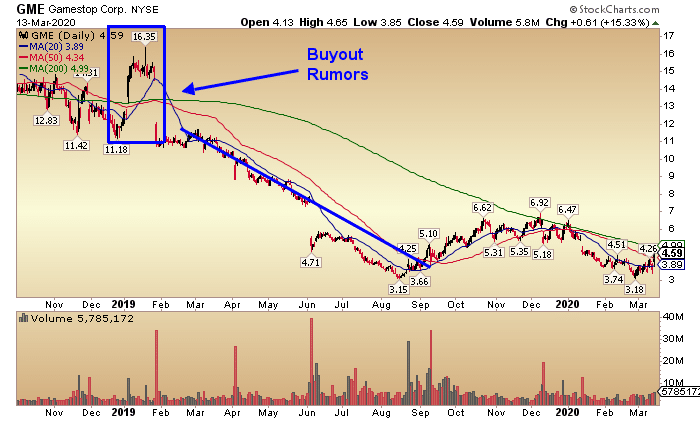 If you look back to January 2019, there were some serious buyout rumors causing the stock to jump from 11 to 16.
And clearly they fell through and created the downward spiral of a standalone company with an outdated business model and declining earnings.
Now for one last piece of the puzzle, take a look at the at what the activist investors have said now that they have a public voice again:

I'm not saying its share price should be in the teens. But they are and it's an interesting storyline to pay attention to given the price back when there were buyout rumors.
Can the activist investors come in and push for improvements or maybe find a buyer?
Needless to say, this will be a stock I keep an eye on.
Listen. There is a lot of fear in the markets right now. And in the world for that matter. Things have gotten a little crazy.
Just expect a lot of volatility and don't panic. That's when people make mistakes.
I for one have been pulling in massive returns during the crash. And with my background as a teacher, I have a skill set that has given me success at teaching others to trade as well.
Don't let the market eat you alive. Learning to trade a crash and the emotional side of trading can set you free.
Related Articles: