Most people think of penny stocks as companies that no one has ever heard of.
And many times that's true.
But the fact is, there are a lot of companies in the penny stock world that you would surely know.
Sure, oftentimes it's simply because they've fallen from grace. But when it comes to trading, it's not about the long term fundamentals of a company.
It's about the supply and demand of the stock at a particular time.
Today I am going to show you that there are plenty of household names in the penny stock arena.
We'll take a look at 4 penny stocks of iconic brands along with the price action of each stock to tell the story of the company.
And most importantly… how I use price action and supply and demand to make money reading the charts.
Hertz (HTZ)
If you've ever rented a car before, you know Hertz.
It's an iconic brand in the car rental industry.
And now they are a penny stock.
What happened?
Well it usually comes down to debt… by the time they filed bankruptcy, Hertz had amassed a debt load of nearly $24 billion.
Once the COVID lockdowns hit, travel basically ceased to exist overnight, leaving Hertz with no way to meet their obligations.
So what's happening now?
Since entering bankruptcy protection, the courts approved the sale of $1 billion in what may end up worthless stock. Yeah it's a head scratcher.
Yet the stock made some big moves recently.
From a low of .40 up to $6.25 in just 2 weeks…
And there was a nice trade here when HTZ made a nice move out of consolidation at $1.50 hitting the $6.25 high just 2 days later.
The stock then pulled back to $1.71 and now sits at $2.83 as of Friday close.
From a fundamental standpoint, this is as risky as it gets.
From a technical standpoint, buyers pulled in at $1.71 above the consolidation breakout showing some support there.
I would be looking for continued increased volume on a move higher, but if this goes up… it's going to be done on the backs of speculators.
Buyer beware…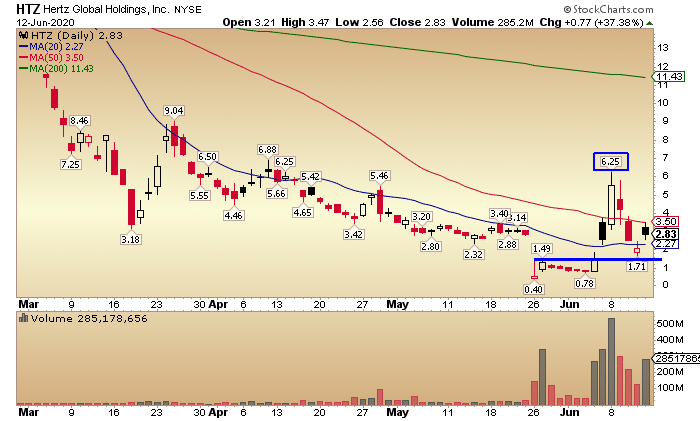 JCPenney (JCPNQ)
JCPenney is an old staple in the department store arena dating back to 1902 with its first store in Wyoming.
But over the past decade it's become stale with a string of bad management decisions and changing trends.
Department stores in general are hurting but with Sears taken out a while back, JCPenney is the poster child for the decline of the department store now.
While they have been hurting for a decade, JCPenney filed for bankruptcy protection last month with the coronavirus dealing the last blow…
Just like Hertz, JCPenney had too much debt to handle a total shutdown in the economy.
They had no choice but to file for bankruptcy protection.
Hitting a low of just .11, the stock spiked up to .70 in a big 2 day swing on hopes that reopening will bring a lifeline, only to pull back on COVID second wave fears hit hard.
Like Hertz, the pullback found support at the breakout level… and you can see that it held at the 20 and 50 day SMAs… both good signs of support.
With futures pointing down on fears of COVID resurgence, let's see if it can hold that level.
Support there is key to a setup forming.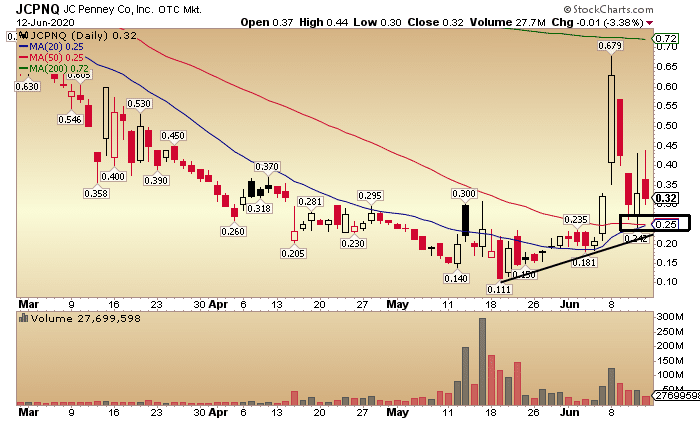 Party City (PRTY)
I have no doubt that products from Party City have been used at a party you've attended at some point in your life.
But for sales, it's Halloween that takes the cake with costumes, decorations, face paint, and candy.
And last year Halloween sales took a hit across the industry as a whole, hurting Party City in a big way.
The company then turned an unexpected third quarter loss blaming it on a helium shortage and the decrease in Halloween spending.
But it's not that simple…
Like other bricks and mortar retailers on this list, Party City is struggling to pull in customers who have more options than ever.
Online and big box stores can provide all the same things… and if you've been in a Party City lately, it's usually a big confusing mess.
So while Party City wasn't doing great before… The coronavirus shut down the last of the fun.
And with all the debt they are sitting on, the party might be over.
But unlike JCPenney and Hertz… Party City isn't officially in bankruptcy yet.
I talked about this stock not too long ago as it broke out of consolidation above $0.80 and ripped higher to $1.59.
The run ended with a peak at the 200 day SMA pulling back to $1.35 last Thursday.
Party City has a lot going on including their earnings report last Thursday… but it's not the earnings everyone is focused on…
Party City is in talks to work out a deal with bondholders that would reduce its debt by 25% and raise an additional $100 million in capital.
That's a monster deal and that's the thing propelling the stock higher.
Finding support at the 20 day for now, I'm watching volume and price action to see if demand picks up off the 20 day SMA or not.
And I'll be keeping an eye on the press releases as the debt deal is the catalyst in play here.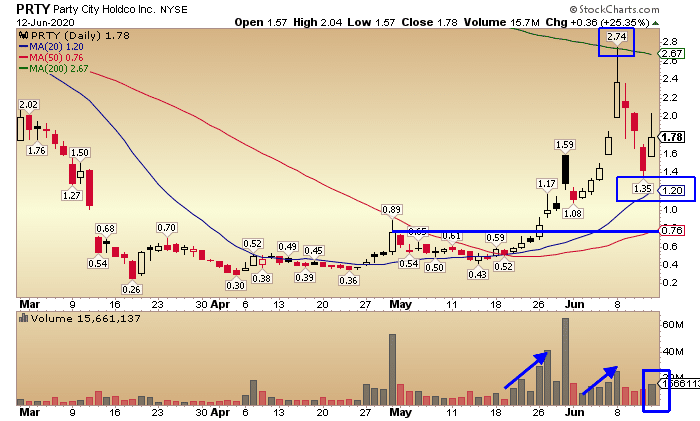 Tupperware Brands (TUP)
If you ever need a place for your leftovers, just reach for your tupperware.
Nearly every household in America has at some point had tupperware in the cupboards.
Known for its in-home sales "tupperware parties," the company has not been doing so well with the changes in the way people shop, as well as the new gig economy jobs.
Not as many people are looking to sell tupperware to make extra money anymore.
So what happened to this stock?
The truth is, shares have been headed down for a couple of years now. Sales have been weakening, dividends were cut, and then to top add insult to injury… they announced fraud coming out of their Mexico business.
As if that wasn't enough, the coronavirus dealt the final blow…
Being that it's a social company with products sold through in-home parties, social lockdowns effectively shut down the sales.
That's all it took to take TUP to all time lows at $1.15.
After that a little consolidation… Just look at that move from $1.26 forming a stair step pattern up to a big spike to almost $8.
Like many other stocks… The 200 day SMA held as resistance before a big pullback.
TUP pulled back to the 20 SMA and bounced up the next day. This also keeps the stair step in play as the low reached is well above the previous swing low at $3.18.
From a technical standpoint I'm watching for the stock to stay above the $3.18 level.
I will also be watching volume closely, looking for increased volume on any moves up.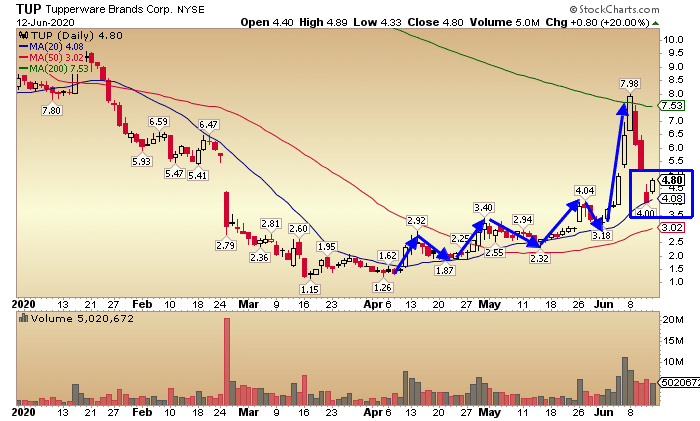 As you can see, there are plenty of well known names in the penny stock game.
Although I am trading as opposed to investing, the knowledge of a household name can help when it comes to understanding what's going on in the company…
Thus helping with your trading decisions.
To get a start with trading, check out my newest service… Weekend Wiretaps