As you know I focus on penny stocks and small caps…
Not because I have to though.
My strategy is based on the principles of supply and demand so it can be used anywhere in any market.
I do it because my focus is on teaching others how to grow small accounts. And I've found that works best when trading small caps and penny stocks.
You see a .50 move in a $1 stock is a 50% gain, whereas a $5 move on a $50 stock is only 10%… so I put my money where it will work hardest for me.
And since I know where to look, I have the potential to find great outsized moves in pennies and small caps on a daily basis.
But instead of showing you my last 30% gain on an overnight play in a penny stock, I'm going to give you a little bit of a different view of my world today…
And walk you through some examples of what happens to certain penny stocks when a fire takes hold of the sector.
Trust me, this will be eye opening and may boggle your mind… but it's all real.
Novavax, Inc. (NVAX)
Ring a bell? You may be familiar with the Novavax name.
Maybe this will refresh your memory… they were recently granted $1.6B by the U.S. government as part of "Operation Warp Speed."
So while NVAX is now a well known name in the market because of the race for a COVID vaccine, not many people knew about this company as recently as last November.
That's when I was writing about the potential for a short squeeze in the stock. Check that post out right here.
At the time NVAX was trading at $4.59 with a high concentration of short interest. The short ratio was 5.3 and the short percent of float was sitting at 20%.
Below is a chart of the price action I was looking at in November.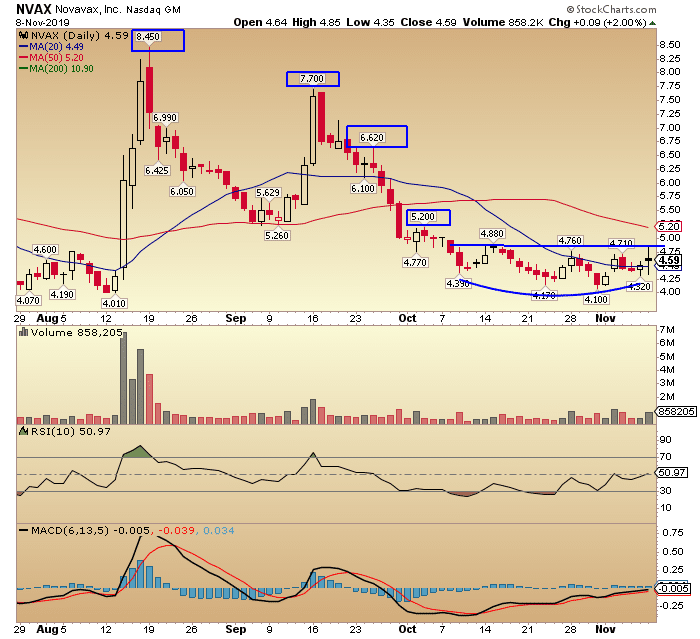 Looking at the chart of NVAX, we've seen some recent moves to the $8 range.
However at the moment it had come back down to earth and was consolidating in the same range it was in before those two massive moves up…
What I liked about this chart was the bottoming formation over the past month coming out of the downtrend… and at the current price it was pushing up against a resistance level…
And then I featured it in another letter on January 27th, talking about the squeeze up from the exact catalyst mentioned in November… the clinical trial.
But then we got some added fuel to the fire with the coronavirus potential from that same biotechnology they were working on already and things just exploded from there…
The chart below was from my January 27th post where I break down how the squeeze finally came about.
You can see the drug was first fast tracked from the results of the clinical trial… and then it was realized there was potential for a COVID vaccine here and BOOM.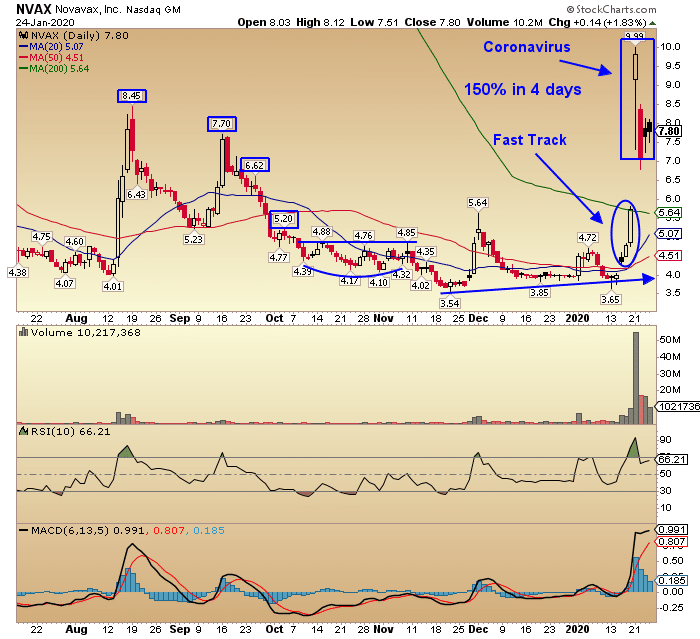 Enough about when it was a penny stock…
Look at NVAX now: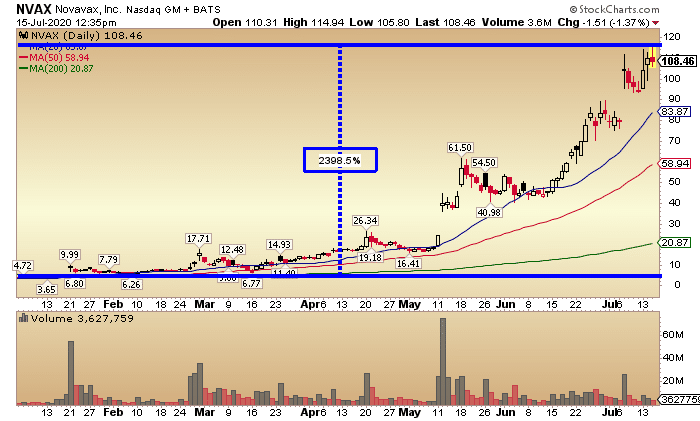 That little known $4 biotech is now a $108 stock at the top of national headlines.
But Novavax isn't the only penny stock that's now way outside of my daily trading level…
Like I said when a sector catches fire… investors, traders, and speculators love the penny and small cap space to look for potential.
Just look at Vaxart…
Vaxart (VXRT)
This is another penny stock I've been trading on and off that's now out of my target price range.
I featured it in a Feb 3rd email, along with NVAX and some others, when I was talking about coronavirus plays in the penny and small cap arena… VXRT was trading at a mere 1.25.
And in a live training session at the end of February, I took a trade at 1.28 to see it shoot up over 150% just 3 days later.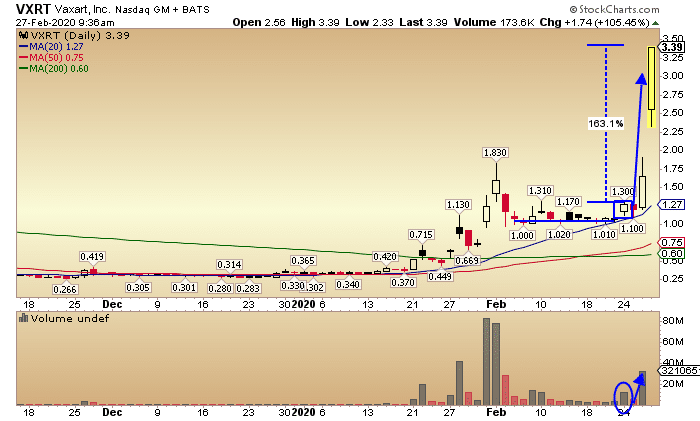 I wrote about it again June 29th to highlight some chart setups along the way to its recent break above the high range at $4…
Which led to VXRT shooting up like a rocket.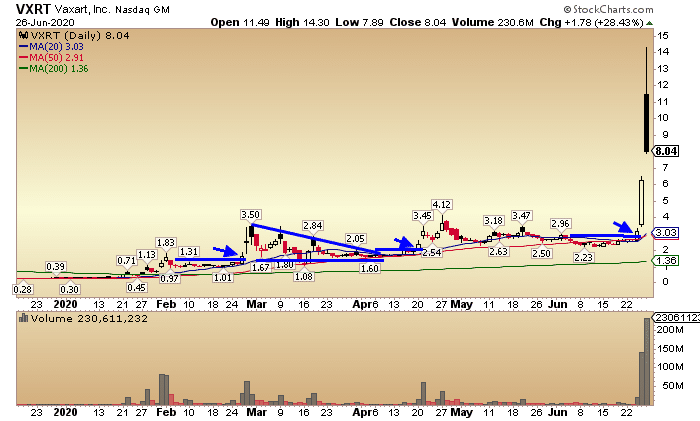 And today it's still higher… just look at this chart: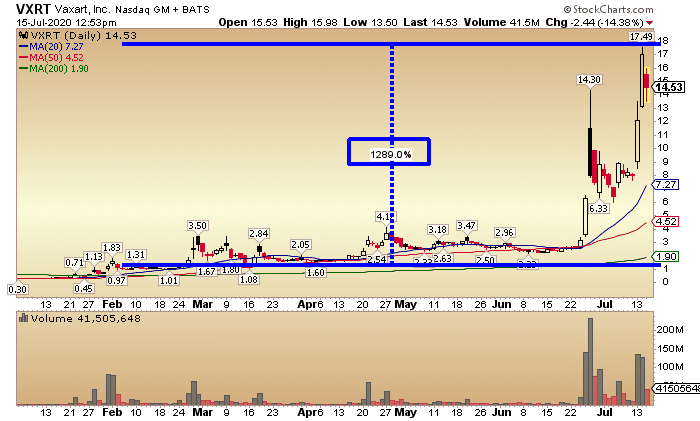 Almost 1,300% to the high from my February trade at 1.28
Listen the list goes on and on…
I just wanted to show you a little bit of the fire that can take the penny market by storm.
A couple of the many others moving like this lately are INO which I was initially trading in the $3-$5 range back in February, and is now out of my penny stock arena based on price.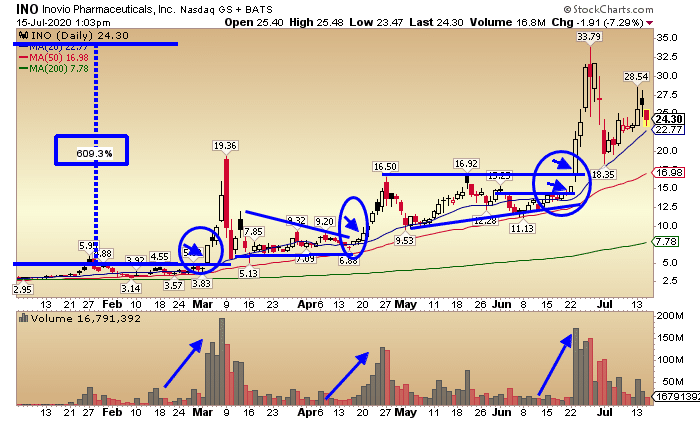 And CODX which I was trading around $2.50 back in January on a pullback into the gap…
Look at where it is now…
It's not exactly a penny stock anymore, that's for sure.
As you can see penny stocks won't all be penny stocks forever… when a certain sector takes off, if you know where to look there is a lot of potential to be had.
But it gets better…
You don't need to work on finding the next NVAX or CODX to make 10x your money.
I traded all of these stocks but I wasn't in a single one of them for a 4 digit move.
There's a lot of extra market risk when you are sitting in a stock for so long… especially a penny stock.
And what if you picked the wrong one? After 6 months of waiting you are down with nothing to show for it.
I'm not worried about all that.. I can look back at these charts without a single regret because I know I traded my strategy and that is what works best for me.
And during this time I actually took a $500 account beginning towards the end of January and in less than 3 months had turned it into $10,758* without holding onto any of those longer moves.
Learn how I use my strategy to pick up base hits over and over and let those add up to the big return on my account.
I don't have a crystal ball so it's much easier for me to take advantage of short term momentum for smaller double digit moves than try and hit one out of the park.
Check out my Free Stock Trading Starter Pack to learn more about growing a small account.
*Results presented are not typical and may vary from person to person. Please see our Testimonials Disclaimer here: https://ragingbull.com/disclaimer.