Lower interest rates and lower oil prices. What more could you ask for?
As nice as that sounds, the lower rates are a sign the Fed is truly worried about the effects that the coronavirus will have on the economy.
And when you look at the rise of the virus around the world with the most recent measure coming from Italy effectively shutting down the country, it's not looking good.
In the U.S. the number of cases is steadily growing with pockets around the country beginning to declare a state of emergency.
With no vaccine as of yet, we haven't seen the worst of it and will continue leading to more negative economic impacts… locally and globally.
So do we flee the market? Or hide in a bunker and just cross our fingers?
Listen, the news feed isn't your best friend right now. We are on a rollercoaster ride in the markets and there is one tried and true way to make money right now.
Take your profits while you have them.
I'm actually making a lot of money right now… and all I'm doing is sticking to my system to find trades, and then Grabbing My Profits Quickly.
when markets are volatile it pays to add profits 
You don't need to panic because I'll show you how I am making money right now.
Get It While You Can
Greed may be the most talked-about area of trader psychology, other than fear of course.
 We've all dealt with this at some point in our careers.
Heck, even the most seasoned trader still runs into this from time to time. And truth be told, they probably deal with it daily. It's just a matter of knowing how to handle it more effectively.
So what happens when you are in a trade and it starts going your way?
You might get a rush of adrenaline. Maybe you get a lot more talkative and start telling all your friends.
But what happens when the stock gets close to your target?
Do you let it hit your target and get out? Or start scaling out to lock in profits in the zone?
Those are both great strategies to manage profits and go hand in hand with being a profitable trader.
What can go wrong with taking a profit on a trade? Especially when a stock is at your actual target.
Back to the emotions.
As you get the spike in happiness and adrenaline, you might be tempted to cancel your order and move it up looking for more profit on the trade. After all, it's up, so it will probably keep going.
Well my friends, sorry to say but that's a product of greed and it's not going to end well for you in the long term… especially in times like these.
Just look at the market. You could have bought stocks on a bounce and grabbed your profits when it went your way.
But if you got greedy envisioning a full rebound, well you ended up a loser in the end.
AIM Immuno Tech Inc. (AIM)
Take a look at the trade I made in AIM on Monday to see the importance of profit-taking and sticking to your trading plans.
AIM showed up on my end of day scan and the setup was great.
This is a stock I had been playing for the past couple of weeks as it's related to the coronavirus hype, so I was already familiar with it.
Monday AIM got a fresh catalyst with this new release from the company:

With that new release the volume was pouring in and AIM broke above the highs of the previous range.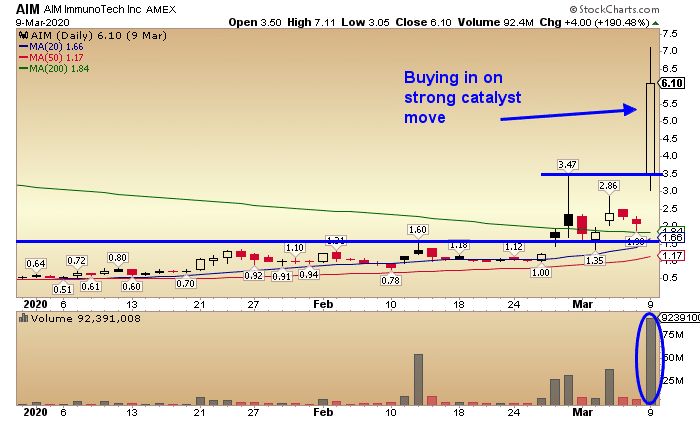 I bought AIM going into the close at $5.88 looking for a move up to $7+ the next morning.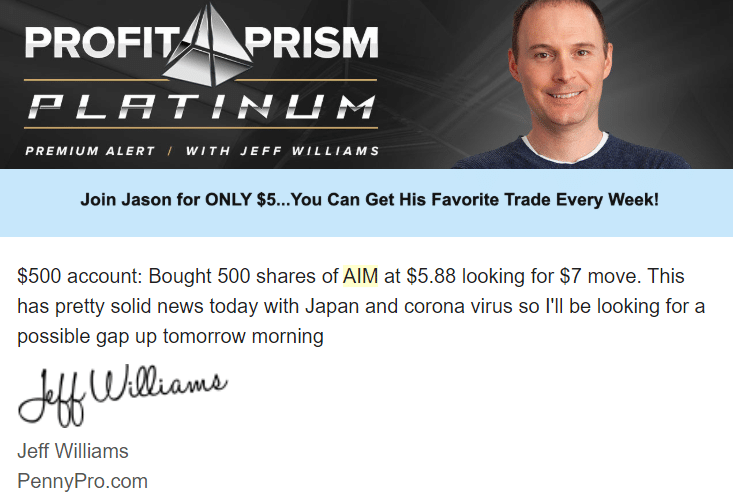 And before I knew it… just minutes later AIM was already trading at my target in the after hours.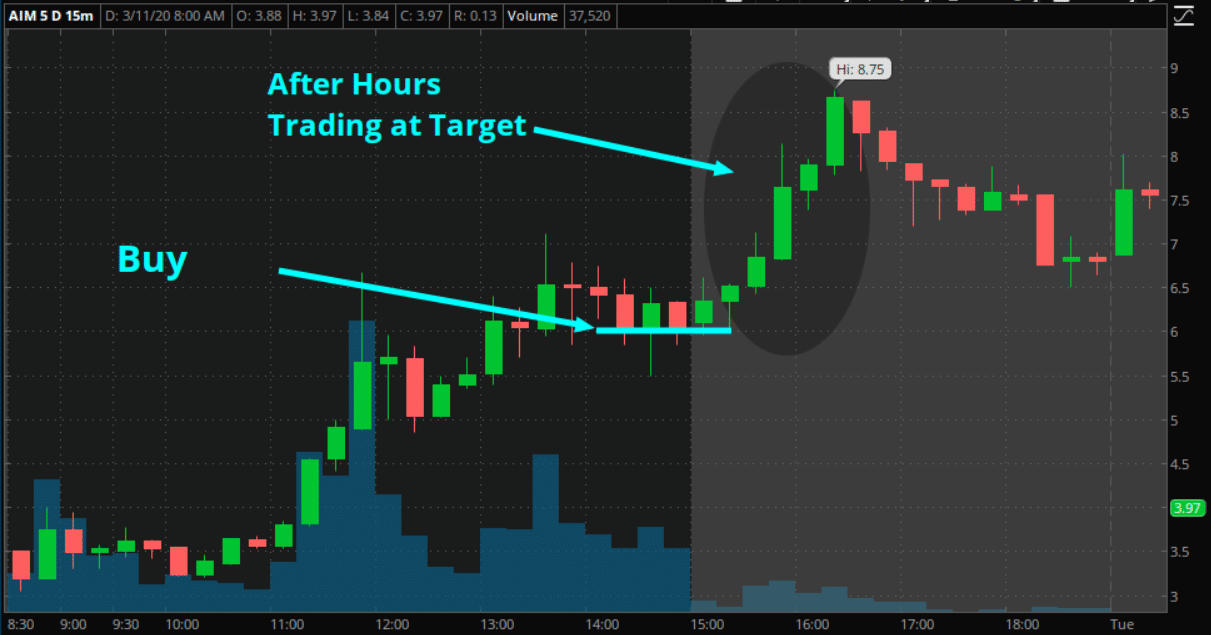 So what did I do?
Raise my target price and hold it overnight anyway?
No way… I grabbed my profits. The market is a mess. Why hold it when it's at my target?
It made its move. Just grab the profits and move on to the next trade.
Greed doesn't pay my friends.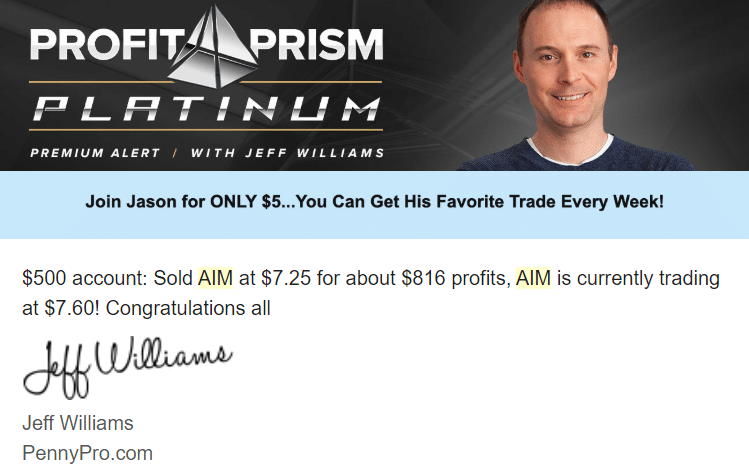 So what happened next?
To the charts: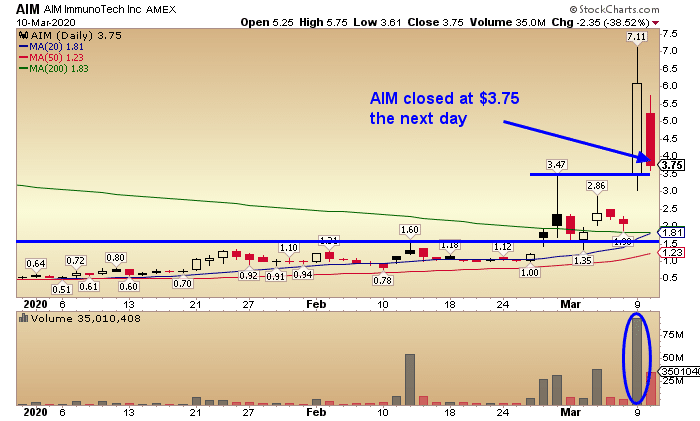 Grabbing my profits paid off as the very next day AIM closed at $3.75. Well below my entry at $5.88. Yet I pulled out $816 in profits.
And many of my members traded AIM grabbing profits at the right time as well.
Mar 9, 12:45 PM
tony sitzmann sit: ot AIM 4.95 fm 4.65 +900 BAM BOOM
Mar 9, 12:55 PM
freshyfresh: out 6.40AIM from 5.30 ~Bam! 1600.oo I chit u not
Mar 9, 2:15 PM
 Tucker: $200 smackers on AIM…..good enough for my small account!!!!
Mar 9, 2:19 PM
 Amy M.  Boom baby!! In AIM@ 4.74, out@ 6.18!!!
Grabbing your profits while you have them is key to being a successful trader in any market.
And right now that lesson couldn't be more true.
There is money to be made in the market. Even when the market is as volatile as it is right now.
But keep in mind that the more volatile the market, the more you need to adapt your profit taking and put a lid on your greed.
In my members' trading chat room, I talk about this and much more on a daily basis. I want to keep my members honest with their trading.
Make plans, stick to plans, don't move your stops because of fear, and don't randomly change your profit targets without a good reason due to greed.
Join me every day to learn everything I know about trading and let me help you on your way to becoming a successful trader.
Related Articles: