Two nights ago I talked about Kodak on the nightly video watchlist I sent to my Profit Prism members…
Being that this is not a company that has been on anyone's radar lately, but just jumped 2000% to highs today… I am going to show you why it hit my watchlist at $2.62.
But first, what happened yesterday?
As part of the Defense Production Act (DPA), the U.S. International Development Finance Corporation (DFC) is looking to provide a $765 million loan to Kodak.
The funds will be used to launch Kodak Pharmaceuticals and produce ingredients for generic drugs including hydroxychloroquine that some have said can treat the new coronavirus.
Tuesday, KODK had a wild one to say the least, closing up 203%.
And today even things got even crazier as it hit a high around 2,000% above my watchlist price.
Many times stocks will show signs of news on the horizon… before it actually breaks.
So let me show you exactly why Kodak was on my watchlist Monday night… before the news broke.
A Kodak Moment
Here's what the chart looked like when I sent out in my nightly video watchlist on Monday.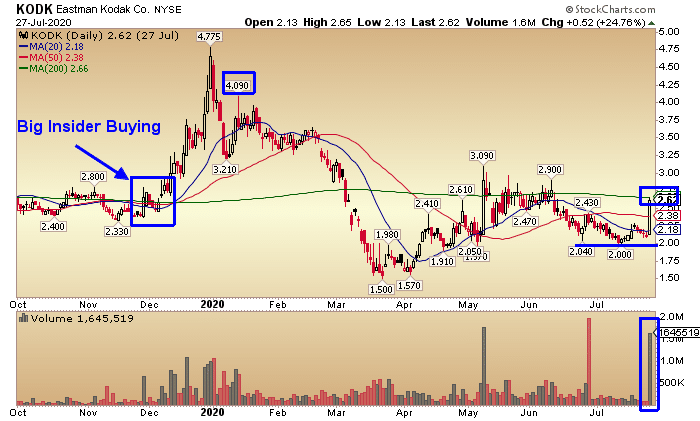 Just notice the huge spike in volume on Monday… along with the strong rise in price.
There was a clear increase in demand for the stock… and that's what I look for in my daily scans.
With KODK closing near highs at the 200 day sma, I put it on the watchlist and sent it to my members alerting them to the potential in this stock going into Tuesday trading.
At its core, trading is about supply and demand.
Which is what my Profit Prism strategy uses to find stocks that have the potential to pop…
When I found KODK and added it to my watchlist.. It was all based on the demand…
There was no news yet someone clearly knew something about it.
My scanners alerted me early giving us a head start in preparedness…
And it paid off for many of my members.**


But this wasn't the first time a surprising industry shifting announcement put the KODK stock up big.
Back in January 2018 Kodak was talking up Crypto… what came of that?
KODAKOne was a new venture to track photo usage online using blockchain technology, and you can see the stock ripped up from under $3 to over $13 in 2 days…
It turns out it was just a brand licensing deal and in the end didn't play out so well after the initial pop… reverting back to a near bankrupt company.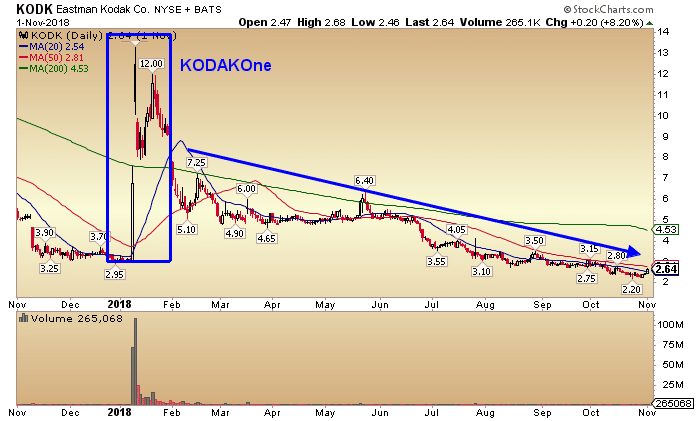 But could things be different this time?
Sure… There are actually a couple reasons things could be different this time around…
For one they didn't receive a $765 million loan from the federal government for their crypto deal…
And second, they actually are going to be developing a real product so it's more of a retool than a dream..
Being they will now be manufacturing ingredients for generic drugs deemed in short supply by the federal government, there is a real product with a real demand.
And with Kodak's long history of manufacturing chemicals used in photographic film, they actually have some background in this type of production…
What's next?
I don't know for sure, but this story has some real legs to it as opposed to the branding deal around KODAKOne… (except it may have run too far)
So let's go to the chart…
The day after my watchlist was sent out… KODK closed up 203%… that was just yesterday.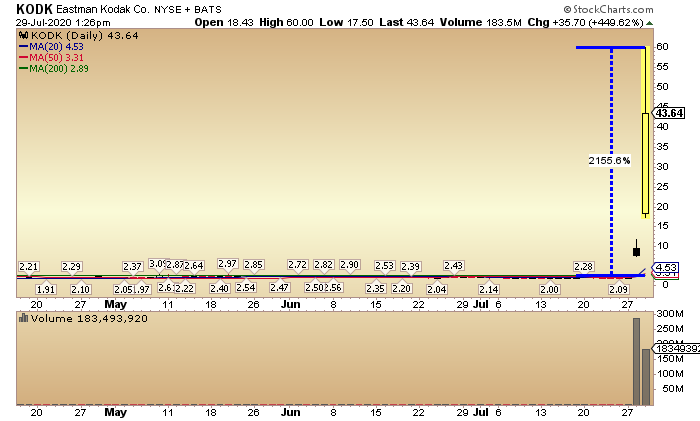 Today the stock made a trip to the moon…
We had a good opportunity to get in yesterday with a close at around $8…
But now it's hard to find a good reason to be long at these insane prices…
Kodak had a market cap of a little over $100 million just 2 days ago and at the highs today, the market cap was over $2 billion.
All based on a $765 million dollar loan.
Keep in mind this is a loan not a grant.. So now it's up to KODAK to create real value.
Maybe it's a $2 billion company, but for me… I prefer to see some production before putting a value that high on a company..
I'll stick to reading the charts and making money trading…
It could make my watchlist again, but right now it's out of bounds…
Regardless, as noted earlier, many of my members were able to use what I have been teaching with my Profit Prism strategy and make money from my watchlist pick in KODK…**


The KODK money has been made, but to find out what's on my watchlist tomorrow… Join Profit Prism Today
*Results presented are not typical and may vary from person to person. Please see our Testimonials Disclaimer here: https://ragingbull.com/disclaimer.
**Raging Bull does NOT track or verify subscribers' individual trading results and these individual experiences should NOT be understood as typical as or representative. Please see our Testimonials Disclaimer here: https://ragingbull.com/disclaimer.