It's just crazy the volatility we are seeing lately.
And honestly, I think it's here to stay for a while!
But don't worry.
For penny stock trading, this can be a good thing… even a great thing.
Penny stocks love volatility. With the lower prices, their moves are more pronounced.
That is to say, you'll see some really big percentage moves when they can get some volume behind them.
So all this means to me is that I'll be seeing even more opportunities to take advantage of some great setups with the potential to move big.
In fact you can do it over and over again…
For an example, I'll walk you through a number of setups my members were trading yesterday.
There was no shortage of big movers.
LM Funding America, Inc. (LMFA)
Here's one of my classic end of day breakout setups.
Looking at the chart, you can see how LMFA was trading in a very small range each day over the past month and a half.
Friday the stock moved more than it had in any single day over that time.
Then on Monday LMFA made a big move up crossing the 20 day SMA on a volume spike, and closed near the high of the day.
The stock was showing real strength and the volume was letting us know that there was real demand coming into the stock.
This was a potential trade at the end of the day on Monday, buying into that momentum for a potential pop the next morning.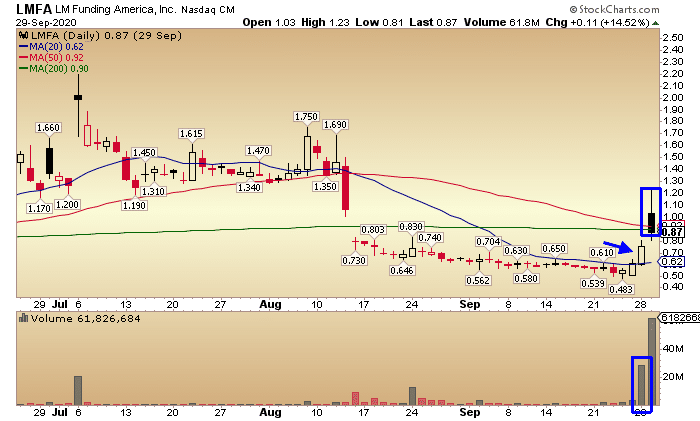 And as you can see the stock popped up big yesterday morning with a gap up to $1 and hitting a high over $1.20…
It's not all talk in my Platinum room…
Here's how some of my members handled it.**

Houston American Energy Corp. (HUSA)
HUSA presented us with a pullback after a gap up.
This is the setup I was teaching in the Platinum room last week with SPI, when that stock set up and took off.
HUSA showed us a quicker setup but it's still the same concept.
The stock gaps up. Then pulls back in the morning giving us the potential to buy on a continuation back above the morning gap move.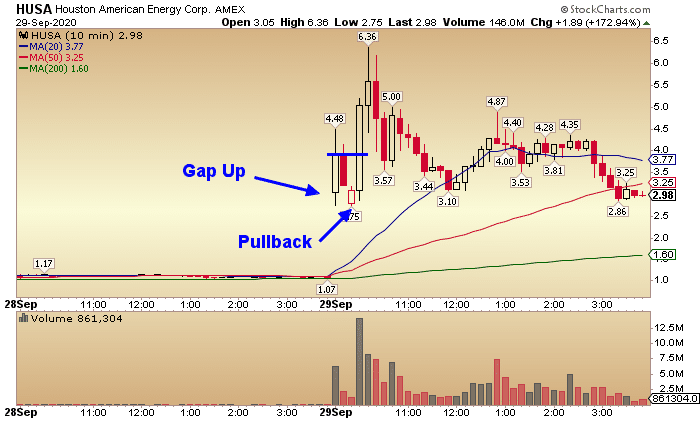 And my members were on it.**

Adial Pharmaceuticals, Inc. (
ADIL)
ADIL set up an intraday trade off yesterday's volatility.
Looking at the chart, you can see the volume spike up in the morning as the stock price pushes up.
After which the stock pulls back and forms a symmetrical triangle during the day.
This is where we get our opportunity.
With the stock consolidating, it could break either way out of the triangle.
But with the rise on volume in the morning, the odds are in the favor of a continuation to the upside.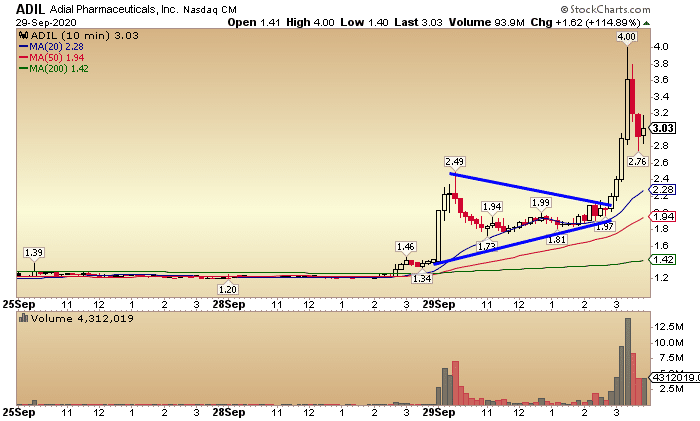 Waiting for the pattern to form and the breakout to occur pays off for some of my members who were able to jump on this trade as volume again spiked as the stock broke out.**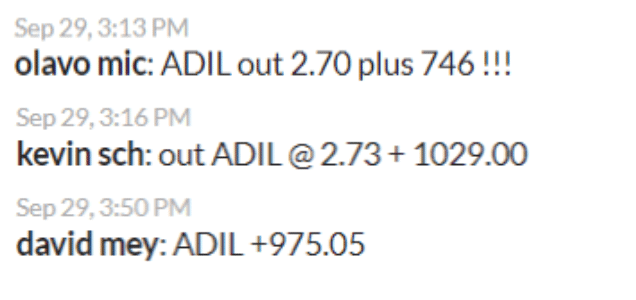 PEDEVCO Corp. (PED)
PED showed us something a little different with a huge spike up at the end of August, which resulted in a pull back to the 50 day SMA.
Holding above the 50 day and spiking up again in mid September, only to pull back to the 50 again.
With PED, we saw it level out at the 50 day and begin to move back up. Friday we got a close above the 200 day SMA… with continuation on Monday.
Then the gap up Yesterday, more than doubling the stock price.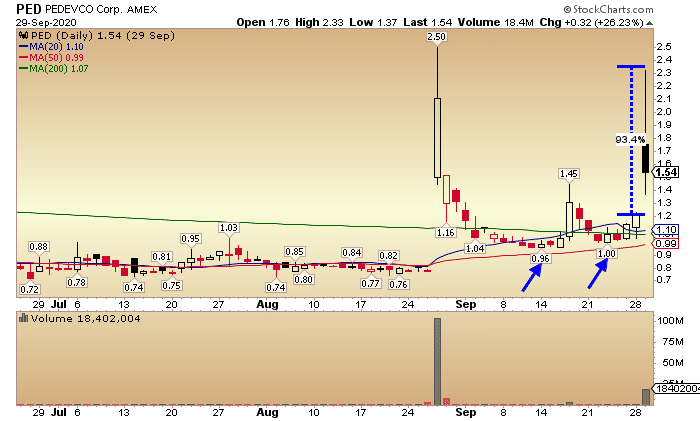 And of course my members were on it.**


As you can see, volatility is here… and probably not going anywhere soon.
But it's nothing you need to be worried about… IF you have the right strategies to take advantage of it.
It always starts with education…
*RagingBull does NOT track or verify subscribers' individual trading results and these individual experiences should NOT be understood as typical as or representative. Please see our Testimonials Disclaimer here: https://ragingbull.com/disclaimer