It's no secret that the markets are getting crushed… the election is days away, so we're up against it now.
With the uncertainty related to this event, the markets have been taking it on the chin with a lot of profit taking to protect gains and wait out the uncertainty.
But that doesn't mean ALL stocks are going down.
In fact I find stocks every day that are bucking the trends and headed up on strong demand.
Today I'm going to share two stocks of these stocks, each with their own catalysts pushing them up big today.
If you're in my Stock Profit Pro trading room, I'm there sharing my thoughts, scans, and trades with my members every day in real time… so you already know about these stocks.
But for those who aren't…
Here's a breakdown on BioLineRX (BLRX) and Daseke Inc. (DSKE)…along with a few others I'm keeping an eye on.
BioLineRX (BLRX) is a clinical stage biopharmaceutical development company, focused on oncology and immunology.
The stock is soaring today after the company announced positive interim results from a Phase 3 trial of motixafortide for stem cell mobilization (SCM) in multiple myeloma patients.
The low just 2 days ago was $1.40.
BLRX gapped up to $2.28 on massive volume this morning, with a high of $3.03.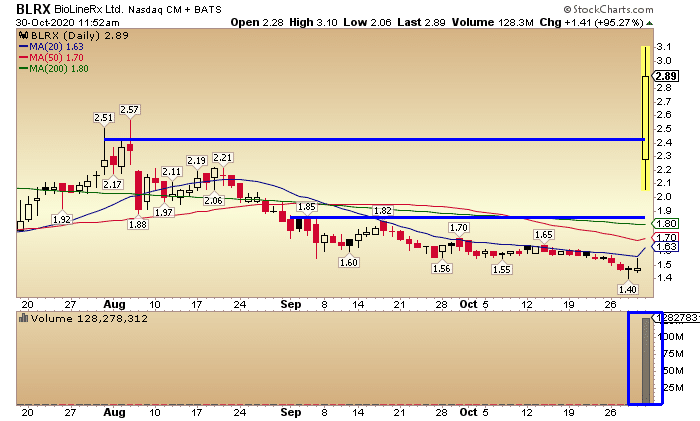 Clearly this is news that has investors flocking to the stock.
I'll be watching to see how BLRX closes the day. I like to buy stocks that show strength going into the close, as this tells me people want to be in the stock…Now.
Instead of selling and taking their profits, they are continuing to buy and willing to hold overnight.
Looking further back on the chart, once the stock breaks the $3 range, the next highs are $4.22 and $6.45, so I would be targeting the resistance in those areas.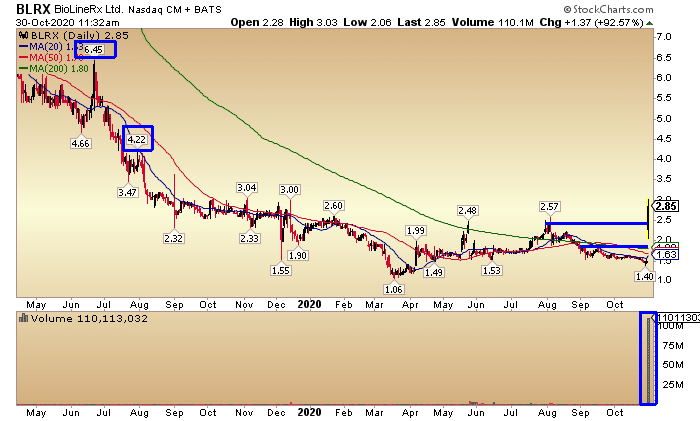 Daseke, Inc. (DSKE)
Daseke, Inc. (DSKE) consolidates and provides transportation and logistics solutions with a focus on flatbed and specialized freight in the United States, Canada, and Mexico.
DSKE came out with quarterly earnings of $0.31 per share, beating the Zacks Consensus Estimate of a loss of $0.01 per share. That's a massive beat.
And over the last four quarters, the company has surpassed consensus EPS estimates four times.
Recent price action shows DSKE range bound between $5 and $7.
Today, the stock gapped up to the middle of the range on the earnings report.
The stock is trading below resistance, so if I see a good entry I'll be looking for resistance at the double top $7 range…
And if it breaks through that range, there's room to run as you have to go back years to find the next highs above $10.
Again, I'll be watching this towards the end of the trading day. If it ends weak, I'll look elsewhere.
I only want to be in stocks that others want to be in… increased demand to push the stock up.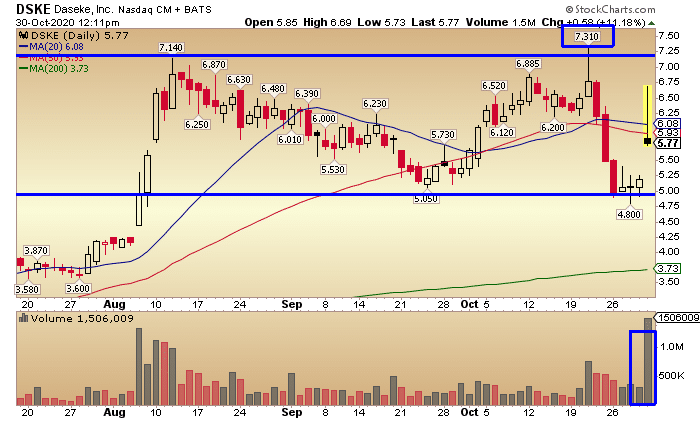 ---
Other Stocks On My Radar
MARPS   +50%
AIRI         +22%
TCDA      +22%
MGI         +18%
---
This Monday, November 2, I will be starting my next small account challenge.
My goal is to 10x my account in just 30 days…
If you hurry, you can get access to the best training out there and my next challenge!
Click here to Join Stock Profit Pro…
…and get access to my next Small Account Challenge
I'll be in my Live Trading Room… trading and teaching my members…every day…
Join Me Now… and take your trading to the next level.