Let's get the week started.
As mentioned in yesterday's post, It's been a wild week in the markets: the coronavirus threat, a TSLA squeeze, and the CSPR IPO bust.
But believe it or not, even the most talked-about stories have barely any impact on penny stocks.
So instead of trying to play catch up with the news, I'm allowed to focus on the only thing that matters to my trading— PRICE ACTION.
Today, I want to walk you through a few stocks I am playing.
As well as, one I have my eyes set on for a potential play. If you study these patterns, I promise you, you'll be able to find them too, and soon, be able to profit off them as well.
Optec International Inc. (OPTI)
What's so special here?
Just look at the chart. I pointed this out in my chat room on Thursday last week. Volume was ramping up into a strong close.
I was able to jump in at .0021 and by the close, I was already up 33%.
Looking to capture the continued momentum into Friday and grab a 50% profit, I held it overnight.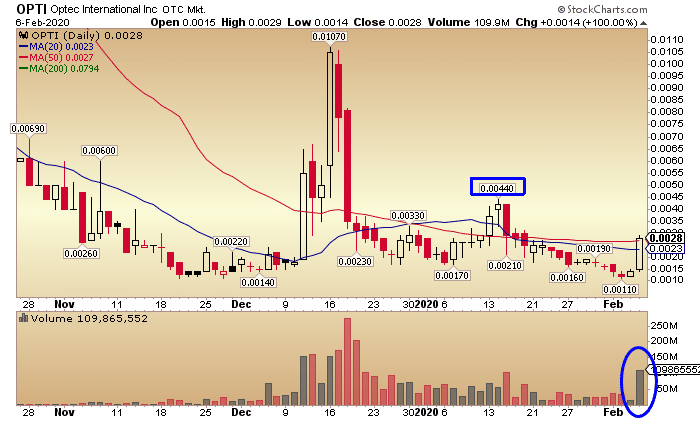 Below you can see that Friday didn't give me the desired follow through. But If you look in the blue circle… the price bounced at the 50 day MA, and back up to the 20 day.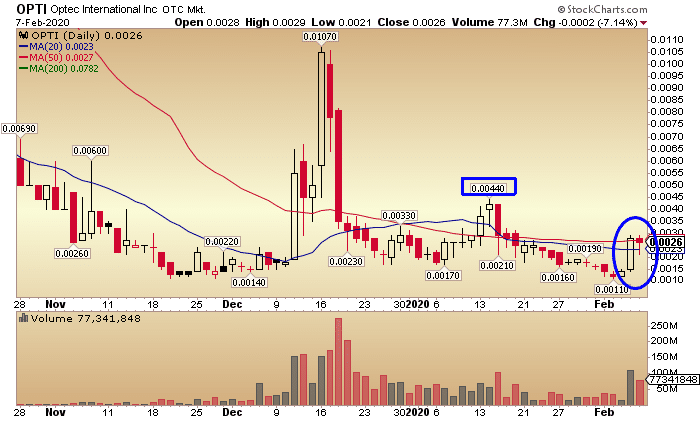 Now it is sitting just under the 20, but the way it bounced off the 50 leaving a wick, we could see
the momentum needed to grab 50% on the trade.
Let's go!
China Pharma Holdings (CPHI)
On to CPHI, one of my recent coronavirus plays was back at it on Friday. First, you can see the beautiful stair-step pattern going right into an explosion to .95.
Following that, we got a big pullback to .50 putting in a few holds above that level. Which is also keeping the stair-step pattern intact.
With volume coming back in with a strong close on Friday, this set up nicely for a run into Monday. I got in at .57 and looking for a target of .75 – .80 (blue square on the chart).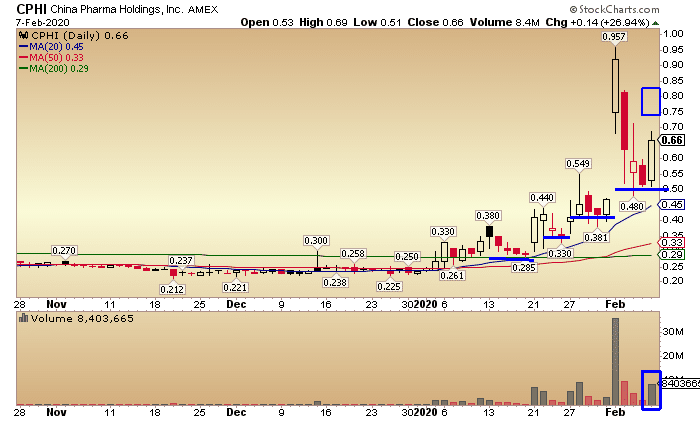 Final Thoughts
It's always good to take a step back from the headlines now and again… and just get back to the roots of your trading system.
While having a general idea of what's affecting the market is always good, getting caught up in it could affect your trading in a negative way.
You have to remember, when you have a proven system, the odds are in your favor… but only if you stick to your strategy.
If you let some random headline cloud your vision, you will lose your edge and the market takes no prisoners.
That's why I am focusing on my system and finding the trades that best set me up to profit today and tomorrow.
One trade at a time… One day at a time…
And the profits will stack up.