The Nasdaq just hit 12,000.
Looks like we can put all that speculation about value stocks on hold.
The Dow, meanwhile, is sliding on concerns about new lockdowns for the U.S. economy.
The virus continues to spread at a rapid pace. The seven-day average for new virus cases has surpassed 161,000. That's a 26% jump from a week ago.
Governors of several states and the CDC are asking Americans to forego traditional Thanksgiving gatherings. It's pretty clear, however, that most Americans are going to skip those orders.
But the bigger news today is happening in Chicago. There are a few critical trades that I'm eyeing this morning. Let's dive into what's happening on Friday, and look at my latest Watch List.
Today's Outlook
On Friday, the big news is happening at the U.S. Treasury Department. The Lego Batman Movie producer and Treasury Secretary Steven Mnuchin is looking to end corporate bond facilities and the Main Street Lending Programs that extended credit to small- and medium-sized businesses.
This has drawn a strong rebuke from the Federal Reserve. While the new Biden administration could revive new programs under the Fed, we're looking at a critical safety net being yanked away at a time that small businesses are extremely vulnerable. These programs were essential to providing liquidity to the U.S. economy in the spring. They also helped spark the market rally since March.
THANK YOU, CHICAGO
Today, I'll be looking to take THREE 100% wins on three trades that I opened within the last two weeks.*
On a busy day of options expirations at the Chicago Board Options Exchange, I'll be happy to see wins from National Beverage (FIZZ), Flying Eagle Acquisition (FEAC), and Workhorse Group (WKHS).*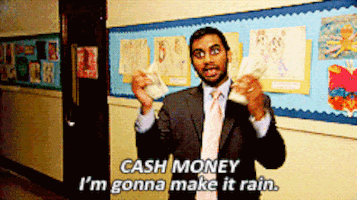 Now, I'll look to take my gains, and roll them over into a string of new trades with a focus on December 18. Meanwhile, I just added two new stock positions to my Family Portfolio. I'll provide a full recap of how solid my trading has been in November soon. I'd love for you to attend my next event in December.
And if you missed my Live Event on Tuesday, watch the recap here.
MY STOCK WATCH LIST
DLR: With the Nasdaq sitting at all-time highs above 12,000, the question is what's next for the tech-heavy index. I'm looking at semiconductor and data center stocks because of 5G and the breakneck acceleration of these industries. Digital Realty stands out because of its amazing business model. It's a cash flow machine that rents space out to data centers. It's a $40 billion company with a nice 3% dividend. Insiders took gains about a month ago, and I think the pullback has ended. I think the upside here is about $170.
TWTR: It's been interesting to watch Wall Street analysts fail to have any conviction on Twitter over the last month. The consensus is to hold the stock. Which is supremely stupid to me. The thinking here is that Donald Trump's departure from the White House brings uncertainty. Are they going to lose their most vocal and powerful user? This is a stock that people should be ACTIVELY trading right now. But too few people know how to do this. I am thinking about making a play here because Twitter is intriguing for the Long Term. This is still a place where a lot of people want to watch themselves talk, and it's not going away anytime soon.
BLNK: Blink Charging Co. jumped 24% on Thursday and is up another 9% this morning. The stock continues to surge due to Tesla's incredible rise and investors are speculating that EV sales will bring incredible demand for charging stations. That said, there are some short-term challenges that face the company. I think that there might be a good opportunity to try to snap up shares at a lower price, especially given the incredible surge in this stock.
Other Stocks to Watch Friday: GOGO, RVP, CASA, DDD, ELY, SLG