Let me walk through a "simple" investment.
I want to show you why I believe it's a Win-Win-Win play right now.
It's play on a semiconductor company with a great balance sheet, strong upside potential, and many catalysts that make it an optimal Buy, in my opinion.
However, I don't necessarily want to just Buy and Hold this stock forever.
I want to be MORE ACTIVE in my investment portfolio.
So, let me take you through a few steps that can make you a smarter investor. This is the type of insight that I charge for at Live Events across the country. However, you won't have to pay a single penny.
Consider today a Masterclass in five minutes or less.
Let's dive into one company today that will surprise you.
This is a strategy that you can learn how to use yourself, and I believe it can be beneficial for the long haul.
Step One: Eliminate Bias
It starts with a simple screen of stocks that helps you eliminate bias.
I am looking for stocks that have two things off the bat.
1 – A Perfect Piotroski F-Score
As I've noted, the F-Score is a nine-point ranking system that tells me the strength of a company's financial position. I've covered how it works in this post. In today's economy and for the purpose of this investment, I'm only focusing on stocks that have a perfect score. As you'll see, this isn't common today.
2 – A Strong Altman Z- Score
The Altman Z Score is a credit-stress test that tells me the probability that a company might go out of business. Based on five financial ratios calculated from a company's public filings, the lower the score, the higher the likelihood of bankruptcy. Again, I've already covered why the Z score is so important.
Typically, I want to focus on companies with a Z score north of 2.5. But for safety's sake,
let's set it at 2.9 to make sure that we are more than covered.
So F-Score of 9. Z-Score of 2.9.
That's it.
I'm not reinventing any wheel. Despite all of this freaking noise in the markets – I'm going to focus on two basic fundamental readings.
I did a screen of these stocks and… it's pretty slim pickings.
12 COMPANIES.
That's it.
The list is full of so many companies that I KNOW people have bias against – that it can be damn well hard to like them.
Would you be interested in buying Rent-A-Center, AutoNation, or TRI Pointe Group (manufactured housing) in today's economy?
Did you cringe and say, "I'm not buying a stock of a company that does rent-to-own lamps or sells old clunkers or model homes?"
Well, damn it. You should.
All three companies are thriving right now. They're rich with cash flow, and they don't have any debt problems. They're rock solid.
The facts are the facts here. You can't fake this.
Hell, Rent-A-Center has a dividend of 3.81%.
But let's take this list a step further. Take it down to companies that meet these qualifications and have a dividend… you're down to SEVEN.
If that doesn't tell you the real state of the economy due to the virus and concerns about debt, cash flow, and the future… nothing will.
There's a good reason why the list is so small.
Companies that have issued debt in the last year lose a point on the F Score.
It's hard to calculate just how many public companies raised money through corporate debt in 2020 to stay afloat. And many that could not went bankrupt this year
2020 has dropped so many companies off of a perfect score that you're looking for needles in haystacks.
I've got my starting list.
Step Two: Qualify and Understand the Industry's
Let's look at the industries of the 12 original companies.
We've got a few homebuilders, a PPE company, two food and beverage firms, an auto retailer, a 5G company, and a few housing stocks (these typically have strong cash flow).
All of them are interesting, but I need to find one that has a somewhat liquid options chain.
What I mean is – if I am going to sell a cash-secured put – there has to be some activity.
But I also don't want to be in a position where the shares are trading at $727 like Sherwin Williams (also on the list). That would require a margin of more than $70,000 for every put contract. We're not going there.
So the company that I'm going to show you today… is boring old…
Rent-A-Center – which is trading at $31.46.
Wait… Rent to own furniture? Rent to own electronics?
Am I being serious?
Yes, I have already eliminated my bias with the F and Z scores.
And by the way. Have you seen the economy lately?
The average American hasn't had the strongest credit since 2010. And this year has been a burden on many people who lack access to credit.
It's website says the following…

Young Americans can't go out and buy a new couch and television.
They have to walk on down to Rent-A-Center and get those products.
Rent-A-Center just had its most profitable quarter ever in Q3.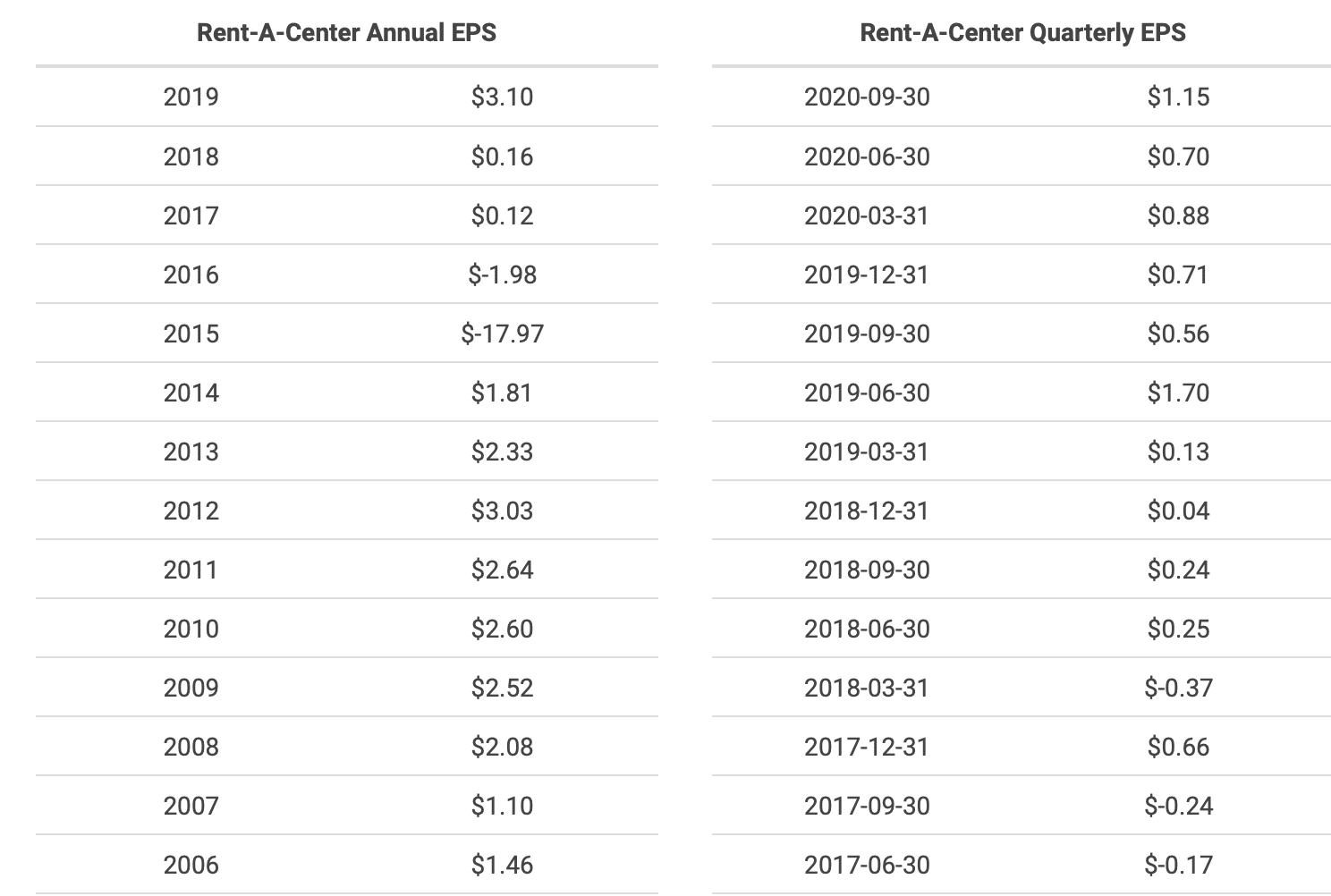 And it's got great cash flow. It pays the highest dividend of any company on my list.
Again, I understand if you're looking at this company with anti-bias.
But as I said, you cannot fake performance when using those two metrics.
And I'm really protected against any downside when I look at these 12 stocks.
Step Three: Check the Insider Signal and Wall Street
Let's qualify this trade a little bit.
As you know, I have said that Insider Buying and Insider Selling is the ultimate signal for trades.
If there is Insider Selling on this stock, then I'm going to simply walk away.
But I've scanned the SEC documents.
Insider confidence appears strong. Although we saw some selling three months ago, there were two informative insider transactions over the last three months.
Looking around the market, I'm seeing bullish sentiment in news and blogs. We have positive technicals, solid fundamentals, and Wall Street likes it.
Three analysts have an average price target of $36.00.
That's 15% upside for the near term.
I'm on board.
Step Four: Pick an Entry Point
We can look at the chart below, and see that the stock is below its 20-day SMA and just pushed back above its 50-day SMA.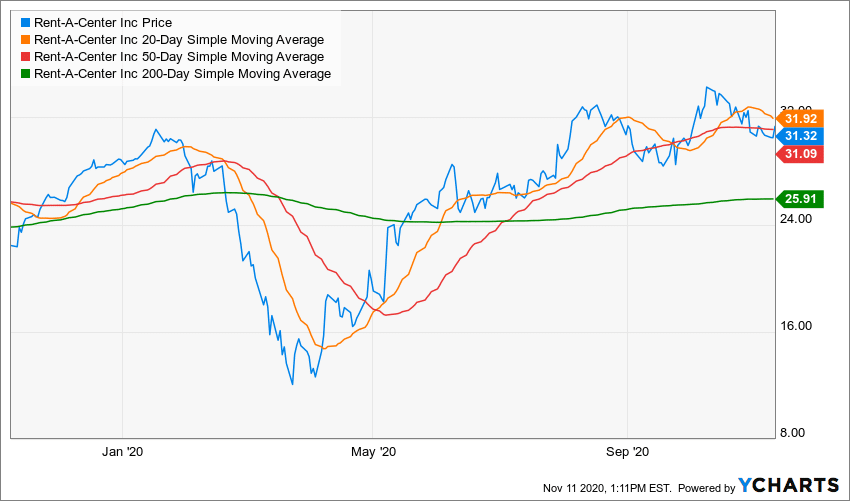 Looking at the long-term upside, I might want to own RCII right now as it rebounds from September lows.
I'll be a bit conservative here.
I am looking at this stock and thinking that $30 is an intriguing place to enter this stock.
Instead of just buying the stock today, I can sell a cash-secured put on RCII.
Looking at the December 18, 2020 $30.00 put, the Bid sits at $0.95, while the Ask sits at $1.15. Honestly, I'd be content to sell the contract at $1.00 right now, but I would be willing to set a Limit Order on the contract at $1.05.
Each contract that I sold at $1.05 would generate $105 (as it would give me the right to buy 100 shares at the strike price).
Given this is a cash secured put, I would make sure that I put aside enough cash for every 100 shares of RCII that I want to buy at $30. That would be $3,000 for 100 shares.
I could sell this contract for $1.05 and it would give me enough cushion that the stock could fall down to $28.95, and I'd break even on this trade.
If I sell the contract today, and the shares continue to rise, I can buy the contract back and pocket the difference.
And if the stock does fall to $30 or less by the expiration date, I would take 100 shares for every contract that I sold.
Even better, if I get the stock at $30, I will be purchasing the stock at a price where the dividend yield is much higher than today. At $30, its dividend rises to 4%.
To me, this is Win-Win-Win.
In Conclusion
Now, I know there's a lot here.
And I know you might have questions.
So do me a favor. If any of this confuses you and you need more insight into how to get in on this type of trade, I'm here to answer those questions.
Just ask them in the field below, and I'll get to them this weekend.
And if you want to see more trades like this, I've got a very special offer for you. You can get access to my Portfolio Accelerator service for 90 days… for just $299.
Typically, I charge nearly $3,000 for this service for 12 months. But this will give you the chance to see me trade great companies, use options strategies to pick my entry points and boost income, and MUCH MUCH more.
If you're serious about becoming a better trade AND investor, this is the service for you.
I just started more trades to this service starting last Friday.
Right now, I'm up an average 22.7%* using this strategy in just three days.