The Dow Jones Futures slid in premarket hours as investors continued to fret over the lack of fiscal stimulus required to help provide a bridge for the economy.
Despite lockdowns and ongoing worries about the virus, the S&P 500 finished the day Wednesday above support levels.
Today, I'm paying close attention to an important IPO in finance and a new SPAC merger in the electric vehicle space.
I'm expecting a lot of money to flow into both companies given the trends of the market.

As I've said, this has been one hell of a market since the election, and if you're not being ACTIVE right now, you're leaving money on the table.
Now is the time to position yourself for the months ahead.
I've been picking my entry points on my favorite stocks using a few conservative strategies.
You're foolish if you're not doing the same.
The path to real wealth comes when there is greater uncertainty in the markets. Since Congress has failed to deliver on stimulus and provide a bridge to the post-vaccine world, I'm starting to see the usual jitters that signal a pullback.
If that's the case, you need to take advantage of investor behavior.
I'll continue to show you how each morning. Let's dig into the most important headlines of the day and Thursday's Watch List.
[Editor's Note: Jeff just closed out his second 80% gain in two weeks, and his Portfolio Accelerator continues to rally for big gains. Even better, he's on the verge of closing out a few 100% gains by tomorrow. Why haven't you joined his service yet? If you're staring at a bunch of speculative penny stocks and junk Blue Chips, stop it. The Founding Member's price is still available. Join right away.]
The Rundown: Today's Top Market Stories
Today's Outlook
On Thursday, it's the usual batch of headlines. Investors are watching earnings reports from Macy's (M) as if that company is somehow still relevant.
Investors should really pay close attention to the chart below.
This is the percentage of S&P 500 stocks that are tracking above their 200-day moving average. It tells quite a story.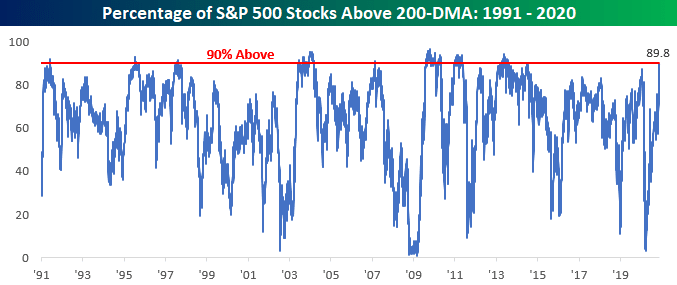 Source: Financial Sense
We're darn close again to that 90% level for S&P 500 stocks tracking above their 200-day moving average.
Historically, this signal suggests a pullback is coming.
Today might not be the start of that downturn, but it's important to take some risk off the table from time to time and consider insurance to protect your recent profits.
Or, you can do what I do and start using options contracts to pick the entry points you want on the stocks you WANT TO OWN for the long term.
The Virus and The Vaccine
This morning, the number of U.S. deaths tied to the virus surpassed 250,000, according to Johns Hopkins.
Only two states in the U.S. have reported less than 20% growth in cases over the last 14 days.
Caseloads continue to worsen while pharmaceutical companies continue to announce progress on vaccines. Both Pfizer (PFE) and Moderna (MRNA) have reported very strong efficacy rates north of 95% for their respective vaccine trials. Now, AstraZeneca (AZN) announced that it has seen a strong immunity response among older adult participants in its recent trials. All… good… news.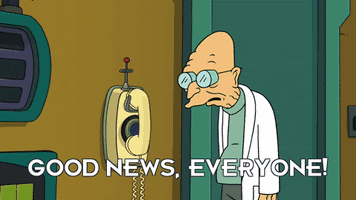 But is it going to be enough to get us through the end of the year?
Investors seem pretty pissed off at Congress and other policymakers.
It appears Washington simply doesn't recognize the severity of damage caused to the economy by inaction (at worst) or are simply ignoring the damage (at worst).
The economy will require more lending programs, more stimulus, and more effort to provide a bridge to a vaccine. It doesn't matter your politics. That's just the sobering reality of the economy.
Tickers in Focus
BA: About 10 years ago, BP (BP) had the costliest mistake in corporate history.
This year, Boeing said HOLD MY BEER.
The Federal Aviation Administration has finally cleared the path for Boeing to bring its 737 Max jet back to the skies. The deal ends a 20-month grounding of the plane following two deadly crashes.
Overall, the grounding cost the company more than $20 billion. Now, the next question that most people are going to ask about the plane is simple: Who will be flying this plane after the long moratorium? American Airlines has raised its hand and said it will add the plane back into the rotation starting in December.
AVRL: Another day, another EV deal that involves a Special Purpose Acquisition Company. British EV startup Arrival announced it will go public through a merger with CIIG Merger Corp. CIIC stock popped more than 14.5% in premarket hours.
The SPAC is operated by former Marvel CEO Peter Cuneo. The deal will give Arrival an enterprise value of $5.4 billion. That figure is up from the $3.5 billion valuation that the EV firm held in January. This SPAC deal is expected to close by early 2021.
MY STOCK WATCH LIST
AFRM: Last week, I noted that Rent-A-Center was the perfect representation of the U.S. economy. Weak consumer credit has hindered many Americans' ability to purchase new consumer electronics or even furnish their homes. Rent-A-Center just had a blow out quarter.
Enter a Paypal co-founder's installment loan and payment company Affirm. The company just saw a 98% jump in revenue growth year-over-year, and now it has filed for an IPO. The company works with 6,500 merchants including Peloton (PTON), Walmart (WMT), and Expedia (EXPE). This is going to be a very popular IPO.
MPLN: Multiplan is a health insurance company that doesn't generate much attention in a boring industry. But open enrollment is back in focus for 2020 at a time that many Americans are out of work and seeking healthcare. After a sharp pullback in the stock from September, I'm starting to see a lot of insider buying activity. Over the last week, director Michael Stuart has made two purchases of $4.9 million and $4.8 million in shares.