I love digging into technology, real estate, and consumer staples to find long-term growth picks.
But I don't spend a ton of time wading into the world of biotech companies.
Why?
Because there's a lot of speculation, sometimes ugly news, not to mention volatile swings.
To most, the sector can be mysterious, as well as, scary due to its reputation for being binary.
Most publicly-traded companies in the space are not profitable.
But that doesn't mean you should avoid these stocks.
You just need to be careful – and I'll show you how to avoid the pitfalls that trip most investors up.
You see, I've figured something out…
Something, I've never shared with anyone— until today.
It's a simple trick that could make you a biotech fortune – you'll be stunned at how easy it is to apply.
Finding The Right Metric for Biotech Success

There are hundreds, possibly thousands of trading indicators.
However, most of them are useless…
Vortex Indicator…
The Aroon Indicator…

The Chalkin Oscillator…
The Coppock Curve…
Most new investors have no clue what the hell Ichimoku clouds are…
People make investing so much more complicated than it needs to be.
This is why they tend to overlook one of the most obvious things in the world when it comes to biotech.
Successful companies are not just the best for the long-term, they're also the safest, provide the best payouts to investors, and absolutely crush the market.
Remember – a lot of biotech companies fail while they attempt to produce new drugs and get them through the rigid process of Clinical Trials and government approval.
Check out the chart below. These are the probabilities that a drug would pass through each of the three phases of clinical trials from 2005 to 2015.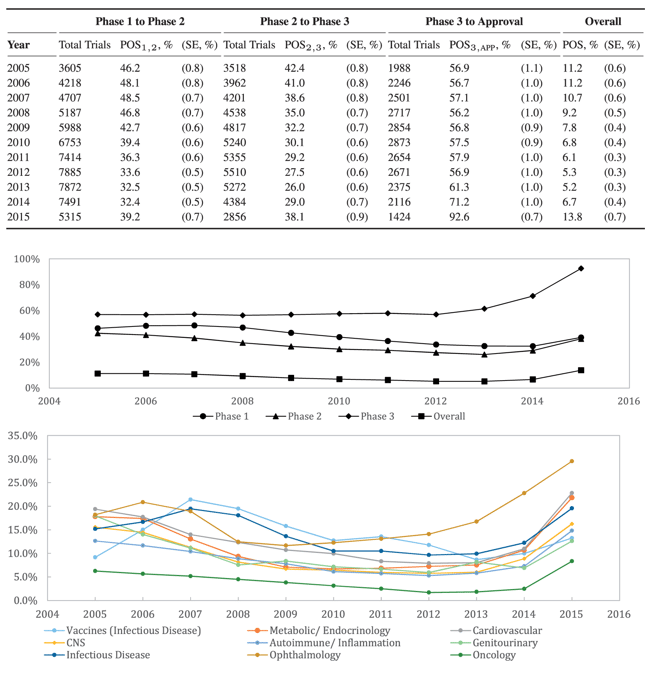 Source: Biostatistics, Volume 20, Issue 2, April 2019
In 2015, the best year for clinical success, the total probability of success for passing all three stages hit 13.8%. That's roughly one out of every eight drugs in development.
That's a lot of failure and a lot of risk.
So instead of trying to pick which ones are going to succeed and fail, why not just buy biotech companies that are actually succeeding?
By my definition, the best signal is if the company is "profitable".
Profit Matters
I did some research and found that all you need to do is buy pharmaceutical and biotech stocks that have been profitable for four straight quarters.
That's it.
If they've only been profitable for three quarters ignore them.
If they've been profitable for years and are unprofitable for a quarter, dump them.
That's it. No speculating on drug trials.
No digging into dumpsters looking for lab results.
I know that this sounds incredibly simple – but it makes sense for a few reasons.
First, focusing solely on profit eliminates about 90% of the biotech sector and removes the severe risks of over-speculation.
Second, profitable companies tend to move toward greater profits as they expand markets and put capital to work. These are proven companies in an industry with significant demand and a world with a growing and aging population.
Third – profitable companies put themselves in a position to partner with or buy out smaller biotech companies that have a new cure or treatment that they need to bring these products to market. You'd be shocked how many small firms run out of cash.
And you'd be surprised how much better these profitable companies are at bringing their products to market than smaller, unproven executive teams.
This is how you end up with a profitable biotech company like Gilead Sciences (NASDAQ: GILD), which recently snapped up Forty Seven (NASDAQ: FTSV) to bolster its cancer drug portfolio.
But here's the best part…
My research shows that buying only biotech companies that have a record of four straight quarters of profitability is not just a winning strategy…
But it has blown out the S&P 500 since 1999.
The red line is our list of profitable biotech companies (returning 13.96% per year) compared to the S&P 500 (blue line) and its average annualized return of 3.7% since 1999.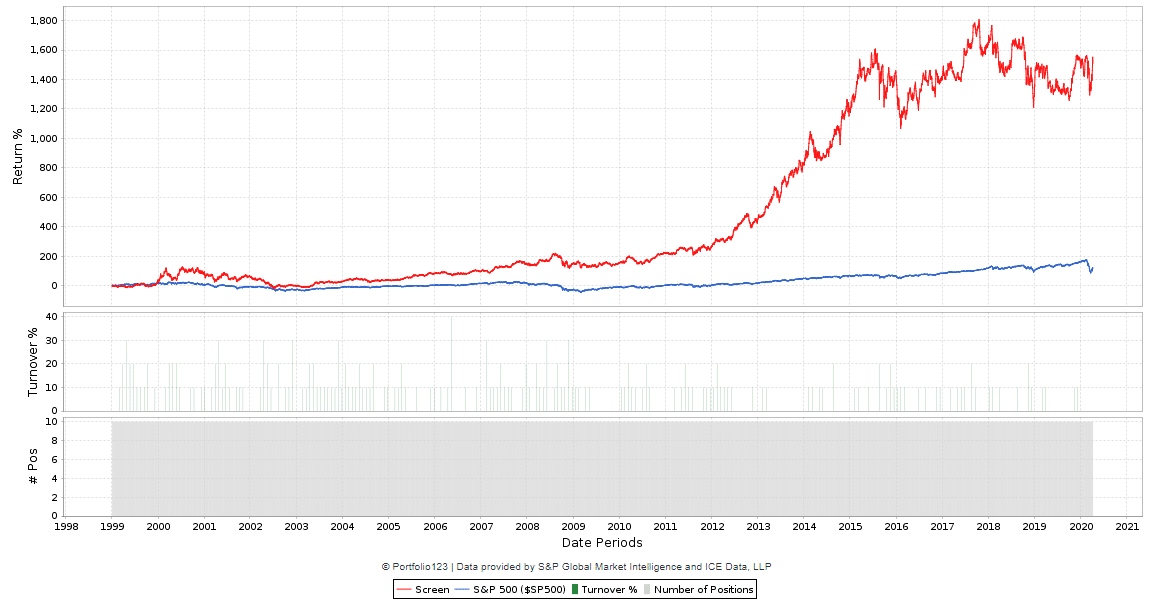 Risks and Rewards
There are risks to any strategy.
In this case, you're going to suffer all of the punches and welts that come along with volatility in the biotech sector.
But you're not speculating on what is the hottest clinical-stage company. And you're not exposing yourself to more severe risks like regulators and share dilution.
Instead, just buy the winning stocks. If they aren't profitable in the next quarter, drop them and add companies that are in the black.
Finally, I know it's not very fair to talk about all this research and not give you a list of companies.
Here are the top 10 biotech stocks for 2020 using this approach.
Ticker Name
ABBV AbbVie Inc
AMGN Amgen Inc
BIIB Biogen Inc
GILD Gilead Sciences Inc
VRTX Vertex Pharmaceuticals Inc
REGN Regeneron Pharmaceuticals Inc
ALXN Alexion Pharmaceuticals Inc
INCY Incyte Corp
NBIX Neurocrine Biosciences Inc
IONS Ionis Pharmaceuticals Inc

Remember, we are in a very turbulent market right now. So, digging into these stocks right now might require a lot of patience. And we'll talk more about what these companies are doing in the future.
Finally, there are some other ways for more aggressive investors to buy and hold biotech stocks. It's an ideal strategy in a market beaten down by the recent pullback.
We'll be talking about that in the weeks ahead.