I hope you were able to join me today for my LIVE EVENT for my Family Portfolio.
I laid out my latest FIVE trades…
Unfortunately, I also promised attendees that I wouldn't republish it.
What I can do today is show you part of my strategy and give you a sample trade to follow.
Stop what you're doing right now, and take advantage of this quick trading lesson.
Right now, it's ugly out there.
Tech stocks are taking a solid punch as investors try to rotate to cyclical stocks.
You can speculate on stocks right now. You can try to time the market.
You can hope that you're picking the right companies. Hell, you might get lucky.
Odds are… in this type of choppy market… your luck runs out pretty quick.
When it comes to making money in the market there are two factors at play.
Luck and behavior.
I have very little control over market luck.
I have 100% control of my behavior.
This is why I follow very strict rules when it comes to picking a stock for my portfolio.
Right now, I'm looking at some of the world's best technology stocks that are getting hit by this rotation from growth to value.
Should I just buy 100 shares of a stock on my screener right now at the current price?
Or should I take into account that we still face a lot of uncertainty?
Well, let's dive into how I control my behavior… and greedily squeeze every penny that I can out of this market.
Diary of a Trade
Look. I can't tell you what stocks I picked at my Live Webinar today.
But I can show you my favorite strategy to pick the stocks I want to own at my buying price.
Take Cisco Systems (CSCO), for example.
This isn't a speculative growth stock by any means.
This is a massive tech stock that trades at a reasonable Price-to-Earnings ratio of 17.1.
It's held in almost every major index fund and doesn't experience significant volatility compared to many other stocks out there.
The tech company has also hiked its dividend for years, providing evidence that it's no longer a speculative growth stock. This is an established company that is always looking for ways to return more of its cash flow to its shareholders.
With that in mind, the stock did take a recent hit, with shares dropping under $36 in October.
Could Cisco fall back to $36?
We still face threats of shutdowns, economic weakness, more layoffs, and lack of stimulus.
There is an obvious downside threat to this market.
So, should I buy $100 shares of Cisco Systems at $42 if the threat of another downturn exists?
Or should I get paid to wait for the stock to pull back so I can purchase it at my desired price?
The latter scenario represents a chance to sell a Cash Secured Put.
With a cash-secured put, I can sell a contract that allows me to pick the price of the stock that I want to purchase.
It has a specific date that my right to purchase the stock expires.
And I receive a premium for giving another party the right to sell at the price of my choice.
So, right now, I could "sell to open" the December 18, 2020, $41 Put for $.71.
I would receive $0.71 for every share that I plan to purchase (in lots of 100 shares in each contract).
For every contract I sell, I would receive a premium of $71.
This Put contract means I would have the right to purchase 100 shares per contract at $41 on December 18.
Now, let's discuss the various reasons why this could be a Win-Win-Win trade.
Breaking Down a Win-Win Trade
If I really want to purchase Cisco Systems, it doesn't make sense to just buy it today.
Not in this economy.
By setting this hypothetical purchase at $41 over the next 59 days, I can take advantage of any downturn to pick my spot.
I'm also being paid $71 per contract to wait.
Now, if the stock falls to under $41 by expiration, I'm able to get CSCO at that strike price.
But, because I received that premium, my BREAKEVEN price is $40.29 based on the strike price and the value of that premium.
So, look at this. With shares trading at $42.10 right now, the stock would need to fall by more than 4.2% in the next 59 days for this trade to break even.
Now, if the stock doesn't fall under $41 by expiration, I can keep the premium.
That's a win.
If the stock falls under $41 and I'm assigned it, well I got to pick up shares at my assigned price, that's a win.
And if I sell the put and shares rip higher in the coming week, I can "buy-to-close" the contract back and lock in a big gain as I did in the last week.
I can't show you the names of the stocks and options in my portfolio but look at the performance of my strategy in the last week alone.*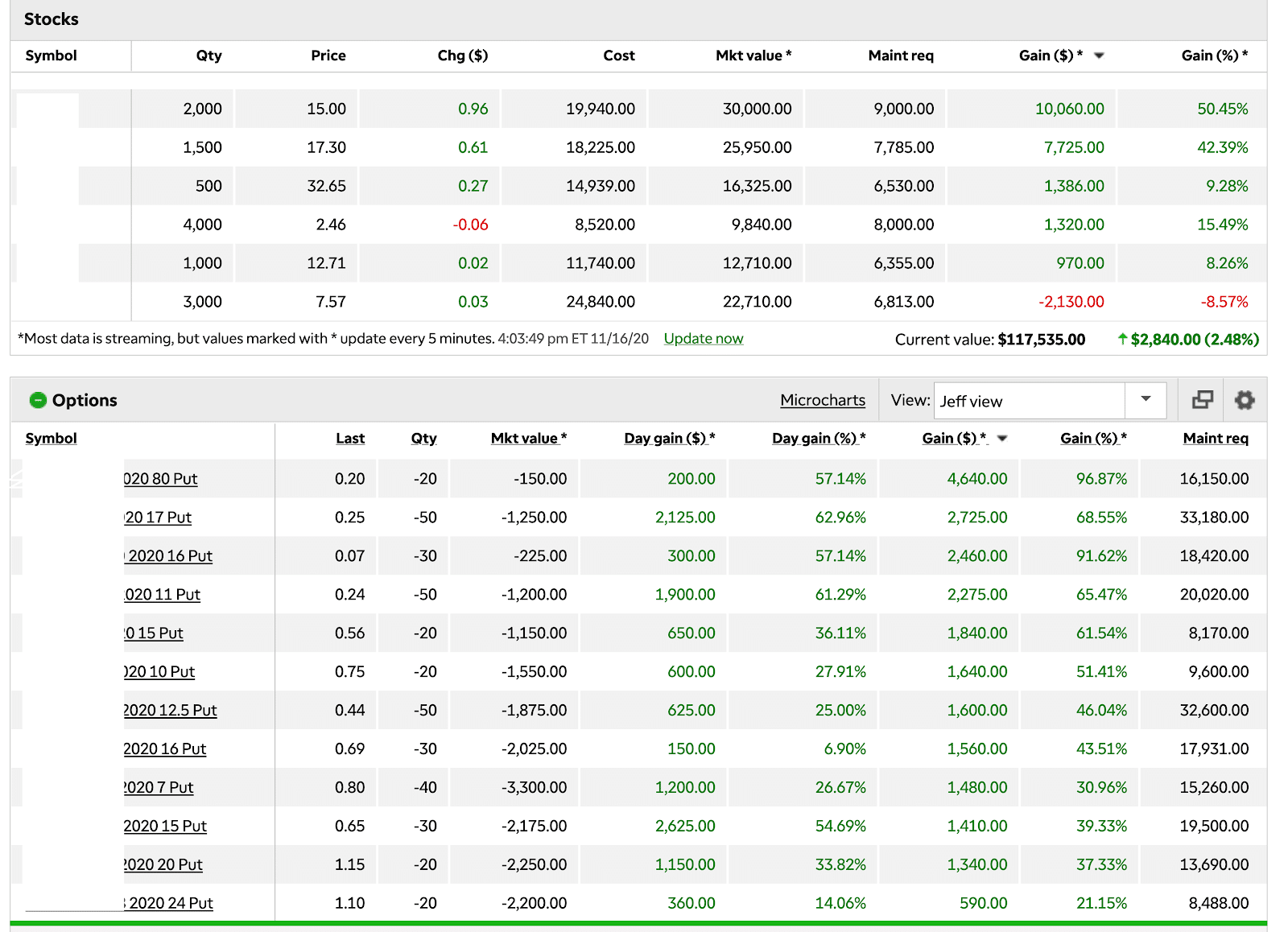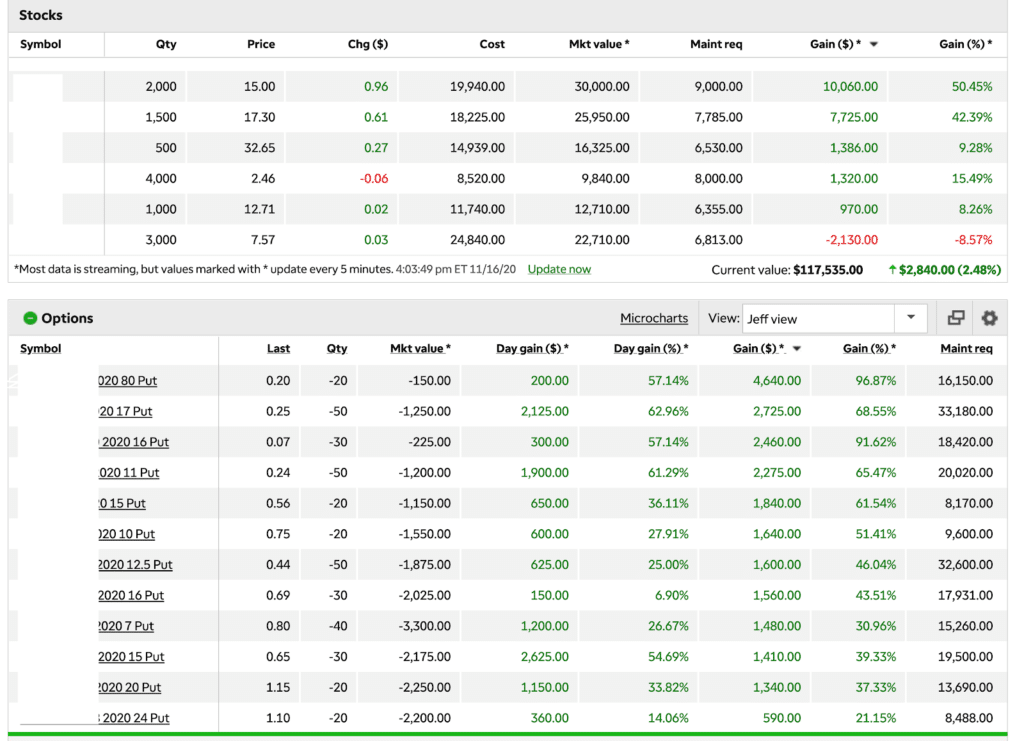 Do you notice the theme here?
Lots of green. Lots of gains. Well above their strike price. I layered on my options strategy with a wealth of secret sauce that I outlined during my webinar today.
As of Monday afternoon, I was up more than 90% on two of my trades, and my lowest return with my options trades… is 21.5%.*
Again, this is a Win-Win-Win strategy that I've found works VERY well for me.
In fact, I've just cut the price of my Portfolio Accelerator service to the Founding Member's level.
I'm giving you an exclusive opportunity to follow me as I trade my REAL MONEY in this portfolio.
Are you ready to take the next step to more ACTIVE trading?
Are you pumped to take advantage of my turbocharged strategy and more than 20 years of trading the markets?
Then get access to my FIVE PICKS from today before this opportunity goes away.
I will teach you how to collect premiums, boost your income, and be able to buy even more of the stocks that I know and love for the long term.
Don't let this opportunity escape you.
*Results presented are not typical and may vary from person to person. Please see our Testimonials Disclaimer here:https://ragingbull.com/disclaimer