Did you ride the rally train or are you still sitting with idle cash in your account?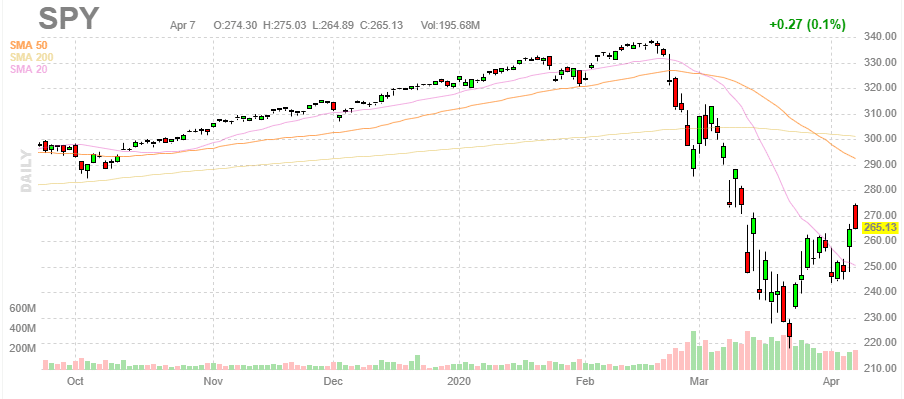 Source: Finviz
Look, this short-term rally could fade any day this month. We could see things flip on a dime and head lower again.
You can sit around and wait for that stock to pull back (which could never come depending on the company or could take weeks or months)… 
Or you can start getting paid right now to wait for the stock to pull back. 
So, do yourself a favor – take out a pen and think of one stock you'd want to buy at a lower price… 
Got it?
Okay. Well, here's your choice. 
If we get a pullback, you get to buy the stock at the price you wanted. And if it doesn't pull back… you'll get to keep the money and get paid while waiting!
Sounds like Door No. 2 is better, huh?
Let me show you how to generate cash from stocks you want to own… 
We'll be using something easy to understand called a "cash-secured put."
Let's start with what I consider an attractive company. I want a company that can weather any storm…survive any market conditions thrown its way.
The stock I'm going with has been dubbed the 'Dividend King,'  with a massive 9% yield. I mean, this company raised its dividend 54 times in the last 50 years. That's rare territory.
I'm talking about none other than Altria (MO), the $71.5 billion tobacco company. 
What makes this an attractive target? Technically, shares have pulled back sharply from February highs. Yet, the market seems to be ignoring the obvious to one key fact…
Its products remain in very heavy demand right now…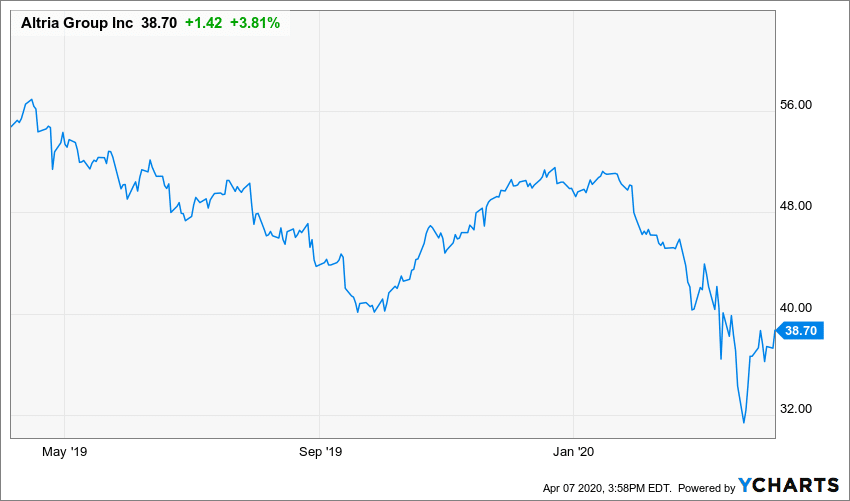 You're probably not aware, but Altria has an impressive wine business. As the world spun out of control, we saw alcohol sales spike. 
I suppose people contemplated being locked in their homes with their families for weeks and maybe even months.
It has several lines of wine at various price points, including bestsellers like Chateau St. Michell and 14 Hands. 
On the upper end, they own brands like Stags Leap and Conns. Those sales are getting a considerable boost from the national shut in right now. 
Plus, people didn't stop buying cigarettes. Demand has remained stable as smokers charge through one butt to the next to deal with the stress of this outbreak. 
But Altria is not just a wine and tobacco firm. It's the ultimate American vice company.
Altria now has a big presence in the cannabis market. It owns 45% of Cronos (NASDAQ: CRON), a Canadian company that makes principal investment in the cannabis industry. 
Cronos owns companies that have cannabis-related international production and distribution across five continents.  The legalization of cannabis continues to spread across the United States and represents a future cash cow for Altria.
Still, Altria has fallen by more than 30% in the past year. It had less to do with performance and more to do with the fact that it is a key component of the S&P 500.
During the March downturn, index funds and ETFs were forced to sell this stock regardless of its strong economic moat or outlook of the company.
What makes the company remarkable is its resilience to economic calamity. Once economic downturns end, it has a history of taking off like a rocket. 
Take the 2008 credit crisis as an example. Shares surged much as five-folds since then.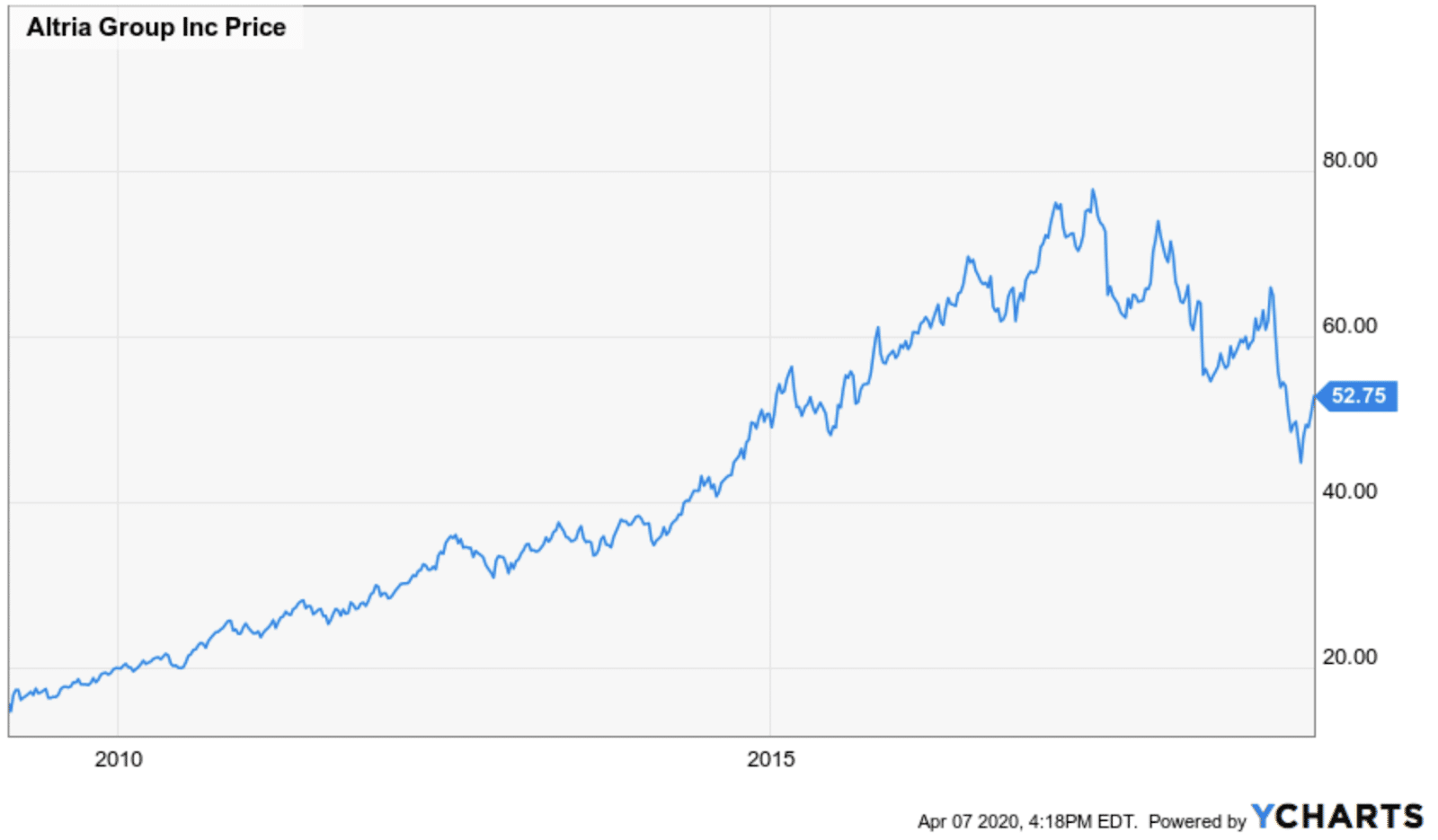 It has pulled back in the last two years due to changing trends, increased investment in industries like cannabis and vaping, and alcohol production.
Now let's get into the good stuff.
With uncertainty in the markets, I want to show you how we can generate some cash and buy it for a lower price than its current $39.00 price. 
And we can start making money on it right away.
How to Trade a Cash Secured Put on Altria
Rather than buy shares today on Altria outright, consider selling a secured put while volatility has option prices pumped to the upside. 
Right now, the June 2020 $35.00 put trades for about $1.75 with the stock at $39.00 
By using a cash secured put*, you would sell this contract and collect the premium.
---
*A put option is a contract that gives the buyer the right to sell his stock before the expiration date at a set price. 
The seller of the put agrees to buy that stock at the stock price anytime the buyer chooses before the contract expires. If the option is not exercised, the seller keeps the premium paid and no longer has any obligation to buy the shares. 
Each put contract covers 100 shares of the underlying stock.
When you sell an option, your broker will require that you post margin, which is like a deposit on the full purchase price. Margin levels can increase or decline based on the price movement of the underlying stock.
With a cash-secured put, you deposit all of the money to fulfill potential purchase requirements. 
This greatly reduces the risk of massive losses from put selling. 
Your risk position is precisely the same as selling calls against stock you already own.
---
You can then set aside enough cash to purchase 100 shares of Altria stock at $35 per share should the stock pull back to that strike price.
 If you were to do that four times over the next year and the stock stays above the strike price, you would collect a total of $6.00. 
Combined this with the $3.36 dividend, that would be an annual yield of more than 20%.
Even if you only do it once and get the stock put to you, your total cash yield is over 12%. 
If the stock is assigned to you, you'd pay $35 minus the $1.75 dividend for your shares. That's a net price of $33.25, locking in an almost 10% yield at that price.  
That's just a little more than the lows the stock hit in the massive selling waves that exploded in the markets over the last month.
Remember, put up all the cash for each option contract you sell. 
Only sell as many options as shares of stock you want to buy. If you plan to buy 300 shares, sell three options. If you only want to buy 100 shares, only sell one option.
If the option expires, look for an opportunity to sell another put option at attractive prices.
If the stock is put to you, sit back, relax and enjoy owning one of the strongest companies in the world…