When he was in his 20s, real estate mogul Sam Zell met with the late Jay Pritzker, the billionaire behind Hyatt Hotels. 
Pritzker wanted to hire Zell. 
The hotel liked the fact that Zell was under 30, a smart lawyer, and a successful entrepreneur. 
"So, I told him," Zell later recounted. "If I met all of those criteria, why the f–k would I work for you?" 
If you don't know Sam Zell, you're missing a one-man profit center and constant source of shock-jock value. 
At 78, he's a regular at elite financial conferences and television panels.  
People invite him for his sharp insight on the real estate market. 
He spends most of his time cursing and ranting about how stupid he thinks other people are.  
Then the event or outlet has to apologize for his remarks… 
But he speaks his mind. He makes a ton of money. So, I like this guy. 
The other reason to like him…
He's creating one of the best long-term buying opportunities for us.
 When the time is right, we might throw fists full of cash into one of the best positioned plays of the 2020 crisis. 
All Hell Has Broken Loose 
A few weeks, ago, Real Estate Investment Trusts sat among the top holdings of ETFs, private equity companies, and billionaires. These assets offer a favorable tax structure that allows them to pay massive dividends from the immense amount of rent they generate from property tenants…
But the coronavirus has single-handedly crushed the entire REIT industry. As you can see in the chart below, all equity REITs are off 23.44% through March 31.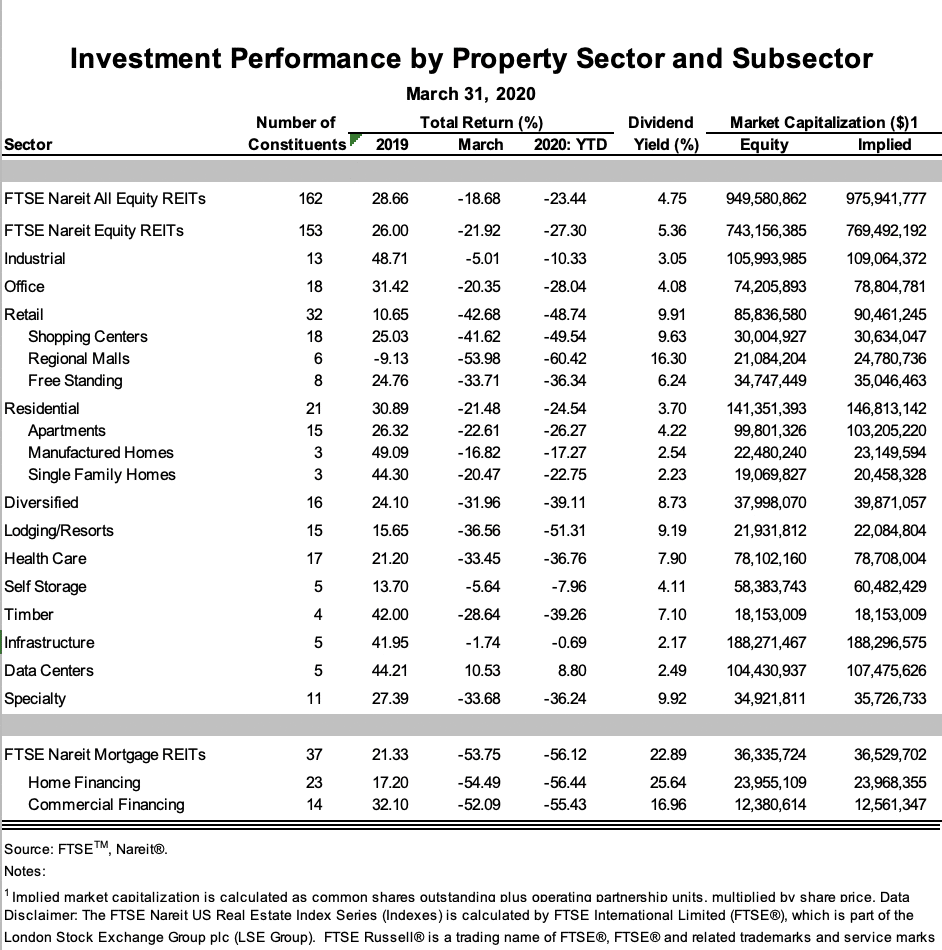 Tenants flat out stopped paying rent. The Cheesecake Factory told its landlords at hundreds of locations that they're not getting a check in April…
Now multiply that attitude by who knows how many companies, and you have a contagion on your hands for commercial real estate. 
The earthquake caused mortgage spreads to blow out, many lenders got margin calls and had to halt operations and scramble for cash. 
As the Fed has dumped trillions into the economy and banking system, the panic has ebbed a bit. But we might just be in the first inning.
But unless the government steps in on commercial real estate, a lot of REITs are dead.
Executives at a lot of companies are asking themselves why in the hell they would pay massive amounts of cash for office space in the future. They sent their workforce home, and people are not only working; they are getting more done in less time. 
With no time cubicle hopping or hanging around the break room, employees are getting their work done faster than ever. There is no time spent commuting, and no one is late because of a traffic jam. There are no office politics or feuds to waste time.  
Why spend millions of dollars a year on rent when you can use video and phone to run your company and add that cash to the bottom line?
That's a conversation a lot of executives at companies of all sizes are having today.
Shopping malls were already imploding before coronavirus. Amazon had taken away their customers years ago. Who the hell wants to drive to a store with the teenage retail employee who doesn't give a crap about his job?
Hotel REITs are equally screwed. 
If your choices are between traveling and potentially sucking air from a ventilator or staying at home, no one travels. 
Hotels across the country are just big, empty buildings right now. 
The bigger operators with access to cash will recover when the economy does, but smaller hotel owners are going to implode.
There are a lot of losers in this situation. 
So, who are the winners? 
Meet The Grave Dancer
So, let's talk about Sam Zell again… or as he's known in the world of failing real estate – The Grave Dancer.  
It turns out that Zell is currently the chairman of a REIT that actually owns very little real estate.
The company is called Equity Commonwealth (NYSE: EQC)…
Here's the thing. This isn't so much a company right now as it is a bucket of cash ready to feast on the carnage of the commercial real estate market. 
Let me tell you a bit about the Grave Dancer…  
Before 2014, Equity Commonwealth was called CommonWealth REIT. 
It had the distinction of being one of the worst run REITs on the planet. 
The REIT was managed externally by the Portnoy Family, who are notorious for bleeding fees out of REITs. They had a pretty ugly business strategy. They'd just borrow more money and feed themselves more fees. It didn't matter to them if the shareholders made more money. More assets equaled more significant fees for the Portnoy family.  
Back in 2014, the company owned 125 properties scattered across the United States and huge holdings of other REITs managed by the Portnoy family. All told more than $50 million in fees were moved from shareholders to the Portnoy's pockets every year.
Naturally, this pissed off shareholders. 
At that point, activist investor Keith Meister of Corvex management joined with a fund run by Miami Dolphins owner Steve Ross to buy 9.8% of CommonWealth.
They immediately launched a fight to get rid of the Portnoy family and fire the entire board.
What they did next was a stroke of genius.  
They went to Sam Zell and asked him to join the fight as the next potential Chairman with their slate of board nominees. 
Zell had made billions for himself and investors, so with him at the top of the ticket, there was no way anyone would vote for any other team to run the REIT.  
Why start Case Keenum when Tom Brady is available and ready to play?
Zell had his reasons for jumping into the fight. 
Sam Zell pretty much created the modern version of Real Estate Investment Trusts. 
He too was pissed off that poor management ripped off shareholders. 
So he jumped aboard. 
The Portnoy's were toast.
Zell installed his guys at the top. But then he did something that stunned the industry. 
He started selling properties.
Zell thought a lot of their suburban properties were low grade, and he dumped them. 
As the prices of office properties continued to climb, he kept selling. 
Over the next five years, his team sold ALL but five properties. 
It was clear to Zell and his personally trained management team that there would be a reckoning at some point. As the Fed pumped money into the economy, it caused inflated valuations for not just the stock market but commercial real estate as well. 
Zell didn't see any way this ended well.
He knew a little something about timing the markets in real estate. 
His buying spree when real estate collapsed after tax reform was passed in the 1980s earned him both a fortune and the legendary name The Grave Dancer.
Then, in 2007, he sold his office REIT, Equity Office Properties to Blackstone (BX) for $39 billion just before the mortgage industry went to hell.
Now, he's positioned for another huge run. Equity Commonwealth just sold a Seattle area office tower to KKR for $400 million last month, right as this massive market downturn happened.
The Grave dancer and his team have a total of $3.4 billion in cash to begin buying real estate and things are once again in an industry about to see a huge valuation shift. 
Add in the amount of debt he can use on Real Estate, and it is easy to see that Zell can buy more than $10 billion of office buildings at rock bottom prices and still be conservatively financed.
We're going to keep watching Zell. If he starts deploying capital, Equity Commonwealth could easily be a company we'll want to own. 
The way I see it, Equity Commonwealth is a bucket of cash and five office buildings with the guy many consider to be the best real estate investor of the last 100 years running the show.
How I Want to Play the Long Term
When it comes to investing, I'm only looking for companies that can help me build insane wealth for my family, my children, and their children.
So, I'm taking a different approach when it comes to investing. I'm looking for the best ideas for the months and years ahead. 
And I'm giving my latest research away for free.
That's why I've started RagingBull Investor. 
Each week, I'll be talking about long-term investing, the best strategies to maximize your gains, and some of the best picks you'll find nowhere else.
Read more from Raging Bull Investor right here.