Everyone loves Warren Buffett.
He's one of the greatest investors of all time.
And he's as American as baseball, apple pie, and race cars. 
Today, he'll host Berkshire Hathaway's annual shareholders' meeting – an event nicknamed the "Woodstock for Capitalists." More than 40,000 money managers attend each year.
Of course, this year's event will be virtual due to COVID.
But a huge audience will tune in this afternoon to hear Buffett discuss his portfolio and market outlook after a tumultuous first quarter. 
He'll discuss Berkshire stock holdings like American Express, Wells Fargo, Coca-Cola, and Apple, the last being the firm's largest holding.  
But what if I told you that it's possible to own the same stocks that Warren Buffett does for 84 cents on the dollar?
It's not only possible. It's one of my favorite ways to make money trading stocks.
Today, we're tapping into a unique asset that mirrors the investments of the Oracle of Omaha.
Pay attention – I need to explain HOW YOU can get this discount on Warren Buffett stocks. It starts and ends with an asset known as a "Closed-End Fund."
A lot of people don't invest in closed-end funds for one reason: They're confusing. 
But by the time I'm done explaining, you'll know more than 95% of the population. 
Closed-end funds are the odd cousin of mutual funds or ETFs.
Money managers create closed-end funds with a fixed number of shares. 
They then sell shares of the fund to investors. These funds trade on the public market, just like any other stock.
Investors can then trade them back or forth based on their needs or whims. 
BUT HERE IS THE KEY DIFFERENCE:
A closed-end fund's value is not linked to the net-asset-value (the value of the assets minus its liabilities).
Each day a mutual fund's price fixes to the value of its underlying assets. 
That's not so with closed-end funds.
Closed-end funds can trade for more (a premium) or less (a discount) to the actual value of the securities owned by the fund.
Let's simplify this. 
Let's say that the Net Asset Value of Closed-End Fund "ABC" is $5.00.
But the ABC shares trade on the market for $4.50. This means that the fund trades at a 10% discount to its NAV. 
Now, let's imagine ABC trades for $6.00, and the fund's NAV is $5.00.
Now, ABC trades at a 20% premium. 
Why do they trade at these premiums and discounts?
The simple answer is fear and greed. This is pure behavioral finance. 
And it often creates an opportunity to take advantage of investor behavior. 
About 80% of closed-end fund shares are owned by individual investors who tend to be more emotional than big, wealthy institutions. 
You know the old maxim: "Buy low, sell high?"
Well, a lot of closed-end fund owners end up doing the opposite. 
Most investors tend to sell in a panic near the bottom in a sector and buy near the top when a sector is exciting. 
This can drive funds to a discount in a bad market and a premium in a frothy market.
Now, I've been doing financial research on subjects like this for years because I am always looking for little anomalies that help me make money.
Recently, a company called Matisse Capital examined the behavior of these funds dating back to 2005 when they became more mainstream among investors. 
The group found that if investors bought closed-end funds that traded at a premium to their net asset value, they would generate a loss on that investment most of the time.
But if they bought funds trading at a deep discount to their net asset value, the investment would generate larger returns on average.
Now, there are closed-end funds for just about every sector.
Some own technology stocks. Others are tied to real estate, infrastructure, or energy.
There are closed-end funds that buy heavily discounted closed-end funds.
And – as I'm about to explain – there's even one that emulates the investment strategy of Warren Buffett and Berkshire Hathaway. 
The best part – this fund is trading at an incredible discount right now. 
Be Your Own Oracle
Given Warren Buffett's long-term outlook, Berkshire Hathaway will thrive despite trading 21% lower than its February 2020 highs.
Berkshire has survived multiple financial crises only to come out stronger on the other side. 
That's why – if you're a long-term investor – it pays to listen to Buffett this weekend to see where his $443 billion will put its money over the next 12 months.
But why buy Berkshire Hathaway when you can own the Boulder Growth & Income Fund (NYSE: BIF). 
The closed-end fund states its investment philosophy on its website.
"The investment philosophy of [Boulder Growth & Income] Advisers is simple: Invest in good businesses at attractive valuations for the long-run. At the heart of this philosophy are two core investment principles. The first of these principles is the belief that superior long-term returns can only be generated as long as the first priority is given to protecting one's principal investment. The second principle is the belief that one must invest in businesses and not speculate in securities to have long-term investment success."
This sounds like something that Warren Buffett wrote in a love letter to investors. 
According to the fund's annual report, it invests roughly 27% of its capital into both Berkshire Hathaway Class A shares (NYSE: BRK.A) and Berkshire Class B Shares. If you don't know, there is quite a price gap between the two types of stock. Berkshire A stock trades at roughly $273,975 per share, while B shares trade at a far more modest $182.67 per share.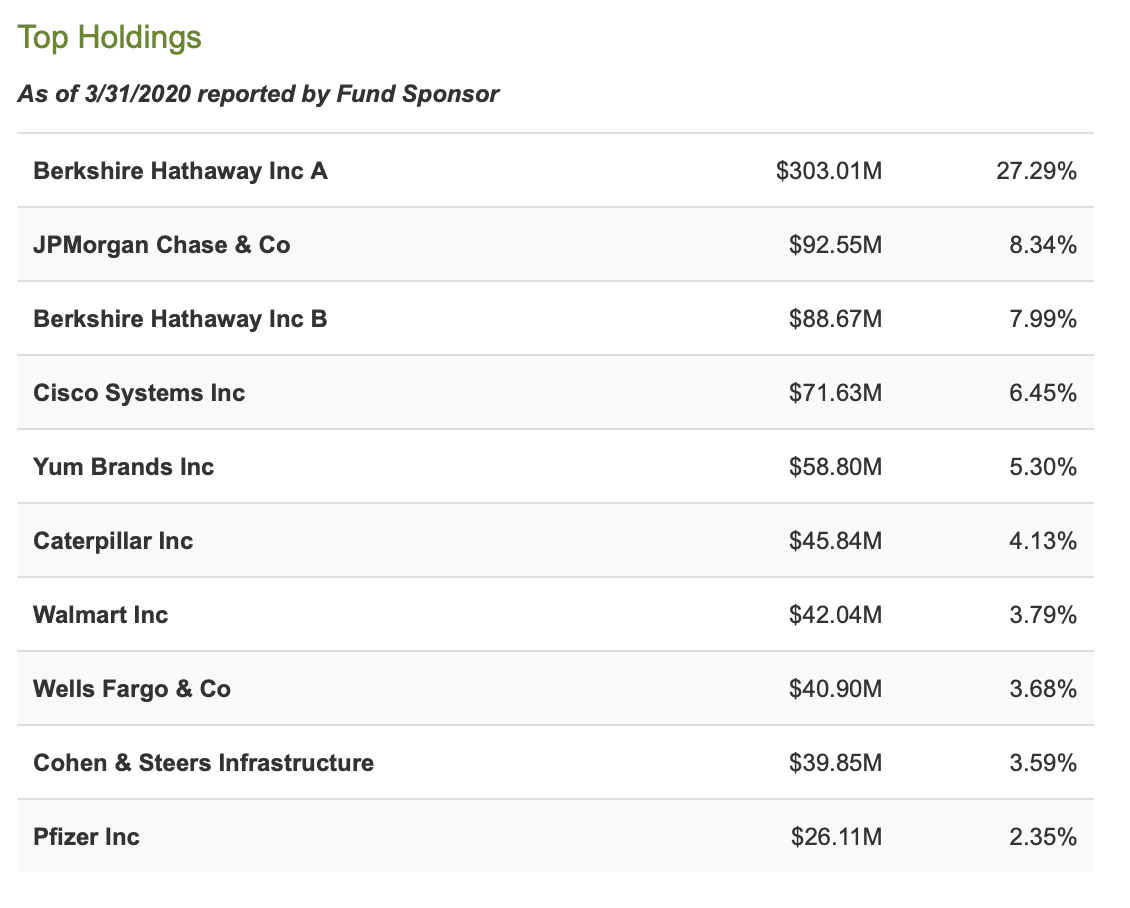 The fund also taps into stocks favored by Berkshire.
This includes Pfizer Inc. (NYSE: PFE), Wells Fargo (NYSE: WFC), American Express (NYSE: AXP), JPMorgan Chase (NYSE: JPM), Walmart Inc. (NYSE: WMT), Cisco Systems (NASDAQ: CSCO), Caterpillar Inc. (NYSE: CAT), Yum! Brands (NYSE: YUM)  and Verizon Communications (NYSE: VZ).
It also diversifies into a mixture of short-term bonds, money market funds, limited partnerships, and another closed-end fund called the Cohen & Steers Infrastructure Fund, which pays an 8.8% dividend. 
Best of all – it trades at a 15.63% discount to its NAV and pays an annual yield of 4.32%. 
That yield is a nice bonus given that Berkshire doesn't pay a dividend of its own.
And speaking of bonuses…
As I noted, the closed-end-fund trades at a discount to the NAV. 
Fund managers do not want the fund to trade at such a discount for an extended period because it can attract activist investors. 
These activist hedge funds, debt vultures, and other institutional investors could come in, buy a big stake in the fund, and then force the manager to take drastic actions to narrow that discount window. 
So, closed-end funds will engage in share buybacks, increase the distribution, and do far more active management to narrow that window and attract additional investors. Otherwise, the activist may move to "shut" the fund and force the manager to return capital to investors at the full value of the underlying assets.
BIF currently trades at $9.45 per share. It's NAV is $11.20.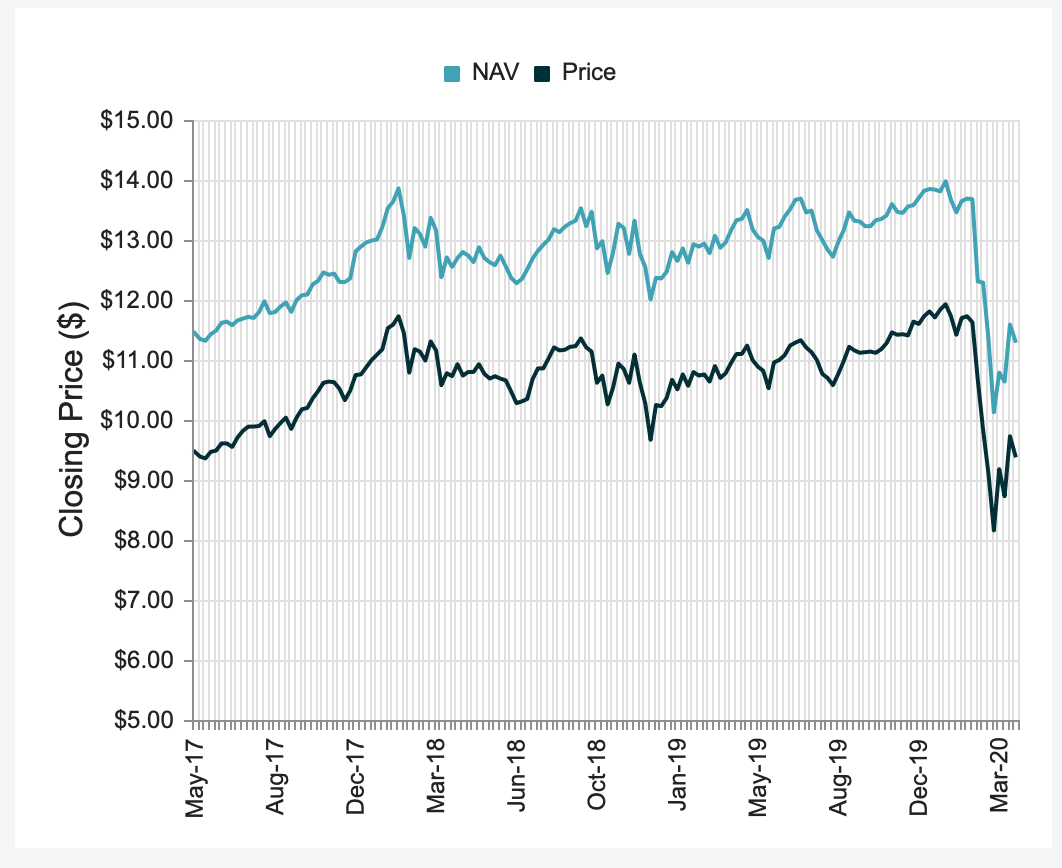 That discount of 15.63% creates quite a window of opportunity. 
This is a chance to pay 84 cents on the dollar for Warren Buffett's favorite stocks.