One of the few bright spots for the U.S. economy right now is the promise of 5G. 
Now, if you don't know much about 5G, that's okay. I'll explain.
Several analysts have dubbed this next-generation technology the catalyst of the new industrial revolution.
It's that powerful. 
While COVID-19 has created so many challenges for the road ahead, 5G will unlock incredible opportunities for businesses, consumers, and long-term investors.
There's a lot of money on the table. 
5G will go from a $31 billion industry in 2020 to one worth roughly $11 trillion by 2026, according to WinterGreen Research. 
While most people are talking about cell phone companies and semiconductor investments to tap into 5G trends, I want to show a backdoor play that remains dramatically undervalued. 
It starts with breaking from the herd and thinking differently about how we invest for the long term.
What exactly is this 5G movement that everyone is raving about?
Simply put – 5G is the world's fifth-generation mobile network.
This new network will enable the lightning-fast connection of machines, devices, consumers, and more.
If you own a smartphone right now, it likely operates on a 4G network. 
Eight years ago, 4G was a revolution that dramatically altered the way that humans connected and interacted with the media. 
It also helped transition the world's connectivity from desktop-based to mobile-first. 
If you've ever sat in an airport or coffee shop while everyone is staring at their phones, well, 4G is the reason for this radical shift in human behavior.
4G led to the rise of mobile conferencing, mobile e-commerce, and video and music on phones. 
Well, 5G is a turbocharged upgrade to the 4G world. 
Speeds of 5G will range anywhere from 10 times to 100 times faster than 4G— once the networks reach full developments.
This technology will optimize more data and process it faster than ever before. 
The technology accelerates the process of factory automation, helping factories produce more goods faster at lower costs. 
It unleashes the long-awaited power of virtual reality and artificial intelligence.
On the personal side of things, 5G opens up a whole new world for gaming, streaming entertainment, and communicating. 
Consumers will benefit from the advancement of smart homes, which can save tons of cash on water bills and heating your home.
This year, countries around the globe will unveil 5G networks, which will accelerate over the next five years. 5G isn't just a game-changer; it is a world changer.
But there's just one thing we have to mitigate as investors: The hype.
Navigating Through the Hype
Here's the problem when you have a major trend that is poised to change the world.
Everyone claims they are a leader in the industry – before the industry even puts on its shoes.
You're going to read a lot of articles about companies – even see advertisements – where firms say that they have the inside track on 5G. 
And Wall Street will say these firms are "must-own" 5G stocks.
They might be right. They might be wrong. 
But there's a ton of risk if you speculate.
Even if they are right about a particular device, you can pay too much, even for a world-changing company. 
Take Cisco Systems (NASDAQ: CSCO), for example.
No one can dispute that the company's router switches and networking equipment radically shaped telecom and internet companies over the last decade.
And it's safe to say that Cisco is one of the greatest technology companies ever. 
But if you bought Cisco at the onset of the Dot-Com hype – back in 2000 – you'd still be sitting on a massive financial loss. Shares peaked above $80 in May 2000. They haven't come close to levels in two decades.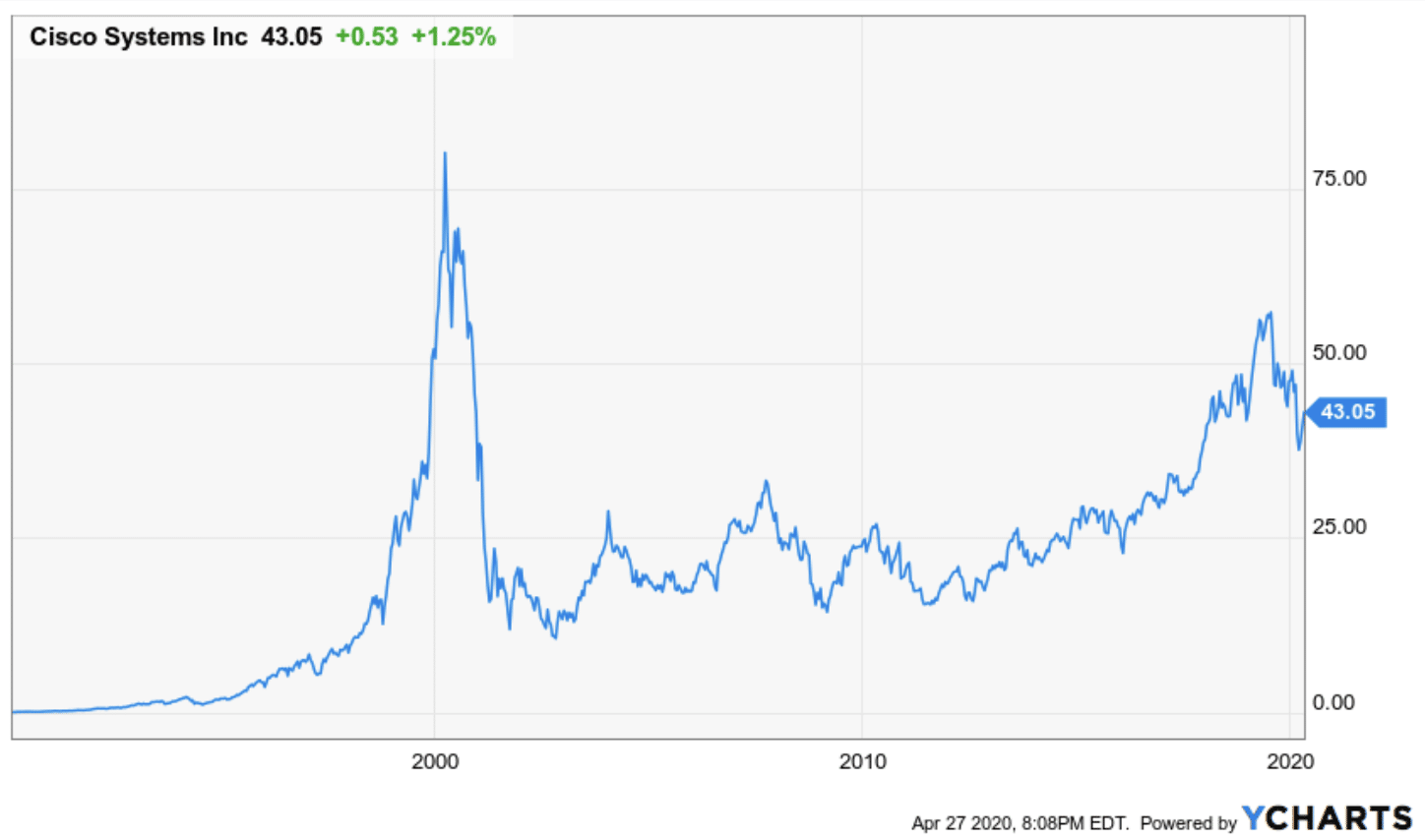 You'd still be down roughly 50% on your money, even though the firm dramatically increased its revenues over the last two decades. 
I worry that a lot of investors are going to get swept up in the 5G hype without doing their diligence. 
So, I want to show you a completely different way to tap into this megatrend. 
We can earn huge profits from 5G without worrying about owning the wrong technology company or paying too much for the right telecom company. 
Instead, we can become the landlord for all of them.
The Backdoor Path to 5G Riches
As you know, I'm a big fan of real estate because of the cold-hard cash it generates. 
And last week, we looked at how data center and cell tower REITs continued to outperform even in this choppy market. 
Today, I want to introduce you to Landmark Infrastructure Partners (NASDAQ: LMRK).
Landmark owns more than 2,025 properties that it leases to telecommunication companies, outdoor advertising firms, and renewable energy firms.
The company leases about 60% of its properties to major telecom companies for cell towers and other telecommunication projects.
Their tenants include all of the big wireless companies unveiling 5G networks in 2020: AT&T (NYSE: T), Verizon (NYSE: VZ), T-Mobile (NYSE: TMUS) and Sprint (NYSE: S).
And by owning Landmark, investors effectively become the landlords of these wireless companies.
Landmark also leases space to cell tower companies like American Tower (NYSE: AMT), Crown Castle (NYSE: CCI), and SBA Communications (NASDAQ: SBAC). So, we're tapping directly into the cell tower industry that is already outperforming despite the COVID-19 outbreak. 
Plus, Landmark has rolled out a new smart pole for 5G called Landmark Vertex. This new pole helps cell phone companies deploy 5G. 
It is a stealth wireless infrastructure smart pole designed for macro, mini macro, and small cell deployment. 
It is also being used by municipalities, commercial enterprises, and transportation authorities to offer widespread 5G service. 
The pole can handle both 4G and 5G service and includes Internet of Things capabilities as well as security lights and cameras.
Landmark is focusing its future growth plans on Vertex for obvious reasons. 
Hundreds of billions of dollars will be spent in the U.S. alone to roll out 5G.
Vertex helps ensure that a lot of those dollars find their way into our pockets as Landmark shareholders.
That is not the only growth area of Landmark's business. 
The outdoor advertising business is seeing rents increased as ordinary billboards are upgraded to newer higher rent electronic billboards. 
When COVID-19 is over, I expect people to spend a lot more time outdoors. 
Finally, its renewable energy business has unlimited growth possibilities in the future. Leasing land to solar power projects and wind turbine operators could evolve into a major business.
Leases in all three of Landmarks property types are long term. Almost all of them are what are known as triple net leases. That means the tenants pay all upkeep costs, insurance, and taxes. 
Once Landmark finds a tenant, they can collect rent checks for years.
Now, the company has taken aggressive action to protect its growth. It recently slashed its dividend to $0.20 a share per quarter. 
At the current price, that still gives a yield of over 7.5%. I don't expect they will slash it any further, given the demand in the 5G industry.
But there is one bonus you should know about. The company currently operates as a corporate partnership. It will likely convert itself into an internally managed REIT in the coming year.
That conversion could be a major catalyst for the stock. Right now, shares are trading for just $10.67 per share.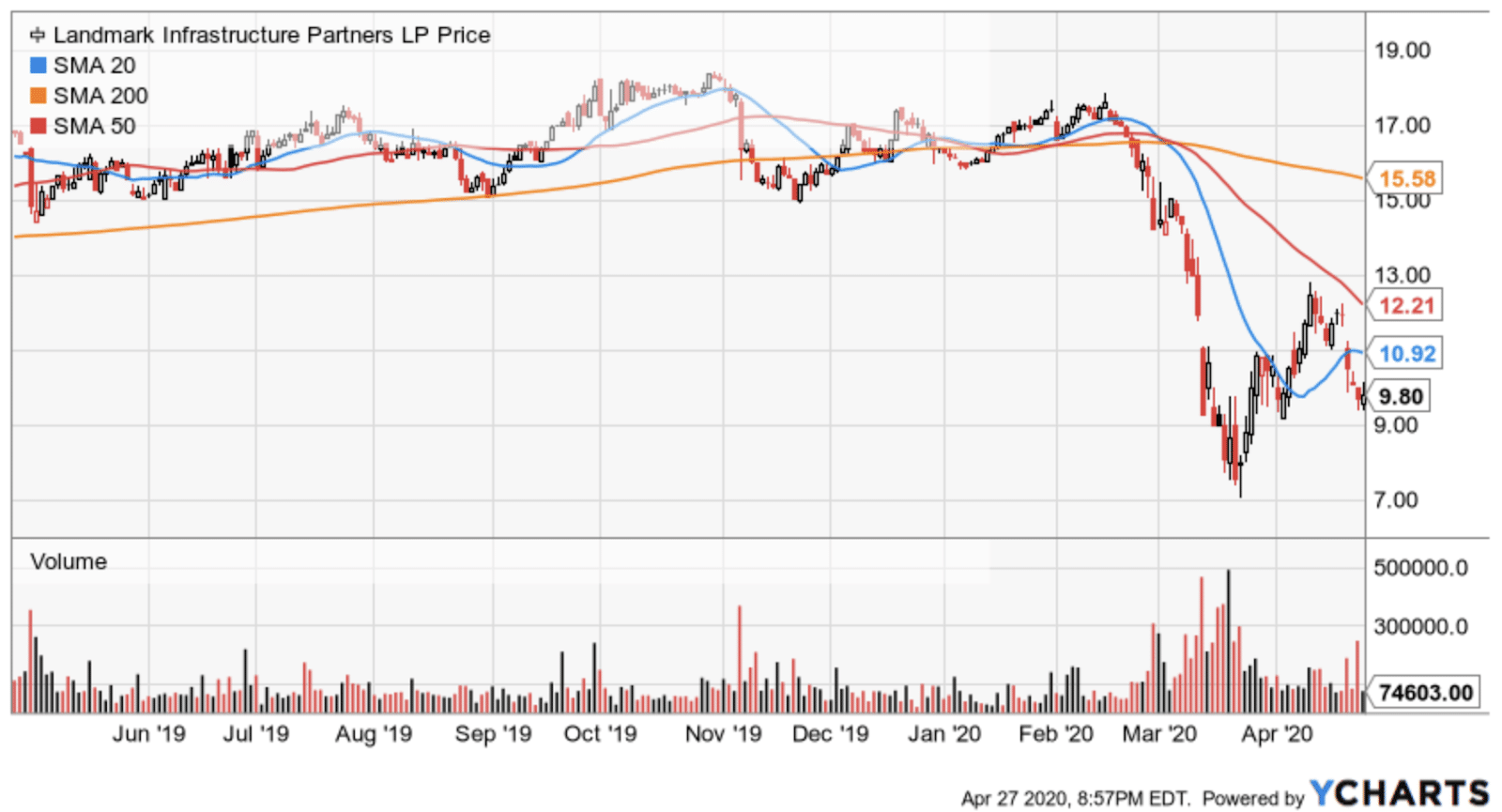 With the stock currently sitting below its 20-day, 50-day, and 200-day moving averages, I'm waiting for the stock to rebound a bit before I would enter the position.
On Thursday, I'll discuss a way that investors can buy into a rebounding stock on the cheap and build a winning position over the long term.