This week, House Speaker Nancy Pelosi met with the executive producer of The LEGO Movie to discuss the possibility of more stimulus for the American economy.
The executive producer of The LEGO Movie said President Donald Trump "made clear" that the White House wants an agreement soon on a $1.8 trillion relief package…
The LEGO Movie executive producer said it's important that the new stimulus include payments for unemployment, direct payments, government relief, and airline bailouts.
But Pelosi said that we're at an impasse. Because she says that Trump – and The LEGO Movie executive producer – just want money for failed airlines, stimulus, and business loans.
So, we're at an impasse between Pelosi and Steven Mnuchin – executive producer The LEGO Movie, who is also moonlighting as U.S. Treasury Secretary.
Today, let's talk about the stimulus… expectations ahead of the election… possible inflation…
And the MOST IMPORTANT tool you can use to identify opportunities in the week ahead..
Right now, the markets are betting on two things.
First: The White House and the House will reach a deal on stimulus.
Second: That Democrats sweep all three chambers in November.
Wall Street banks even came out this week and said that a Biden victory would be beneficial to stocks. The thesis goes that a unified Democratic party can just pump trillions more into the economy in the form of stimulus, direct payments, and potential bailouts.
Inflation, be damned. In the face of COVID, Congress and the Fed appear willing to be full-speed ahead in the event of a Democrat sweep.
As I said, I do expect that stocks will continue to rise this month. The herd has spoken, and hedge funds continue to short bonds and pump money into stocks.
Despite that "optimism", I think there is still a lot of risk in the markets that most people don't see. Even if Democrats win, Republicans can block any stimulus until January. We also might not know the winner of the election until late November, which might fuel a flight to quality.
And we are facing the potential of renewed lockdowns as COVID ravages Europe and parts of the United States.
Regardless, stocks rallied on stimulus optimism this past week…
I want to remain cautious about making any significant bets right now.
So, I'll use the best tools at my disposal to determine if I'm facing a buying or selling opportunity.
If you're buying stocks or selling stocks… if you're about to make an options trade…
There's one tool you can use to identify what's really happening behind every stock.
You have to focus on Relative Strength Indicator (RSI) as a guide on your next play. 
Make RSI Key Again
The RSI is a momentum oscillator that measures recent stock prices to determine if we're seeing oversold or overbought conditions. Developed by J. Wells Wilder Jr., the RSI follows a line graph that moves on a range of 0 to 100.
Now, I'll keep the rules simple. If the figure is under 30, the stock is oversold and if it's over 70, the stock is overbought.
But let me show you the calculation to help you understand the range.Typically, the RSI is measured on a 14-trading period basis, and the calculation looks like this.
RSI ​= 100 − [100 / [1 + (Average gain / Average loss)​]]
Keep in mind… that losses are calculated as positive numbers in this calculation. And let's show how to calculate those average moves.
Average Gain = Sum of Gains over 14 periods / 14.

Average Loss = Sum of Losses over 14 periods / 14
So, I'm going to calculate the RSI from FedEx Corporation (FDX), the global shipping giant that has seen its stock rally 20.9% over the last month.
Is it overbought? You don't have to take a leap of faith when you dig into the numbers.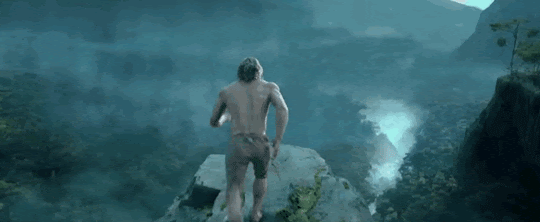 Here are the closing moves on FDX stock since August 25, 2020. I have started to calculate the RSI on the far right column beginning on September 15.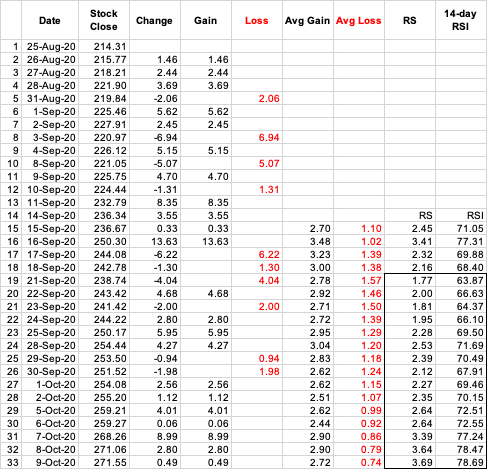 As you can see, on September 21, the RSI was at 63, which suggests the stock was sitting at fair value. However, the run-up for the next two weeks has moved the RSI even higher.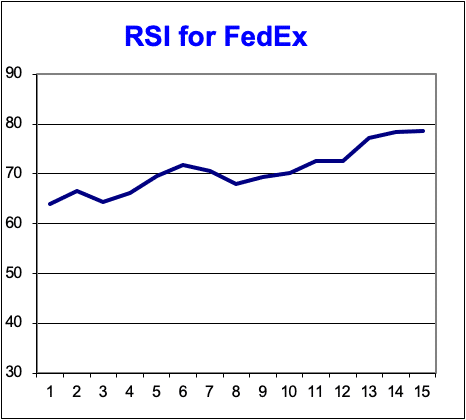 Today, RSI is at 78.69. This figure move suggests overbought conditions for FedEx.
In this situation, I would be looking to do one of two things…
First, I'd avoid buying the stock right now and instead screen buying opportunities for stocks with Oversold conditions (an RSI under 30).
Second, I might consider selling calls right now with up in the $285 to $290 range in the next month. With RSI sitting this high, I'd be looking for a pullback in the stock. If I sell that call and get the pull back in the stock, I can generate some income and use that money to buy FedEx at lower levels.
RSI calculators are free across the web. You might consider this one. Not only can you track the price chart at the top, but you'll also be able to evaluate the RSI on the bottom.
Remember, OVER 70 IS Overbought, and UNDER 30 is Oversold.
Finally, if you want to follow what I'm doing with RSI and the stocks I own right now, I'm offering a 90-day trial on my Portfolio Accelerator for just $299.
I'll be back tomorrow to talk about cannabis stocks and what to expect in 2021. Trulieve is up about 100% since I recommended it here in the late spring. I'm getting more bullish about the industry as we head toward the election.