The coronavirus pandemic has CRUSHED several industries across the globe.
But if you find yourself six feet from someone at any point today, you and they will probably both be looking at cell phones.
The wireless business is doing just fine. 
It's hard to imagine what people did from six feet away during the 1918 Pandemic?
Talked to strangers? Like civilized people?
Not us. Thanks to phones, we can instead call, text, trade stocks, read books, and look up helpful investment tips.
Thank you, wireless revolution. 
These smart devices are not just phones. 
And with 5G on the horizon, investors should salivate at the incredible opportunities to make real money on the top players without having to think twice. 
The more I look at 5G, the more I see that it's recession-proof, COVID proof, and foolproof.
So, let's dive right in.
When I'm looking at opportunities, I really have to dig into the information.
Luckily, I can conduct an entire industry analysis from my cell phone screen and web browser.
I don't have to make calls before dawn like Gordon Gecko to check out what's happening in Hong Kong.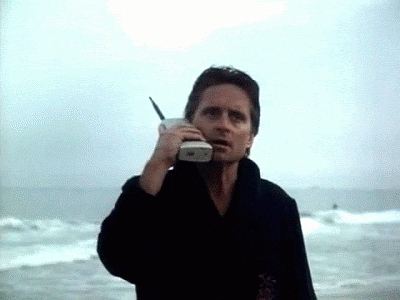 The new technology in my pocket is more advanced and powerful than the rooms full of computers that put a man on the moon more than 50 years ago. 
The revolution of 4G technology over the last decade transitioned a flip phone into a desktop computer. 
A smartphone offers countless entertainment sources, work platforms, movie theatres on the go, streaming music sources, gaming devices, banking tools, sportsbooks, and more.
Now, we're starting to see the rollout of 5G across the U.S.
These phones will get smarter, better, and faster. 
But this is an incredibly expensive endeavor for the wireless industry – and the barriers to entry in this space are incredibly high. 
Some people are willing to speculate on the smaller cell phone companies in the hopes that they make a major breakthrough with this rollout.
But the truth is that the largest companies have the advantage, and they're not going to give up market share any time soon. 
They have the money to roll out expensive infrastructure for the future.
According to Greensill, the leading non-bank provider of supply chain finance, the total costs of 5G infrastructure will be $500 billion and $1 trillion. 
U.S. carriers are estimated to invest $275 billion to deploy 5G networks. 
Tiny companies lack the access that amount of capital needed to deploy their own infrastructure. 
So what will they HAVE TO DO? They'll have to rent space from the larger players on newly deployed 5G networks. 
Aren't barriers to entry grand?
Who Does Number Two Work For?
So, let's evaluate one of the top companies in the space. 
Verizon Communications (VZ) is the second-largest wireless company by customer base in the United States. 
5G has been top of mind for the firm for several years. Back in early 2017, the company purchased X.O. Holdings for approximately $1.8 billion. 
XO owned and operated one of the most extensive fiber-based Internet Protocol and Ethernet networks in the U.S. This acquisition deepened its metro fiber density in 45 U.S. markets. 
It also expanded its potential enterprise and wholesale customer base and densified its cellular network to help deploy 5G technologies.
Then, in 2018, Verizon bought Straight Path, a holder of millimeter wave spectrum configured for 5G wireless services. 
This deal gives Verizon valuable millimeter wave spectrum licenses covering the entire U.S., including within the top 40 markets. 
Verizon currently offers the fastest 5G networks in the world right now, according to Opensource. 
Its 5G customers have seen average speeds of 506.1Mbps. That is more than twice the speed of South Korea's major carriers that were considered the best in class 5G networks.
Verizon is also way out in front with mobile 5G offerings. Verizon currently offers service in 34 cities across the United States. They also have mobile 5G networks in many of the leading sports stadiums and arenas.
So, What About the Numbers?
When looking for breakout possibilities, I am paying attention to a few things on the chart right now.
Verizon's stock is starting to reflect this leadership 5G position. The stock could soon experience a sharp breakout that leads to new all-time highs. 
The stock touched its 200-day moving average the other day, and a move above that would confirm that the stock is entering a new bull market that could last for years.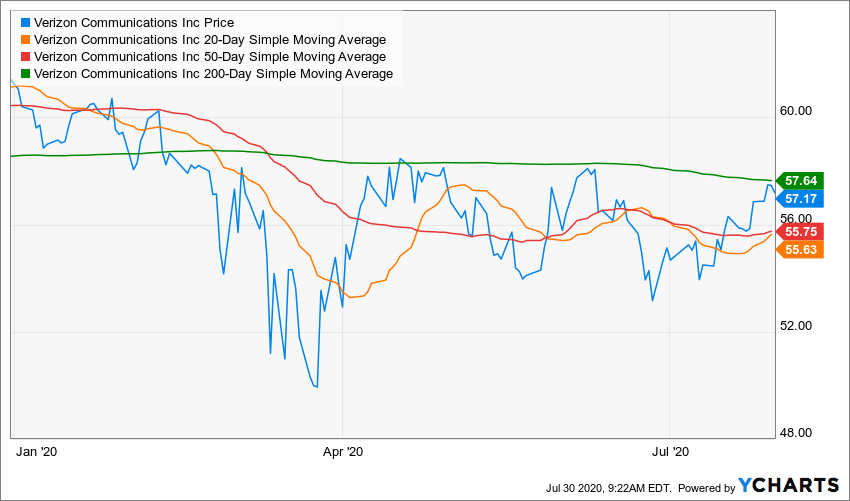 The move in Verizon will also be confirmed by the 20-day moving average climbing back over the 50 day, which is just pennies away from happening right now.
The stock has run into resistance at the $58 area three times so far this year. A push above that number will give Verizon shares clear sailing to new highs. Hitting new highs should attract momentum traders to the stock, and we could be off to the races.
Verizon is one of the bluest of blue chips. The stock pays a comfortable dividend of about 4.28%. Verizon has raised the dividend by about almost 3% a year over the last five years. 
For the last several years, Verizon has been focused on strengthening its balance sheet and preparing for 5G. 
Should it meet its goals, Verizon can then focus more of its $20 billion-plus free cash flow generated every year to rewarding shareholders. 
We should see the dividend grow faster and some buyback programs that help move the stock price higher. And that's the type of long-term play that can really build wealth.
We'll talk more about a few other long-term approaches to similar industries on Saturday.
– Jeff
Related Articles: