As an entrepreneur and investor, I'm always looking to put money into what I consider to be a perfect business. 
I'm talking about the kind of situation where the customer HAS TO BUY YOUR PRODUCT.
Think: Selling pricy umbrellas to concertgoers in a rainstorm.
Or high-margin hurricane insurance on beachfront Florida mansions.
Even operating a premium gas station on a highway where there isn't another exit for 77 miles.
All of these have a captured audience and are VERY profitable…
But nothing compares to the PERFECT business that I've uncovered for long term investors.
This company taps into a perfect storm of trends that will allow it to mint money.
These include population growth, resource scarcity, and insurance from catastrophic climate or weather events.
Today, we're talking about selling water in the desert.
It's an opportunity so rare you'll think your eyes are playing tricks on you.
When it comes to investing in water, it's simply a matter of supply and demand.
Back in 2012, the U.S. Department of the Interior released a damning report on water supply in the western states.
It's called The Colorado River Basin Water Supply and Demand Study.
Catchy title? Not really. Boring? Well, yeah, it's a government report. 
But does it reveal an unstoppable and lucrative trend? ABSOLUTELY.
The report concludes that the Colorado River Basin region – which supplies water to many Western states – will experience water shortages for the next 50 years. And that's at the minimum.
Water shortages are imminent in Arizona, and parts of California, Colorado, New Mexico, Nevada, Utah, and Wyoming.
Now, follow the U.S. census, and you'll notice this entire region – especially Nevada and Arizona – has experienced steady population growth in recent years. 
And that migration likely won't slow down. 
According to the Census Bureau's estimate of state population changes for the period April 1, 2010, to July 1, 2019, Nevada's growth rate was 14.1%, Arizona was 13.9%, and Colorado was 14.5%.
And that was before the COVID-19 outbreak in 2020. 
Some economists now speculate that the coronavirus could accelerate growth in these states as people flee densely populated urban areas for new terrain.
As people flock to these states, they expand demand for many services, including water access. 
But keep in mind that the Southwest consists of many hot and cold deserts prone to dry weather.
We just saw a prolonged drought in parts of the Southwest that ended in 2018 after 18 years. 
The drought was one of the longest in the region's history. 
During that time, water demand outstripped supply for the first time. 
Source: U.S. Bureau of Reclamation
Many scientists expect it could happen again and have raised concerns about the supply and demand imbalance in the growing region. As you can see above, the imbalance looks troubling as we move out past this decade.
So how can you capitalize on the demographic shift, rising demand for water, and the occasional "Act of God" prolonged weather event? 
It's time you learned a little about PICO Holdings (NASDAQ: PICO).
Drop Me in the Water
PICO Holdings is a diversified, Nevada-based company with its hands in many different pots. 
It just wasn't very good at making money for a long time.
Founded in 1981, PICO has worked in the insurance business. They've built homes and dabbled in U.S. investments. Another venture in a canola processing plant flopped.  
For 24 years, it was hard to find any reason to own this publicly-traded company.
But in 2015 – a group of activist investors decided to start a coup.
Central Square Management and River Road Management teamed up, seized control of PICO Holdings, and forced out the entire board of directors. 
They replaced management. 
They sold off its lackluster homebuilding firm UCP and returned the case to shareholders with a special dividend.
So, what was left of PICO after this battle?
One key business – Vidler Water. 
Vidler's entire operation centers on water resources and storage of the commodity out west. 
The company owns water rights and related land and infrastructure in the Colorado River Basin – that special place that is doomed to face water shortages over the next five decades. 
Since the activist battle, PICO's leadership has strategically sold off water rights and properties. 
When it makes a deal, it returns the money to shareholders.
The remaining water rights and related infrastructure are near Reno, Nevada; Phoenix, Arizona; and Las Vegas, Nevada. 
All three are very fast-growing cities.
All three face astronomical challenges in water procurement.
Buyers of water rights include developers who need to acquire an adequate supply of clean water as well as commercial and industrial customers who require a water supply. 
PICO also sells water rights to government agencies that need water to support future growth plans.
In 2019 PICO generated almost $30 million in water and land sales.  
Its sales included: 
One hundred seventy-five acre-feet of water credits in Reno, Nevada for proceeds of over $6 million or $35,000/acre-feet. 

Four hundred seventy acre-feet of water rights in northern Nevada for $3 million, and $8.9 million in land sales. 

Twenty-five thousand acre-feet of water credits for $8.7 million in proceeds.
But that's just a small sample of its bigger portfolio.
Dip Me in the River
This is the ultimate supply and demand story for a precious resource.
PICO still owns 7,800 acre-feet of water credits that are designed to serve the North Valley communities of Reno, Nevada. These properties are currently priced at $36,000 per acre-foot. 
That's a lot of money for water. But given the growing development across the region, water rights remain in strong demand. 
PICO also owns over 28,000 acre-feet of water credits in the Phoenix area as well as 250,000 acre-feet of water credits 70 miles west of Phoenix. 
In Nevada, they still have water rights in Carson City, Nevada, and to the north of Las Vegas.
PICO owns a lot of H2O in a fast-growing desert.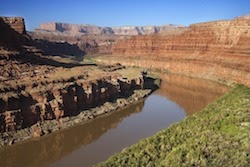 The company will continue to make money one of two ways: It will continue to liquidate (no pun intended) its holdings through strategic sales… or it will sell itself to the highest bidder. 
The latter is possible because PICO has desirable tax assets for a potential buyer. 
At the end of 2019, the firm had about $156.5 million of federal net operating loss carry forward – which can offset future gains on a tax return.
And the company is returning a lot of money to shareholders right now. Its board just approved a $100 million buyback plan (for a company with a market cap of only $190 million). 
CEO Dorothy Timian-Palmer announced the buyback and explained how the market seems to undervalue this company.
"Currently, the market is assigning a price for PICO's shares below our book value of $9.01 per share on December 31, 2019," she said in March. "We believe the intrinsic value of our portfolio of water assets has grown in the years since we acquired and developed these assets. In addition, our water asset portfolio is now more concentrated in the high growth areas of northern Nevada and Arizona."
The stock trades below $8.50 with a book value of 0.9. 
Meanwhile, the industry's average price/book is about six times higher at 5.73x.
Mike Melby of Gate City Capital is a shareholder. Based on the sum of PICO's current holdings, he recently set his valuation for the stock at $22.50. (That's a 115% gain from Wednesday's closing price).
That seems like an excellent long-term target… unless someone does the impossible and finds a replacement for water.  
But I don't see that happening. 
Do you?