After you spend two months quarantined… it's easy to daydream of sandy beaches and crystal blue waters. 
Memorial Day weekend is typically one reserved for family vacations, cross-country flights, packed airports, and bustling cruise lines.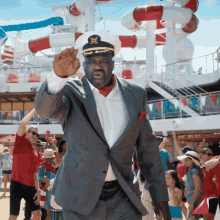 This weekend, however, flights remain grounded. Airport bars remain dry. And cruise ships remain stuck in port.
Meanwhile, concerns have swelled about the safety and sanitation of the U.S. travel industry. 
But if history is a guide, the travel industry will innovate and rebound. 
On Wednesday, we discussed how past outbreaks reshaped the entertainment business.
Let's do the same with travel. We look at our past to project the future of travel.
It's been a downright ugly year in the travel industry. 
Cruise stocks have absolutely plunged as a result of slumping demand. Following the outbreak of COVID-19 on multiple cruise ships around the world, the last thing anyone wants is to be stuck at sea on a floating petri dish for weeks at a time.

With demand plunging, so too did share prices.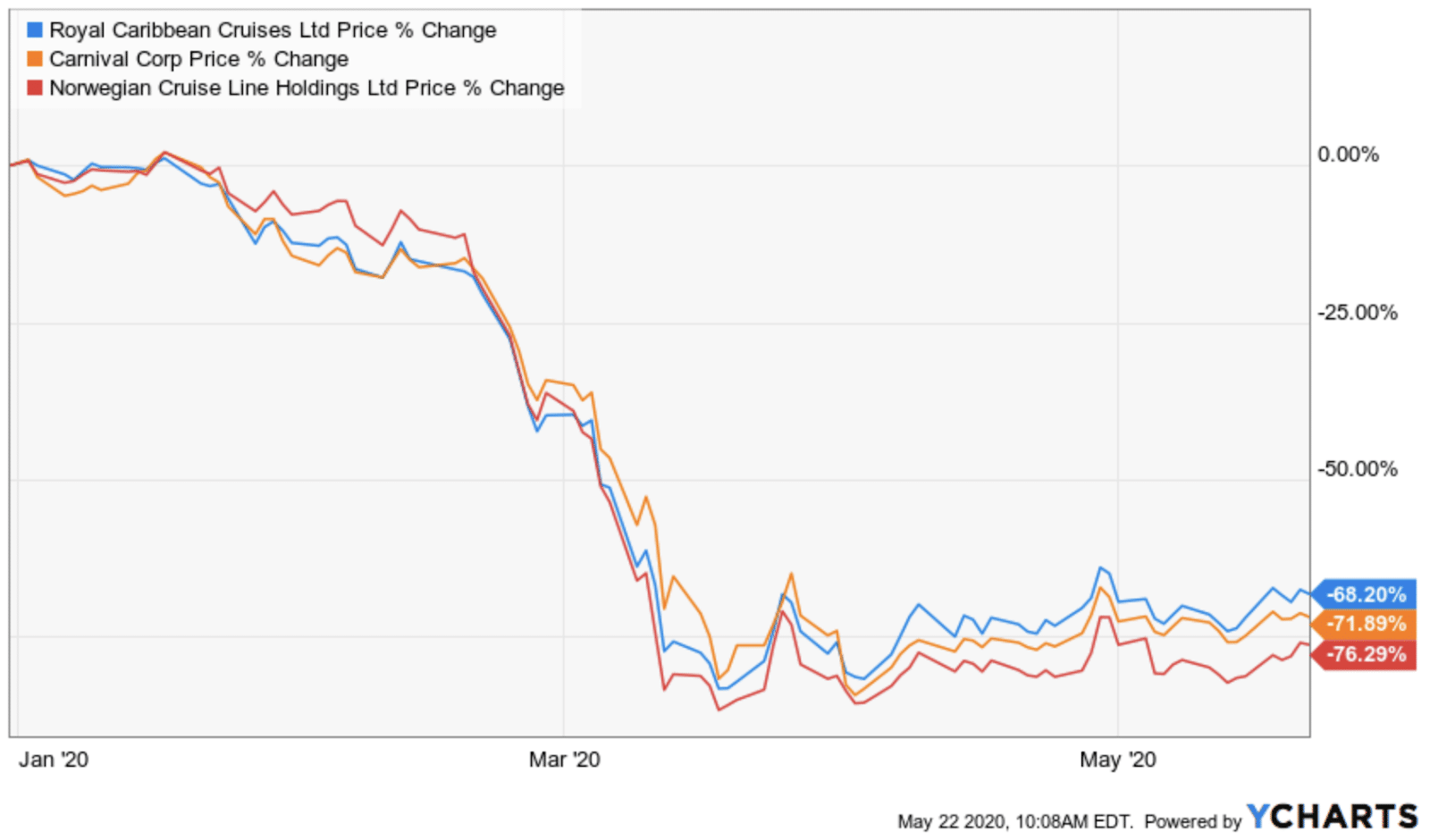 Meanwhile, airlines aren't faring any better. Despite aggressive efforts to ensure that infected passengers won't board planes, most people are just staying home. 
We've seen airline forecasts for the summer projecting upwards of a 90% decline in travelers compared to the same period in 2019.
Like cruise lines, airline stocks are off sharply as well.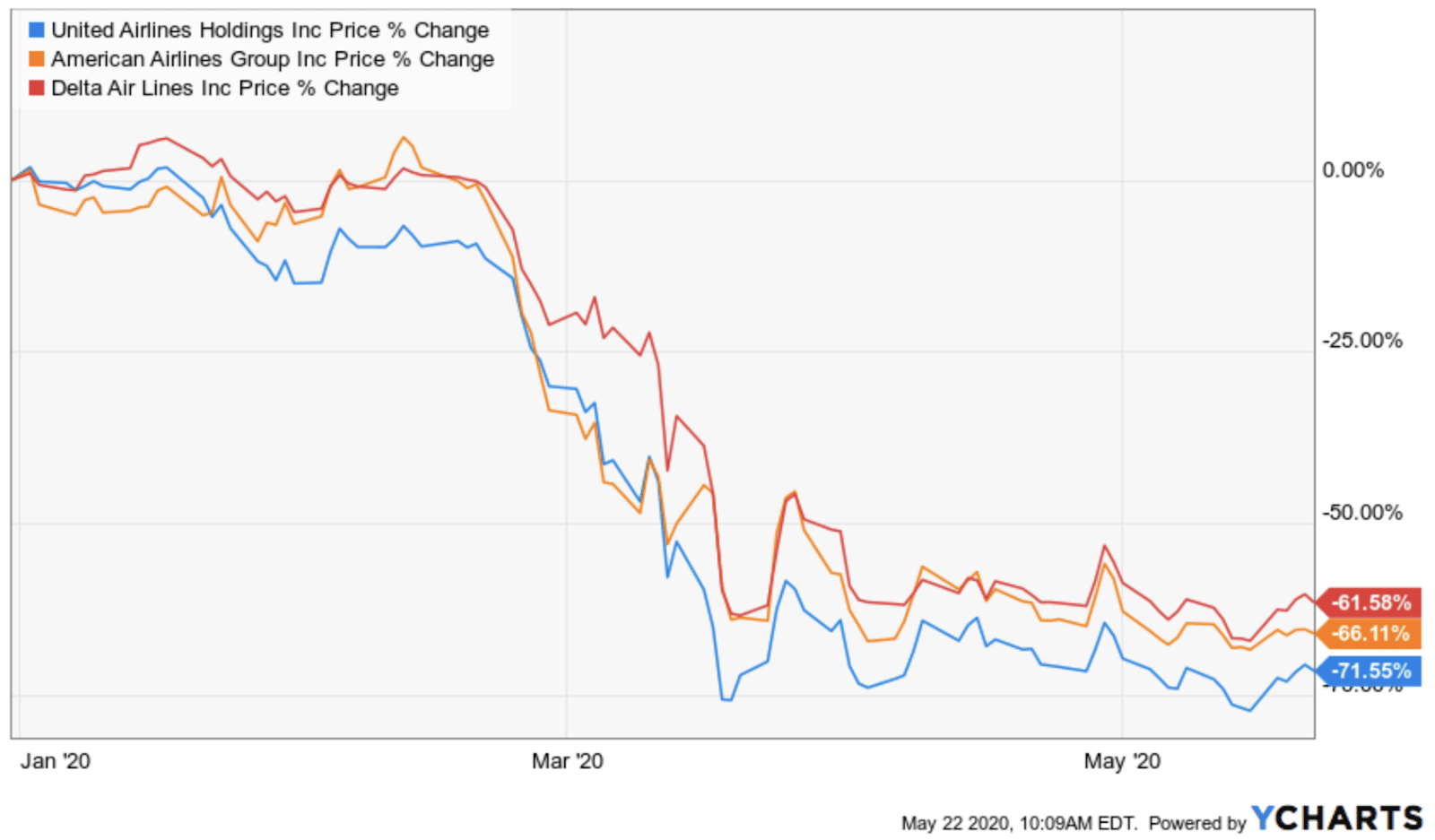 It's easy to sit here and say that airlines and cruises are dead. 
But this is far from untrue. Last month, CruiseCompete.com, which compares cruise packages, saw a 40% increase in its bookings for 2021 compared to its 2019 bookings. People want to travel. 
The key is that both airlines and cruises find ways to better sanitate their environments and give travelers the confidence to board once again. 
It's happened before in travel. And it will happen again.

The 1918 Pandemic and U.S. Travel
Did the Spanish Flu really bring change to the U.S. travel industry? 
Not just the travel industry itself, but also to public health forever. 
The train system was the primary source of travel during the 1910s over long distances, much like planes are today. 
During that time, trains were cramped, with people standing in the aisles. PBS has suggested that trains helped drive the spread of the flu in 1918. 
Soldiers traveling between bases transmitted the disease, as did people traveling on streetcars and subways. 
But it's fair to remember that changes in train travel after this pandemic dramatically improved the quality of the experience and helped address public health concerns. 
Back in 1918, Americans were still living in the times when the Spittoon was popular. And if one wasn't available, people would simply spit on the floor.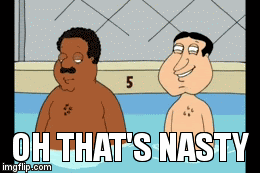 During that period, medical officials encouraged people to stop spitting everywhere and encouraged the use of handkerchiefs when sneezing. 
In fact, there are still laws on the books in many jurisdictions stating it's illegal to spit on a sidewalk. 
I wonder if there were people who were defiant about this, the same way that some people today refuse to wear a mask in public? 
In addition, much like today's international travel, railroads moved to quarantine travelers across the country for multiple days to ensure that the spread of the Spanish flu didn't accelerate from coast to coast. 
Finally, companies and schools rotated their schedules around periods when there was little congestion on subways, trains, and streetcars. 
How Airlines and Cruise Ships Will Bounce Back
In today's situation, air travel and cruise travel were two high-profile culprits in the spread of this virus. One of the key challenges around the spread of the virus is the circulation of air on both vessels.  
Already, experts in the aviation industry are working on ways to address airline circulation (which is surprisingly safer than many people think.) 
Air comes into the cabin from the outside and is filtered. That air flows vertically from luggage bins to the floor, and air doesn't flow from the front to the back of a jet. 
Air on planes is changed every two to three minutes. 
But that's still enough time to spread a virus in close quarters. And that doesn't address public perception around air travel. 
So, we'll look for companies to make incremental improvements to their filtering technology and even explore ways to integrate social distancing standards and improved hygiene practices. 
The same goes with cruises, which must address how airflow through their air conditioning systems fueled the spread of the virus on oceans around the globe. 
And, we'll also look for train innovation as a potential competitor to airlines.
There are a number of other benefits that might come from this – particularly for consumers. Passengers may benefit from more flexible change and cancellation policies in the event they are sick. 
We'll likely see greater innovation in reservation technology. Instead of long waits over the phone, we'll look for more improved reservation management that will make those phone calls obsolete and bookings more flexible. 
Of course, this doesn't mean that airlines or cruises are good investments in the short-term. 
There could be widespread bankruptcies similar to what we saw in the early 1990s.
Consolidation may come in the form of bankruptcy court agreements rather than debt-laden deals that do very little for stockholders. 
But it's important to remember that American engineers are versatile and will adopt new innovation to address public health concerns. That will be good news for travel stocks in general and help restore public confidence.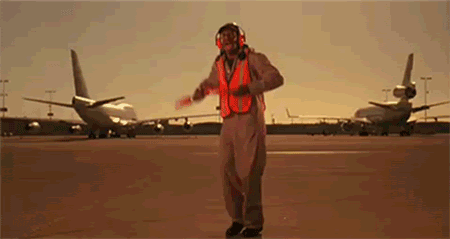 Again, history doesn't repeat itself when it comes to innovation in the wake of a pandemic…
But, again, it sure rhymes.
We'll talk more about this next week. And look out for my latest pick on travel in a special report very soon.
Related Articles: