There's nothing like a good chart. 
For example: 
This chart below offers an accurate breakdown of how people tend to behave when their pen runs out of ink.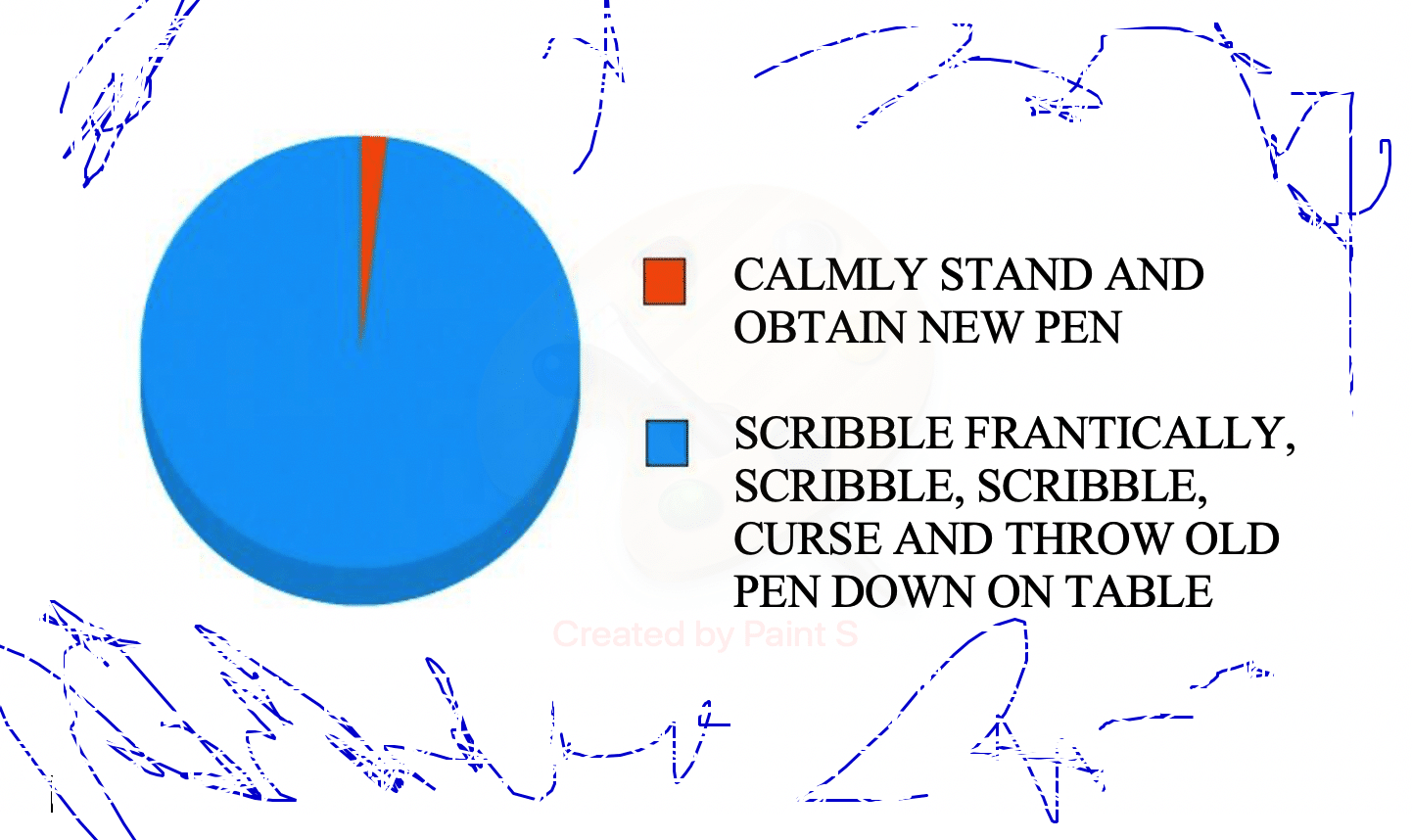 As investors and traders, we commonly rely on charts to help us identify trends and make informed, data-based decisions.
You know short-term traders and "chartists" commonly tend to use visual tools to predict a stock's next move. 
But what about "long term" investors? 
We've discussed charts that track the 50-day moving average crossing over the 200-day moving average. This can be an important predictor of future stock performance. 
But what about predicting the short-term direction of the S&P 500?
Well, there's only one chart you need to follow for this "trend."
In fact, the crossover I'm about to discuss is the difference between making money and losing money…
Potentially, a lot of money.
Over the last few weeks, I've been talking a lot about market momentum. 
But have we discussed what it actually means?
Momentum is the broader market sentiment that can provide support to buying pressure and selling pressure.
That broader pricing trend can only go in one of two directions: Positive or negative. 
Last Monday, market momentum (by my internal calculations) went negative for the first time since February. 
This was a big red flag for me. 
Because it confirmed a downward price trend across the entire S&P 500.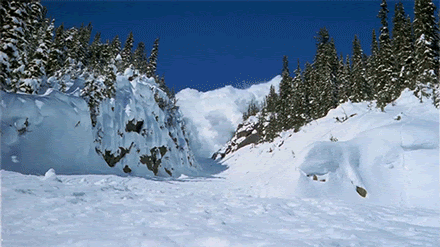 During this time, the trader in me says it's a good time to sell calls on the SPY, eye low entry points on the S&P 500, and sell calls on all of the long-term portfolio positions that I have to generate income. 
But all of these trading strategies are for a later date. 
Today, I want to give you an easy way to identify positive and negative momentum in real time. 
This is a chart that you can build yourself and check every morning. 
Tracking Market Momentum
Let me show you a simple way that most people view "momentum" in the market. 
A common way to track this is by using a 5-day trending line and a 13-day trending line of exponential moving averages to show up and down trends. 
When the 5-day EMA is above that 13-day EMA, the market momentum is moving higher and tends to stay in a positive trend until there is a crossover.
This appears to have occurred last Monday when the crossover happened AND the S&P 500 fell for the fourth straight session by a wide margin.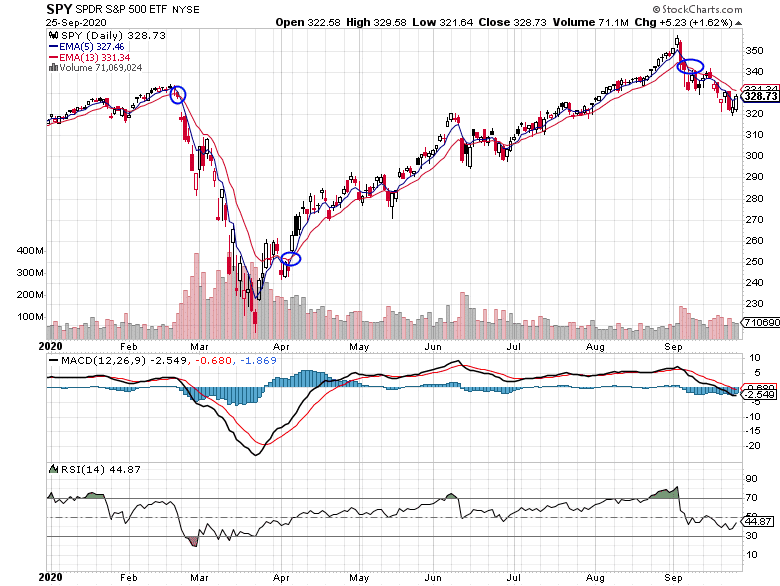 The last time that we saw a movement on these two was the end of April – as noted by the second blue circle in the chart above. 
That is when the market momentum turned positive according to these metrics. 
We had just seen a massive amount of stimulus spending, significant insider buying, and promises by the Fed to provide unlimited capital to help support the economy.
Previously, momentum started going negative right around the end of February (the first blue circle). 
That was when stocks were sitting near an all-time high, but the realization that COVID-19 would shut down the U.S. economy had just sunk in. Over the next few weeks, we witnessed the greatest rush to cash in perhaps the history of the U.S. markets. 
Even though the market rallied on Friday, there is no definitive crossover trend right now. 
By definition, momentum is still negative (evidenced by the crossover in the third blue circle). 
That chart above is crazy. 
We're witnessing one of the craziest markets in the history of history. 
We've had 43 trading days this year where the S&P 500 has moved up or down 2% or more. There's no precedent for that type of behavior.
Momentum Matters
Now, I'll let you in on a secret. 
Different investors have different metrics they follow and different tools they use. 
But everyone has some measurement of momentum in their arsenal. 
And I'm noticing more and more that every time that this price crossover trend happens, I'm hearing more conversations out of Chicago and other trading centers that many brokers are calling margin on their counterparties. 
This means that they need to settle their accounts, and if they'll need to engage in forced selling to cover those positions. Add up a lot of big whales who are exposed to downward trends, and you can see some very big selloffs in a day. 
And there are plenty of reasons why broader sentiment is slipping right now. 
COVID-19, trade concerns with China, extremely high valuations, economic concerns, a contentious election ahead, and uncertainty about where the next dollar will come from in terms of government spending. 
After all, the markets are largely reliant on the Fed and Congress to DO SOMETHING…
DO ANYTHING… 
To help support valuations and keep stocks higher. 
But given that September is historically the worst performing month of the year and that the sixty days before the election are typically volatility times…
Everyone…
And I mean everyone… has their guard raised to the highest level I've seen since 2008.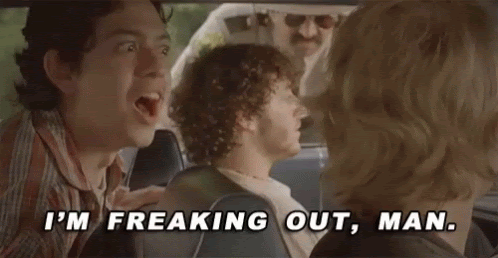 When momentum is negative, I like to avoid making straight up purchases on stocks. 
In fact, negative momentum conditions create a good argument to hold as much cash as possible and wait for the crossover to return. 
That's a conservative approach, but it's the type of strategy that could have avoided catastrophic selloffs back in late 2018 and early March 2020. 
Instead, this is a good period to sell short-term calls, look at the entry positions you want to target with puts, and even consider ETFs that play the downside for the short term. 
I will outline those types of strategies in the future. 
And when we do get a positive crossover once again, I'll let you know right away.