There's no shortage of hype about cannabis stocks. 
It's constant…  
Analysts EVERYWHERE are NOW speculating that America will need to legalize cannabis to get taxes to pay for our recent, massive bailouts. 
Elsewhere, states are lining up ballot initiatives that would make either medicinal or recreational cannabis legal in their areas (or both). 
With all this buzz… naturally, cannabis stocks should be on ABSOLUTE FIRE… right?
Well… this picture shows a lot of investors saw their money go up in smoke since April 2019.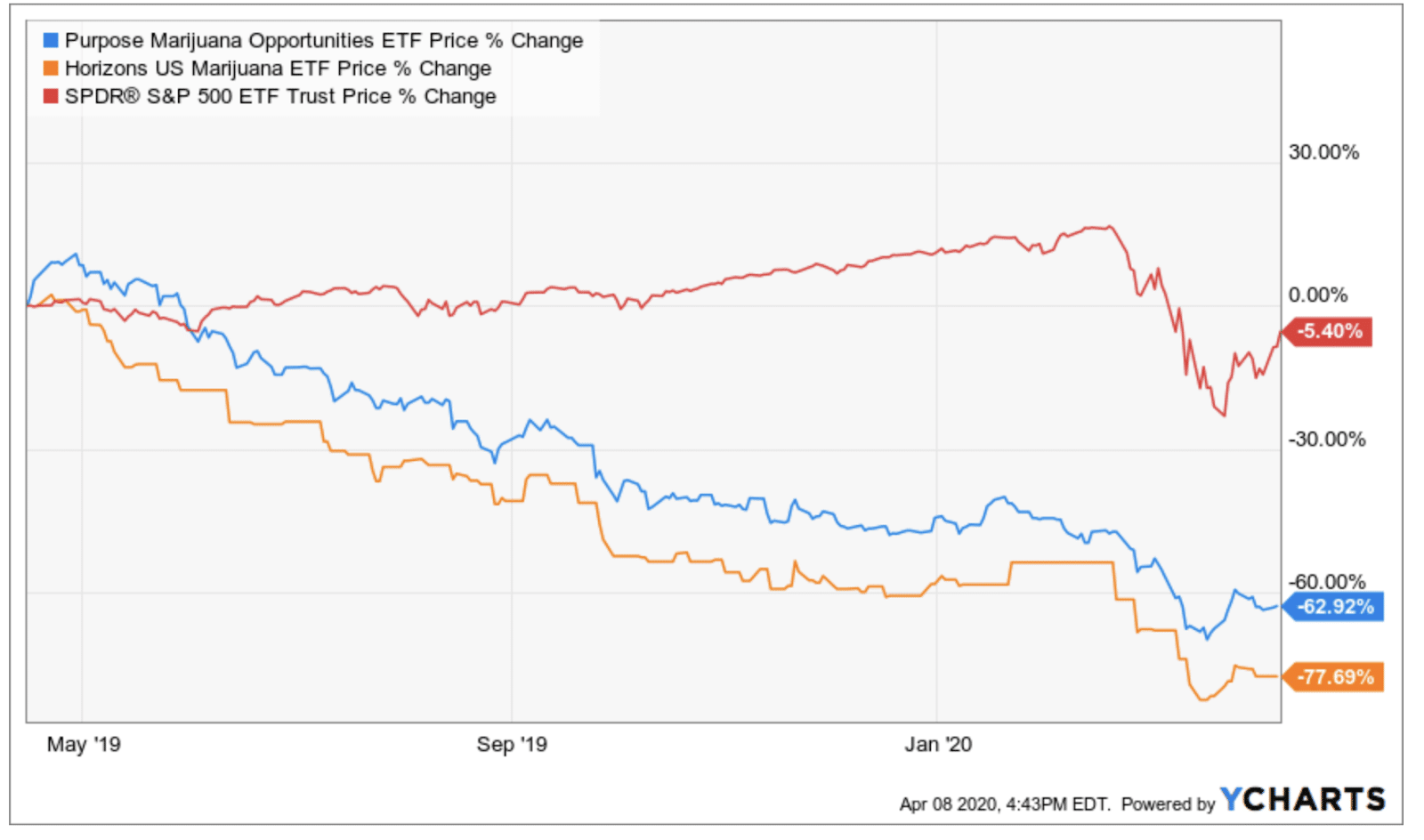 If you'd have invested $10,000 in the Horizons US Marijuana ETF this time last year, your investment would be worth less than $2,300 today. 
That same investment in the Purpose Marijuana Opportunities ETF would be worth about $3,700 today.
Meanwhile, if you owned the SPDR S&P 500 ETF, you'd only be down 5.4%, despite the recent pullback.
Listen, I'm NOT anti-pot stocks. And based on my trading style, I'm not scared to jump into speculative cannabis stocks to play the ebbs and flows of the market over a few days…
I'm just against investing in bad companies – particularly ones that aren't profitable. 
When it comes to going long on unprofitable pot stocks – I'd rather buy a bag of boots instead… 
At least, you can live in the bag if you go broke.
But if you're serious about the long thesis on cannabis stocks… and it is compelling… let me show you the right way to pick a company…
Trading Cannabis
Cannabis has a great thesis. There's a massive legal movement sweeping the country. 
More and more states are moving to legalize it in 2020. Even with restaurants, malls, even some churches shut down due to coronavirus, many states still consider marijuana dispensaries to be "essential businesses."
That's an incredible swing in public perception in less than a decade. 
But there are dozens of cannabis stocks out there, and very few of them are profitable. 
Here's the mistake that people are making with cannabis stocks. 
People think they are JUST BUYING STOCKS FOR THE LONG TERM.
That's the wrong way of thinking. 
In reality, you're BUYING COMPANIES. 
You have to think about it the same way that a private equity manager is thinking about the next billion-dollar acquisition that he or she is making. 
You're looking for firms with strong cash flow that will boost their balance sheet. 
You're looking for companies that will grow and grow and grow and have an economic moat that gives them access to greater market share and competitive advantage. 
And you damn sure want them to be profitable or are trending in that direction at a breakneck pace… 
Otherwise, you're just chasing a really good story that looks like gold but is really just a hunk of iron pyrite.
So, how do we separate the wheat from the chaff… or is it THE FLOWER from the HEMP? 
A simple mathematical formula. 
What To Use When Buying Companies
If you're buying companies, the first thing to look at is something known as an enterprise multiple.
This is a simple ratio known as Enterprise Value to Ebitda. 
The enterprise value of a company measures the entire value of a company. Instead of using market capitalization (the share price versus shares outstanding), we are measuring everything on the balance sheet, including short-term and long-term debt – minus the cash that is available. 
So – enterprise value is market capitalization + total debt – minus cash on hand. 
We take that number and we look at the company's financial performance. 
Rather than looking at annual earnings or net income, we want to look at the firm's EBITDA.
EBITDA is a measure of the firm's Earnings from operations plus its Interest + Taxes + Depreciation + Amortization. 
A positive EBITDA tells us that a company is profitable from an operational standpoint. 
In simple terms, it is selling products and generating more money than their cost of production. 
A negative EBITDA tells is that the firm is facing operational or financial challenges – or they're just very poorly run by management. 
(Again, we aren't interested in the price-to-earnings ratio or the market capitalization. We want to measure everything that the company has on its books and measure it against its financial performance).
The enterprise value divided by EBITDA gives us our enterprise multiple. 
This calculation does a few very important things. 
First, it lets us compare multiple companies' values in the same industry – which we'll do in a moment in cannabis. 
Second, it helps us get a better picture of comparing firms with different levels of debt and leverage.
Third, it is a buyout multiple – a popular metric used by Wall Street to value companies and take them private. 
The lower the multiple, the more attractive that the company may be as a buyout target. 
Below are the EV/EBITDA multiples of 18 of the most widely traded cannabis stocks.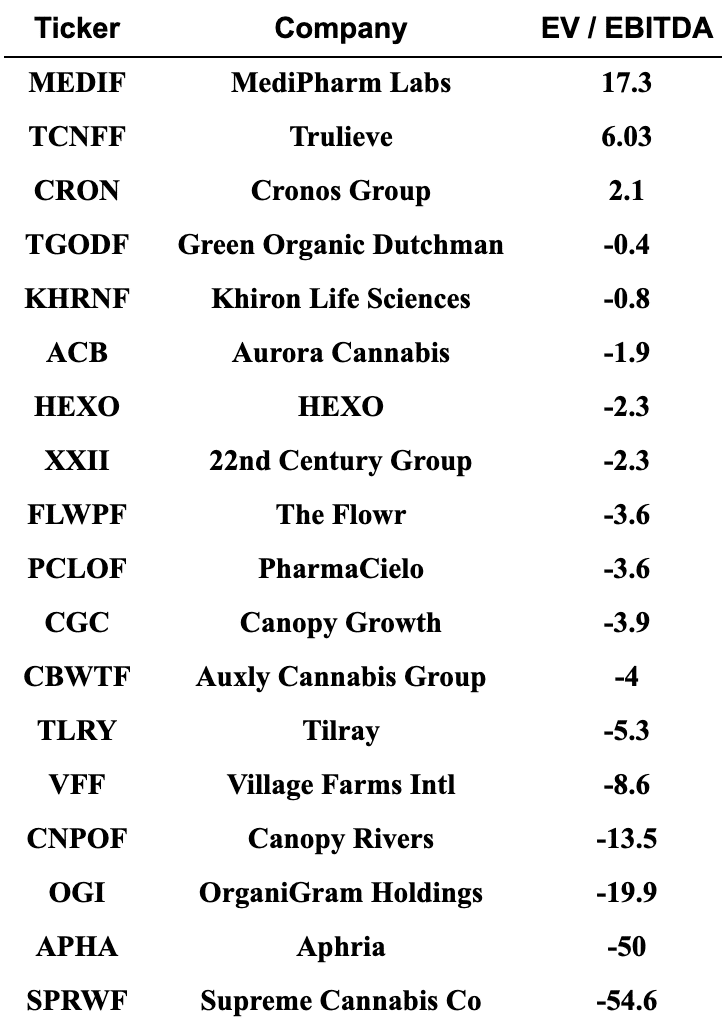 Right away, we see that 15 of the companies are trading with a negative EBITDA, signaling that they are facing serious financial and operational challenges. 
Next, there are just three companies that have EV/EBITDA multiples that are in positive territory. And one of them is Cronos Group (NASDAQ: CRON), a firm that is already 45% owned by Altria Group (NYSE: MO). Because of their ownership, we can assume they won't be on the block any time soon.
So, we move to the next company. 
Given that the median EV/EBITDA for a buyout in 2019 was right around 12.3 times, I am very intrigued by the fact that Trulieve is trading at half that multiple at 6.03 times.
Without knowing anything about Trulieve, I took a look at their performance since last year. 
Remember, the ETFs holding cannabis stocks have bombed over the last year. 
How did Trulieve, which is trading at a very low buyout multiple, perform since last April?
It turns out that Trulieve is the cleanest shirt in the laundry. The profitable company is down sharply over the last year – more than 33%. But its next closest peer is off nearly twice as much.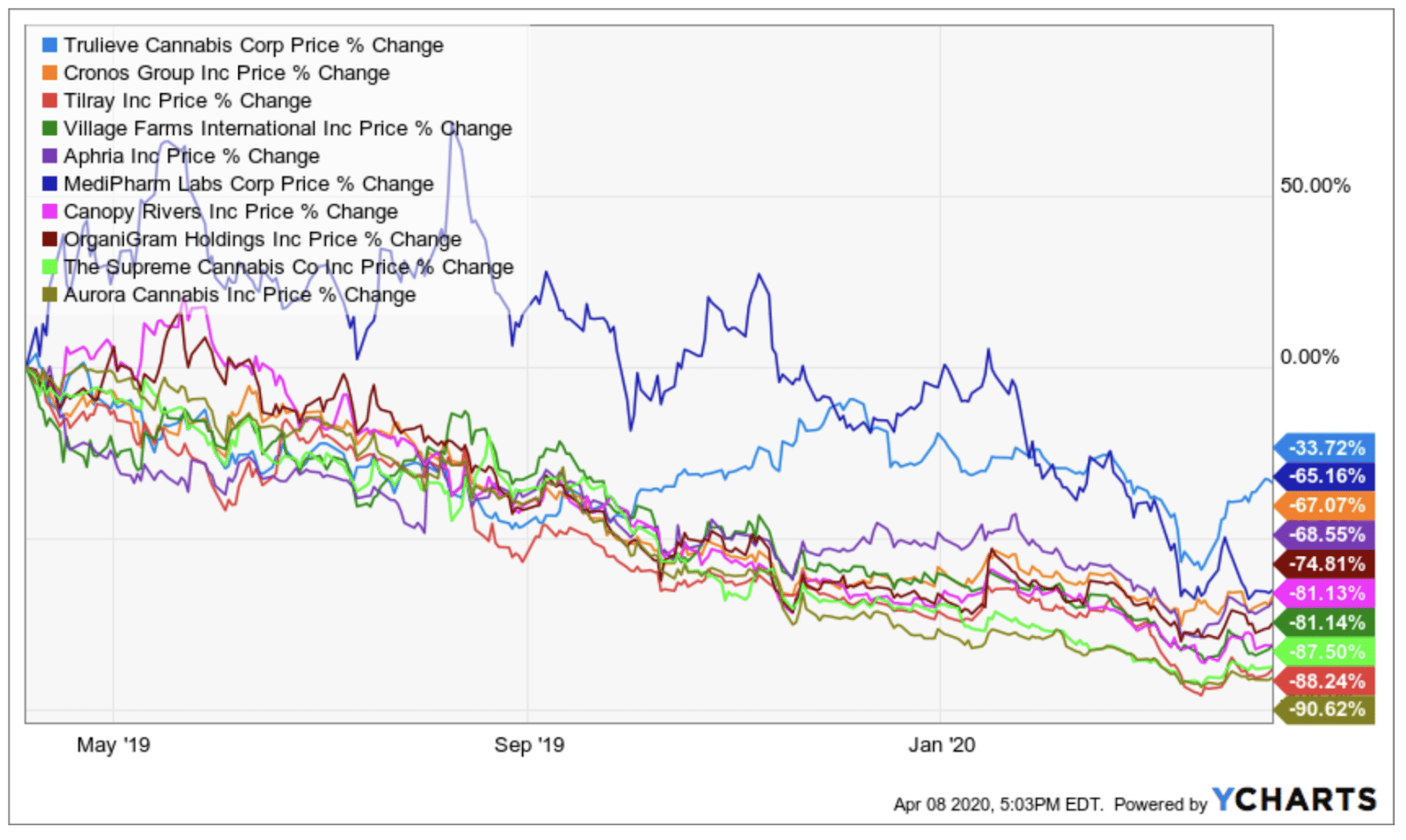 Now I have a question to ask myself after doing this analysis…
Is Trulieve a Bargain?
Here's what intrigues me most about this company. 
We have a company trading at an EV/EBITDA multiple of around 6.03.
We have a company that has struggled due largely to the decline of other firms and sentiment in its space. 
But when we dig into the story, we find a company that is not only an incredible long-term Buy, but also a potential takeover target from a larger player like Altria Group (NYSE: MO) or a private equity shop that wants to get involved in the legal cannabis game.
Here's the story.
Trulieve is a cannabis retailer based in California that is expanding its reach in states like Massachusetts.
However, its core market is Florida. 
This is the state with the oldest demographic in the country, a massive medicinal cannabis market, and a population that is growing by 900 people per day because of an exodus from high-tax states. 
During Fiscal 2019, the company's revenue surged 146%. 
Its earnings per share swelled by 470%. 
A lot of people thought in 2018 that multi-state operators were a threat to Trulieve's dominance in Florida.
They were wrong. Competition imploded. Trulieve absolutely dominated the $1 billion Florida market. 
The company has 50% of the state's market share across 45 dispensaries. To put that into perspective, it generates half the marijuana revenue in Florida with just 19% of the dispensaries in the state.
By the end of February 2020, it had more than 280,000 customers. Over the previous six months, it was adding anywhere from 11,000 to 12,000 new customers a month. It serves 7,300 customers a day. The average person spends $121 per visit, according to its fourth quarter report.
And their customers are loyal. They have a 72% retention rate – and an average annual spend of $3,400.
The company's dispensaries have been so packed during the shutdown in Florida that they're actively encouraging people to call and have their cannabis delivered by a driver. That's because while people were out hoarding eggs, milk, toilet paper, and other necessities, they were also flocking to the dispensary.
It almost feels like they're turning themselves into the brick-and-mortar version of Domino's Pizza (NYSE: DPZ) – maybe they should partner with each other. Trulieve has its own fleet of 200 vehicles delivering cannabis across the state.
Meanwhile, this company is trading at a buyout multiple that is half the average deal in 2019. 
Of course, a lot of buyout firms are steering clear of cannabis because of the current banking laws and Schedule I rules. But the moment that we see legal cannabis in Florida – and then complete legalization on the federal level, I think this stock is going to either surge or become an instant takeover target.
And a larger player looking for regional dominance would likely come in. Even if they don't, the firm is going to continue to grow. It said it will expand its physical presence from 45 dispensaries to 68 this year.
These locations are so profitable, the payback period is a meager two years.
And as an added bonus, Trulieve offers two major paths to growth for investors. 
First, the more profitable it becomes as it grows, the more the EBITDA will expand. 
Second, a company growing at a breakneck pace in a red hot market will command a potential buyout multiple ranging between 15 and 20 times.
That makes the current level it trades at today – under $10 – an absolute bargain for long-term investors who want a piece of the cannabis industry – but not the downside of speculative, unprofitable companies.