Top 5 Best Stock Market Simulators
H ave you ever thought about getting into investing but felt afraid to test your beginner's luck with real money? Or, maybe you're a seasoned investor looking to test drive different trading strategies than you're used to. Whatever your motivation for wanting some no-risk practice with the market, a stock market simulator can help you get it.
Key Takeaways:
A stock market simulator is a tool that allows you to practice trading strategies and platforms without using actual money.
Wall Street Survivor, paperMoney, TradeStation, Ninja Trader, and HowTheMarketWorks are five of the best stock market simulators.
You can use these simulators to learn how to trade, develop your strategies, understand platforms, and get used to the fluctuations in the market.
What Is a Stock Market Simulator?
A stock market simulator is a tool offered by many brokers that not only lets you try your hand at trading without financial risk but also allows you to test their platform.
To do this, some of the best stock simulators give their users a set amount of virtual funds and a specific length of time. Investors then virtually stock trade, or paper trade as some call it, on a platform that closely mirrors that of online brokerages. While most are free, for some simulators, you may need to register an account. These simulations take place over a much shorter time frame than real world investments, making the resource not only useful but convenient. Some brokers even give their stock market simulator's best performers prizes, which could take the form of real cash.
Tangible rewards aside, the experience that comes with using a stock market simulator can prove invaluable, especially when first entering the market, shopping for a brokerage, or switching up your investment strategies. When picking a program, potential investors should ask themselves: 'What is the best stock simulator for me and my needs, and what factors should I consider as I conduct my research?'
To help you answer these questions, we've compiled a list of the top five best stock market simulators. While we're not stockbrokers or advisors and don't make recommendations, this list should serve as a strong foundation when you begin your research.
Top 5 Best Stock Market Simulators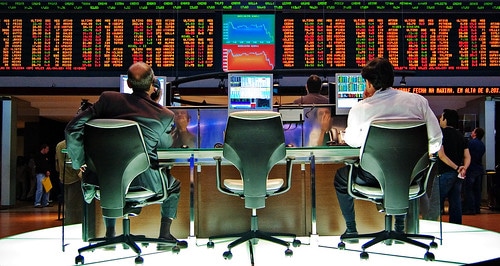 Image via Flickr by rednuht
Here are the five best investment simulators, based on how well they mirror the market, the variety of virtual securities available, and the research and resources they offer investors as well as user reviews:
Wall Street Survivor
Designed with courses and tools geared to educating its users, Wall Street Survivor is one of the best investing simulators for those looking to learn more about the stock market, investing, and general financial planning. In addition, Wall Street Survivor users can compete amongst each other to earn achievements, virtual money to invest, and real-life prizes such as subscriptions, e-books, and at times real cash, making this paper trading platform, dare we say it, fun. Wall Street Survivor releases new videos and articles every day, granting its users infinite mediums through which to build their vocabulary and trading skills.
As investors progress, they can test their understanding of concepts with hundreds of available quizzes developed to help you retain and implement the lessons you learn through the platform. If you're serious about your investment education or interested in making some extra investment money, this stock market simulator is an ideal option.
paperMoney by TD Ameritrade
TD Ameritrade's paper trading program comes free with its investment platform, thinkorswim, and allows its users access to nearly all of the popular platform's tools and resources with none of the financial risk. Called paperMoney, this stock market simulator gives practicing investors $100,000 in virtual money and tools including news streaming, a personalized watchlist, technical charts and studies, and even backtest capabilities. Investors looking to learn more about sophisticated aspects of the market will find virtual margin accounts and the option to practice futures trading and foreign exchange.
Like thinkorswim, paperMoney has proven to be one of the most well-reviewed platforms among both beginner and experienced investors. Those interested in paper trading through paperMoney can register through TD Ameritrade and try the program cost-free for 60 days.
TradeStation
Considered to be one of the most trusted brokerages in the world, TradeStation hosts another of the most competitive paper trading platforms available. Advanced investors interested in practicing with and learning more about alternative market types and strategy automation are sure to find TradeStation's virtual trading platform an invaluable simulator. In addition to the more sophisticated virtual trading options, investors who use TradeStation's simulator also receive the usual research tools and stock charts, a massive market database, and the ability to backtest. Users can even get answers to their market questions and share ideas with fellow traders through community forums.
If you decide to open a brokerage account, you retain the ability to paper trade whenever you want, allowing you to test different approaches to the market. There are also numerous checks to make sure you always know which account you're in, the paper trader or live trading platform.
NinjaTrader
Like TD Ameritrade's paperMoney, NinjaTrader's virtual stock trading platform mirrors its real stock trading platform, making this a great way not only to experience risk-free trading but also to get some exposure to the brokerage before buying in.
Free to its users, NinjaTrader's stock market simulator provides investors with stock charting tools, the choice to place limit orders and stop-losses, and backtesting options to give you the redo the real market won't. As an added bonus, the paper trader comes with the ability to adjust the time period you trade in, creating the opportunity for users to see how they may have fared in historical financial crises such as the dot.com burst or the market crash of 2008.
Those interested simply need to register for an account to start trading.
HowTheMarketWorks
Run by the same parent company as Wall Street Survivor, HowTheMarketWorks is another one of the best free virtual stock trading simulators for investors just starting out. With 8 million monthly page views and up to 50,000 registrations per month, the metrics speak for themselves: You won't want to write this one off. Financial professionals and finance students make up a substantial percentage of the half a million users who take advantage of HowTheMarketWorks's instructional tools and more advanced simulations such as buying and selling exchange-traded funds (ETFs), mutual funds, options, and futures.
As one of the older stock market simulators available, HowTheMarketWorks possesses an immense library of news, charts, quotes, financial statements, and Wall Street analyst ratings, all of which contribute to its users' strong foundational understanding of how the stock market operates. For this reason, HowTheMarketWorks has earned significant popularity among educators. For teachers in the field of investment and finance, this stock simulator offers lesson plans, rubrics, engaging videos, and customizable competitions for private groups. Educators can even create their own investment tournaments with the ability to control aspects including the time frame, starting balances, and commission rates.
HowTheMarketWorks provides eager investors, stock market students, and finance teachers with an impeccably designed educational tool and paper trading arena.
Benefits of Using a Stock Market Simulator
E ach of the paper trading platforms referenced here serves as an invaluable educational finance tool to millions of investors, making these a few of the best stock simulators available.
In addition to a hands-on investment education and a space in which users can safely explore the ins and outs of trading and portfolio-building, users also gain access to vast collections of courses, quizzes, demos, articles, and more. Interested investors can use these virtual stock traders to try their hand at the market, investigate different trading platforms, and exercise new investment strategies such as the often-confusing options trade or the purchase of advanced securities like commodities and futures.
In this way, users gain greater understanding of the mechanics of the platform, investment vehicles, and market, all while sheltered from the real-life consequences of errors like misspelled ticker symbols or incomplete research. Paper traders will also get beneficial experience emotionally distancing themselves from the outcome of their investments, an extremely useful exercise that prepares investors for their inevitable encounter with the very real fluctuations of the market.
For all of these reasons, a stock market simulator can be an incredibly beneficial tool in developing successful investors. Those interested in reaping its benefits can use this list as a basis for their research.