When trading volume dries up, traders look to earnings for insight on where a stock may be headed. In addition, the added volatility from earnings give traders an opportunity to day and swing trade.
However, traders have different views on earnings. Some think it's a bad idea to trade them, because of its volatile nature and the uncertainty surrounding the event. However, other traders love trading earnings because of those very same reasons.
Whatever you decide to do, it's important to get familiar with the key terms.
EPS and Revenue
Now, EPS is defined as the portion of company's profit allocated to each outstanding share of common stock.
Revenue is simply the amount of money that a company receives during a specified period. It includes discounts and deductions for returned merchandise, goods, or services. You can calculate revenue by multiplying the price of which goods or services are sold with the number of units sold.
One thing you must keep in the front of your mind: everything is relative.  An earnings release can be good, bad, or in-line. However, what determines that is expectations.  If a company "surprises" during its earnings release, expect to see crazy volatility in its stock price.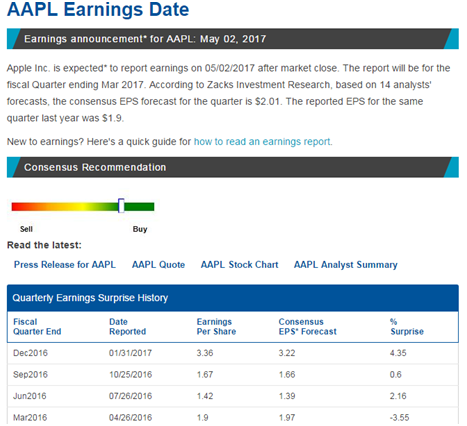 Source: Nasdaq
Now, these earning results are filed with the SEC, in the form of a 10-Q report, for quarterly results, and 10-K for annual results.
They include a company's financial statements, how the company is making money, it's costs, expenses, future challenges and future outlook.  
Two key figures traders watch in these filings are EPS and Revenue. They can be used as indicators to show the quality of a company's performance for a given period.   
Gross Revenue tells us how successful a company is at attracting customers or promoting services.
On the other hand, EPS tells us how effective the company is in managing its operations: what margins are like, it's ability to generate adequate cash flow to service  debt, pay dividends and increase value for shareholders.
Now, an earnings surprise can have a tremendous impact on the underlying stock price. Some institutions will use sophisticated machine reading algorithms to take advantage of an earnings announcement right as it is being made. They more or less react to keywords. That said, there can be a lot of volatility, especially if they are wrong, the stock can quickly reverse from positive to negative in a blink of an eye.
You see, EPS and revenues are not the only things traders care about. They are also interested in what the company has to say about its outlook for the future, which in the industry, the phrase used is "guidance." But not every publicly traded company issues guidance.  Of course, analysts and market participants prefer companies that issue guidance, the more information, the better.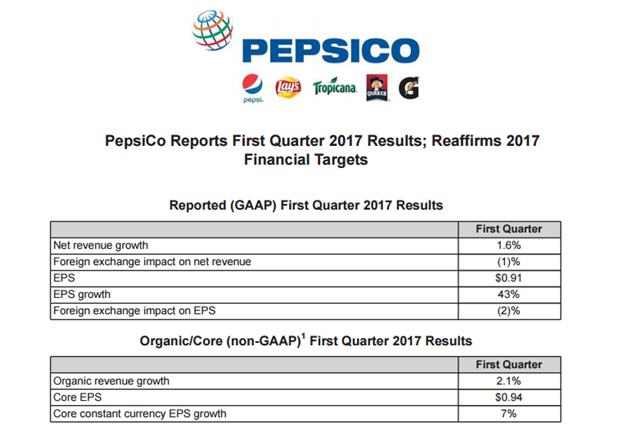 Source: Pepsi Q1 17 EPS
If a company provides guidance,  it might inform the public on its prospective sales, the market environment for its product and services, as well as, the supply and demand chain, and outlook for growth.
Now, it's really tricky, because some metrics are more important to some company's than others.
For example, in April, Twitter announced it's Q1 2017 earnings results, in which it saw a decline in ad revenue of 11 percent year-over-year. Interestingly, this was the first time that figure dropped for the firm.
However, monthly active users grew by 6%, a number that the market felt was more important than revenues. In fact, despite the revenue miss, the stock price actually climbed 8% after its earnings release.
Read up on which metrics are important to the stock you are trading. Sometimes it goes beyond revenues, like the case with Twitter.   
Here is an example of an earnings surprise:
In July of 2016, Infinera Corporation had an earnings surprise of 15%, whereas in February, there was a surprise of 5.26%
However, if you look at the company's chart, you can see the totally opposite reactions.
The difference in stock reaction?
Company guidance.
In its July guidance, the company mentioned that it was expecting a challenging environment due to a slowing demand for its products.
However, in February of 2017, the company suggested that its investments in new products can produce significant returns over time– which was taken positively by Wall Street.

Source: Nasdaq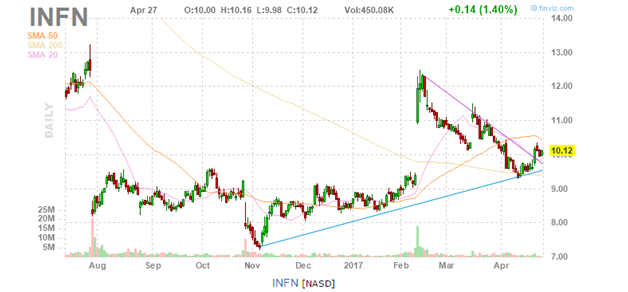 Source: Finviz
And here's another thing.
Sometimes a company will announce EPS and revenues. However, you might have to hop onto the conference call to get the guidance. The conference call is free to attend, and consists of analysts and investors, who ask questions to the company directors about its numbers and outlook.
This is an opportunity for management to potentially spin what appears to be a bad number into something more optimistic. On the other hand, if the management sounds negative, or is unable to answer the tough questions, it might be reflected in the company stock price, as traders are reacting in real-time to the conference call.
Example: McDonald's

McDonald's (MCD) reported its Q1 2017 results on April 25.
It impressed Wall Street by beating both EPS and revenue forecasts: EPS was $1.47 versus $1.33 (expected by Thompson Reuters) estimates; Revenues were $5.68 billion, versus an estimate of $5.53 billion (expected by Thomson Reuters). The stock price rose by more than 5% following the release of those numbers.
Over the years McDonald's has been under social pressure, as more and more Americans have been promoting a health conscious lifestyle. That said, the company experiments with it's menu in attempt to keep up with the changing environment.  Most recently they introduced an all day breakfast menu.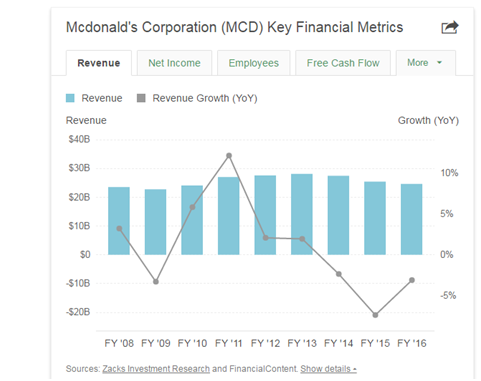 Source: Zacks Investment Research
These adjustments helped increase its same store sales, North America showed growth of up to 1.7% versus decline of -0.8%.
You see, a company may say the right things to gain the approval of Wall Street. However, the earnings release is like the report card. And in this case, McDonald's passed with flying colors.
So where can you find this earnings information?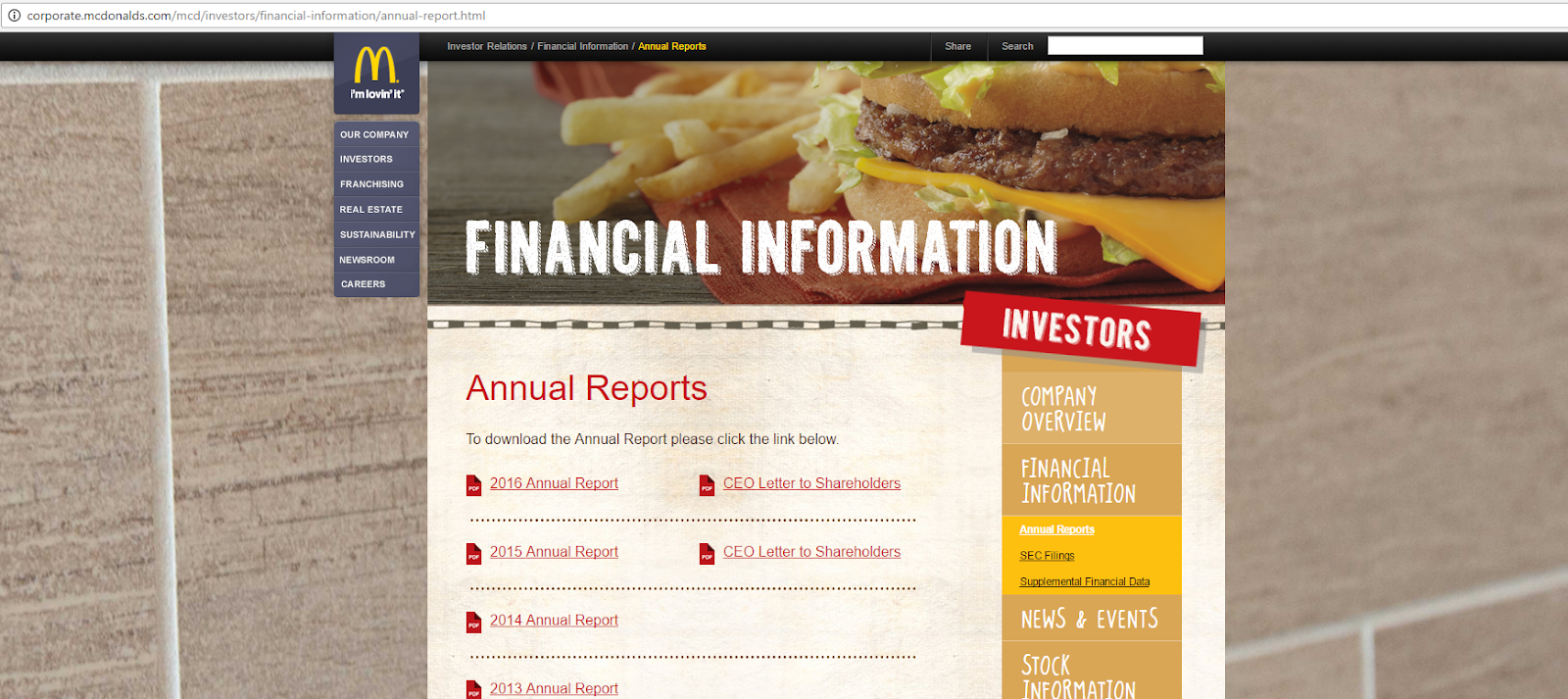 Source: McDonalds
Generally, a company will have a section on its website called investors or investors relation where you can find quarterly and annual reports.
SEC Website
Since these reports are filed to the SEC, you can also find them there. The company issued out an 8-K filing highlighting its earnings results. They can be found on the SEC website, under EDGAR search results.

Source: SEC.gov
Now, those two websites will give us details of the results, but what about the expectations, after all, earnings are all relative.
Well, one place that you can look before an earnings release is Yahoo Finance.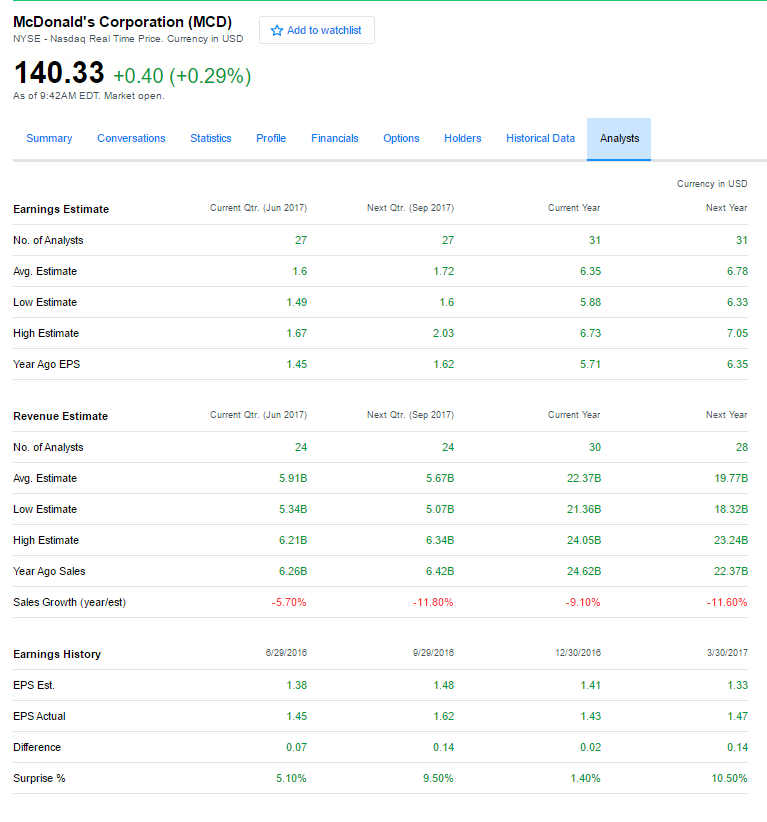 Source: Yahoo Finance
What's also interesting, is that it shows how many analysts are tracking the stock. For example, if Mcdonald's has 30 analysts covering them, it's going to be hard to surprise with so many eyeballs on them.  On the other hand, if a company only has a small handful of analysts covering its stock, the earnings results could be very volatile.
Takeaway:
There are three main components to an earnings release: EPS, revenues, and guidance. However, each individual company is different. A company can beat on EPS and revenues, but see its stock price drop, if guidance is weak.
In addition, the company has a chance at redemption  with  the conference call. It's an opportunity for management to get in front and address any issue that the Street might have.
Now, after an earnings release, investment research firms will update its price targets and ratings on a stock. As a fun game, compare your notes with the analyst and see what you both come up with.
This is a just a "get your feet wet" introduction. Earnings releases can get more complex, especially when a company releases earnings using different accounting methods. But we'll have to save that discussion for another time.
Related Articles: