Markets were back up, as stimulus talks were back on the table.
Today we're talking about Airbnb taking the plunge.

Airbnb is ready for the big leagues. On Tuesday, the home-away-from-home specialist updated its S-1 filing with the SEC…
Airbnb's new filing indicates that it plans to list between $44 and $55 per share. In doing so, it would raise $2.6B, giving the Extended Stay America for millennials a valuation of more than $35B. And they'll make every investor sign the guest book.
The company's last private valuation was $18B. It raised $2B in debt earlier this year as it fought to stay afloat when the human race hunkered down (in their own homes) amid the pandemic. It was forced to cut 25% of its staff, or about 1,900 employees, in May.
Airbnb was supposed to go public earlier this year, but it delayed its IPO until after the election madness passed. We're not quite there yet, but there's no better time than the present.
The bottom line…
Airbnb isn't alone in its quest to go public before the year's done. DoorDash also recently updated its S-1 with the SEC. If your friends all jumped off a bridge, would you do it too, Airbnb? DoorDash is looking for a $32B valuation, up from the $16B it last hit privately in June.
As such, the delivery service will list 33M shares between $75 and $85 a piece. DoorDash, unlike Airbnb, has thrived during the pandemic. It reported $1.9B in revenue in the nine months ended September 30th, up from just $537M during the same nine months the year before. I love the hustle, but we can't all stay home and order delivery forever.
Could this be the greatest turn around story of 2021?
This S&P company is trading under $10, and Kyle Dennis believes it's grossly undervalued.
Arguably one of the most influential celebrities teamed up with this company – it's no wonder why corporate insiders have been gobbling up shares.
Any moment now, Kyle will release his next POTUS Pick LIVE.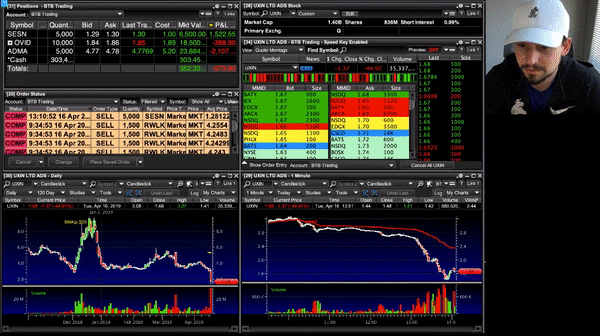 The only way you can discover what it is and watch him trade it is by subscribing to Sniper Report.
The best part: You can gain access at this insanely low price.
So don't waste another second and take advantage of this unique learning opportunity.

Now that the dust has settled from the election, the House and Senate are back on their bullsh*t. A bipartisan group of elected officials put forth a nearly $900B proposal for more 'rona relief.
In case you forgot, Democrats and the GOP have been miles apart on the right amount of stimulus. The $900B is a "compromise" between the House Democrats' $2.4T bill and Senate Republicans' most recent $650B proposal.
But not all hope is lost on getting a deal done. Nancy Pelosi and Steven Mnuchin held their first phone conversation since the election to discuss getting a relief deal done. While they didn't bring POTUS in for the menage a trois, Mnuchin said he circulated a bill that he believes President Trump would want to sign before leaving office.
Adapt and overcome
"HMU on BBM" – you, circa 2007
BlackBerry's stock price surged as much as 65% yesterday after it announced a multiyear agreement with Amazon Web Services to develop its "Intelligent Vehicle Data Platform," called IVY. $BB closed up 19% at $7.00.
IVY is a software platform that will let automakers read vehicle sensor data using, you guessed it, the cloud. And that is how you pivot. Take notes, Kodak.
After Apple and Samsung took over the cell phone industry the Crackberry maker pivoted to a software and security company. A partnership with Amazon, and the support of its cloud services bodes well for future growth.
A big commitment
Jeffery Commerce? More like Jeffery Dealz…
Partnering with BB wasn't the only item on Amazon's agenda yesterday. The tech giant also announced that it is joining forces with Apple to make Apple computers available through Amazon Web Services. This means that developers will be able to make and fully test apps remotely, rather than on their own Macs.
Amazon is installing Macs (the new Mac Mini to be precise) in its own data centers so that developers can access them through the cloud.
Amazon's stock price jumped 1.64% and Apple rose 3.08% on the day.
A tale of two shoppers
So far, the holiday shopping season has been about what you'd expect for 2020… strange.
The National Retail Federation reported that spending was way down for the five-day period that included Black Friday and Cyber Monday. As you can imagine, in-store shopping dropped significantly (nearly 37% from Black Friday last year). The drop was so large that a record-setting $10.8B spent on Cyber Monday couldn't close the gap.
Shoppers spent an average of $312 on holiday-related purchases, down 14% from last year. Still, the NRF predicts total holiday sales will rise between 3.6% and 5.2% from a year ago.