"Some faces are just more punchable than others … it's science."
– Jason, discussing Adam Neumann with Jeff
Markets were mixed on Friday as all the major indices closed out a third consecutive week of gainz. Of course, oil spiking was the HUGE story over the weekend after attacks left Saudi oil production sites ablaze.
Today we're covering the latest on WeWork's IPO.
Keep raging,
Jeff & Jason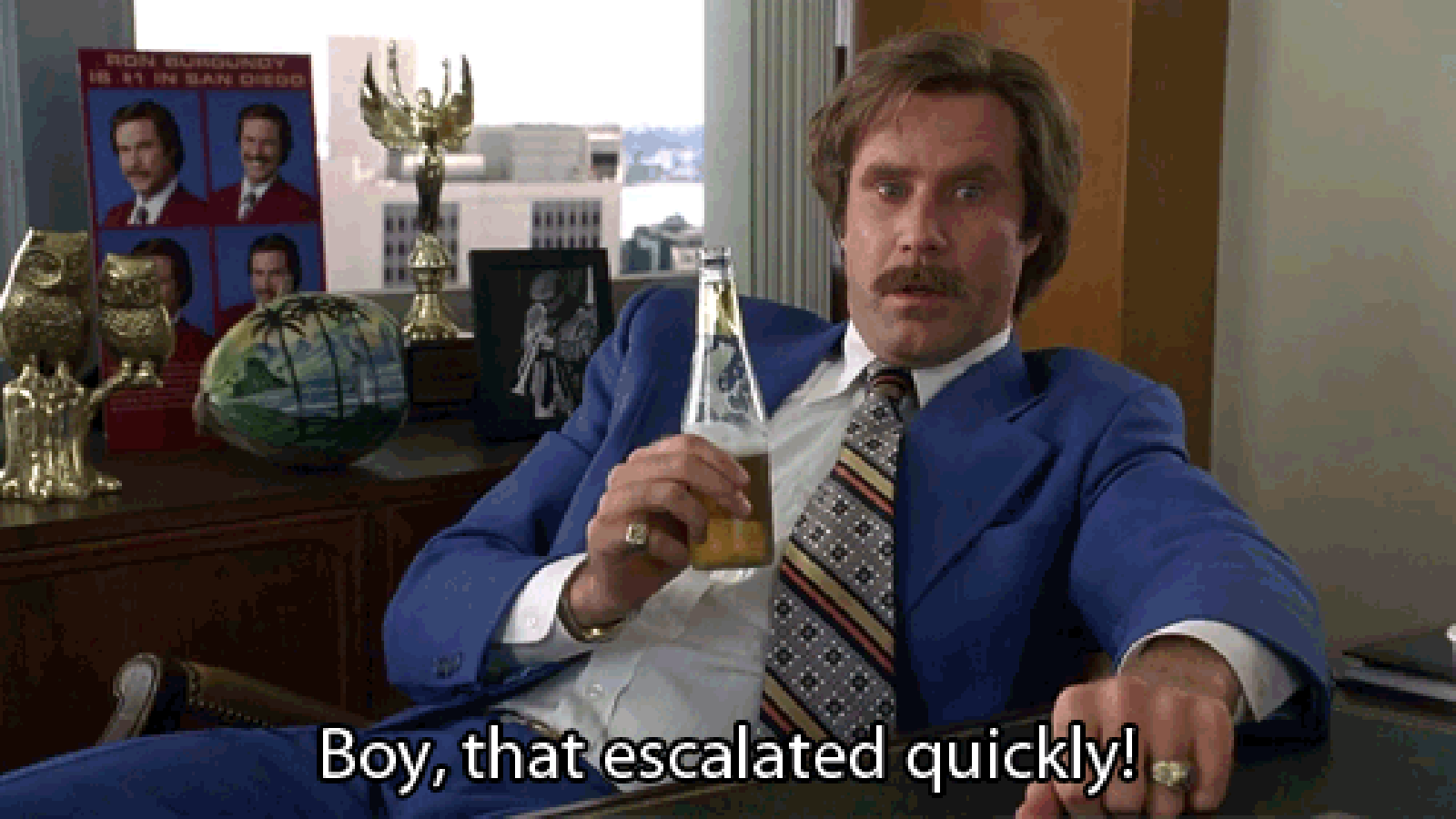 The We Co. had itself a week (… and I mean that in the worst way possible) culminating in its selection of Nasdaq to list the company. 
The office-space rental and real estate company was expected to be an IPO darling this year, but similar to the likes of Uber, Lyft, Slack, and most recently, Smile Direct Club, sh*t has hit the fan. How bad is it? We's valuation is expected to drop from $47B closer to the $15B to $20B range.
Along with its Nasdaq listing, it officially announced through an S-1 filing with the SEC that it would calm investors' concerns by limiting CEO Adam Neumann's control over the future of the company. Given his history of being more sketchy than Travis Kalanick, this is probably not a bad idea. 
Let's break this down, shall we?
First and foremost, We committed to hiring an independent governance director and adding another director within a year. The preferred workspace of the next Elizabeth Holmes will also allow its board to choose Neumann's successor, not its succession team… which included Neumann's wife. SMH.
The new documentation also reduces the CEOs voting rights from 20 votes per share to 10, and drops to 1 vote if he becomes incapacitated or dies. Because, of course, Adam Neumann will be able to make our lives miserable from beyond the grave…
Can't teach an old dog new tricks
Apparently Masa Son is the guy who goes for it in Madden on 4th and 36.
You may remember that Japan's SoftBank has already thrown Scrooge McDuck amount's of cash at We. And despite the litany of bad news, Masa is ride or die. SoftBank announced it would purchase up to $750M worth of shares via the public offering in hopes of buoying investor sentiment.
The bottom line…
We Company is forging ahead with its IPO despite tepid interest from investors. The company hopes that the restrictions on the CEO's power and other governance measures will get investors back on board. Unfortunately, none of these changes address the company being unprofitable…
Bottom line: "Adam Neumann makes Travis Kalanick look like a straight shooter." – Jeff

Every day you'll have a chance to open the kimono on one of our live strategies.
The target: FB (Facebook)
The plan of attack: "For the Facebook trade I've been filled selling -100 FB sep 20 $187.50 Put at $2.53 and buying +100 $185 Put at $1.53. This is a $2.50 wide spread of which I collected $1 premium. If FB is above $187.50 next Friday I make $10,000. I'm risking $15,000 then to make this trade. FB is a really strong company but the price action has been lagging a little lately, I think it's due to pop soon and that'd put this well OTM." – Jason "'The Social Network' Was Overrated" Bond via his Weekly Windfalls Strategy on Friday, September 13th
Intel:
⚠️ Facebook may be the only company more f*cked than The We Co. But there's one major difference between Mark Zuckerberg's social media platform and Adam Neumann's real estate play: the 'book still prints money.
Just last week the EU more or less killed FB's planned crypto, Libra and the NY State AG announced a massive, multi-state antitrust investigation into the social media giant. For most companies, this would spell disaster… but not Facebook. In fact, the stock appears to be marching towards its all-time high again. Thanks, Facebook Dating?
Let's get this bread, chupacabras!
Check out my Weekly Windfalls Strategy right now.

☑️ Drone strikes shut down half of Saudi Arabia's oil production on Saturday. Houthi rebels based in Yemen took credit for the attacks. Saudi Arabia confirmed that it had shut down production operations amounting to a loss of more than 5.7B barrels per day, or around 5% of the world's crude oil production. 
☑️ Now walk it out. The United Auto Workers union called for a strike at GM US factories, demanding that the Detroit car company reopen idle plants that were closed last fall and increase its wages and benefits for rank-and-file members. B-Rabbit and the boys voted yesterday morning to authorize the nationwide walkout, instructing 46k workers at 31 plants to either walk off the job or stay home, which would cost the auto-maker a lot of dough considering a plant shutdown equated to a $1.3M loss… per hour.
☑️ Trendsetters. 5 months after hinting that it might be in for a shakeup, J Crew made it official, announcing that it will spin off its Madewell Denim company into a separate public company. The number of shares to be offered or price range for the IPO has not been determined. Chinos Holdings, the parent company of J Crew, will be renamed 'Madewell Group' before the IPO, and use proceeds to pay down debt.
☑️ In a move that should surprise absolutely no-one, MoviePass announced Friday that it was shutting down the service for good on September 14th due to its unsuccessful efforts to recapitalize the movie subscription service. The stock, which was already trading at fractions of a penny, dropped over 80% on the day, ending at 0.0018 (buy the f*cking dip). Parent company Helios and Matheson Analytics have several options to consider, such as the sale of the entire company, selling off its assets (such as MoviePass or Moviefone), reorganizing the company, or just saying f*ck it and calling it quits altogether. 
☑️ Arrowgrass Capital Partners, a hedge fund founded by former Deutsche Bank traders, plans to shut its doors after investors requested a withdrawal of $1B from its fund. Like father, like son, amirite? Arrowgrass's assets were dwindling ahead of the announcement, having been cut in half from the $6.4B managed in 2017. This is the latest pullback in the hedge fund world, as more hedge funds have closed than started in each of the past three years, due largely to the lack of performance which does not justify their higher costs.
Related Articles: