"Hear that? It's Thomas Edison rolling over in his grave."
– Jason, following the latest news coming out of GE
Markets had a lackluster day. Not a whole lot happened… but that gave investors time to think. Fears of more fruitless trade talks sent markets into the red.
Today we're diving deep on the latest out of GE.


Last we checked on General Electric, the company was cutting its dividend and looking for ways to sell off enough of its lines of business in order to stay afloat. Basically, it was pulling a WeWork.
In a move that would make even Gordon Gekko cringe, GE has announced that it is freezing its pension plan for 20k US workers as the company continues to look for ways to pay off its debt. On top of the freeze, the company is offering to buy out 100k former employees from their current pensions. Kiss Del Boca Vista goodbye.
In fairness to GE, the company is one of the last manufacturing conglomerates around to even offer a pension program (though entry has been closed since 2012). The gesture helped recruit talent in the past but has caused headaches of late.
Getting liquid
GE is on the hook for pension and post-employment benefits programs that were underfunded by $27B last year. Freezing the plan doesn't release the company from any of its current obligations. It does, however, stop the bleeding and will allow GE to cut its pension deficit by as much as $8B this year. I wonder if Jack Welch practiced saying "not my problem" in his mirror during his tenure as CEO?
The bottom line…
The employees themselves will be allowed to roll their pensions into GE's 401k plan going forward. Meanwhile, the company's main focus is to pay off its debt through cost-cutting measures. Some analysts see the pension move as a precursor to more job cuts. 
Bottom line: "Why you gotta do Thomas Edison like this, guys?"

Don't say we didn't warn you…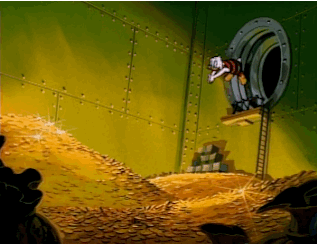 WARNING: diving headfirst into a pool full of trading profits (which you've inexplicably converted into gold coins) may result in severe injury or death.
And now that you know the perils of "f*ck you" money, let's figure out how to make it, shall we?
Tonight, I'm hosting a webinar featuring my friend Davis Martin, one of the best premarket traders in the game. And he's going to share his secrets to early bird profits and how other traders have already been cashing in on his Daily Deposits strategy.
It's totally free to tune in and you might (read: you will) learn a thing or two about raking in profits before most people even wake up.
Will we see you tonight? Sign up for free now.

☑️ Taking a breather. Israeli pot company, Breath of Life, has postponed its IPO on the Toronto Stock Exchange, citing subpar market conditions… also, Phish is playing that night. The cannabis company was originally looking to raise $113M via its public offering, at a range of C$27 to C$32 a share, but is sitting on the sidelines until market conditions improve. The marijuana market has been bearish since the spring due to regulatory issues, disappointing earnings, and vaping concerns.
☑️ HSBC, which announced 4.7k job cuts in August, plans to cut up to 10k more employees, bringing the total headcount down to roughly 238k. Interim CEO Noel Quinn, who just took over in August,  is looking to control costs while the bank deals with trade war and Brexit headwinds. This is far from the first bank to "tighten the belt" and "make tough decisions" this year, as Deutsche (lol), Barclays, and Citigroup have trimmed more than 60k worker bees combined.
☑️ Comcast's NBCUniversal appointed a new boss to head its streaming service Peacock. As a part of the television-production restructuring efforts, Bonnie Hammer will be named chair(wo)man of the NBCUniversal Content Studios, overseeing its new streaming service and all content for NBCU outlets. Current EVP of Xfinity Services, Matt Strauss, will become chairman of Peacock, which will make its debut next April. Both Mr. Strauss and Ms. Hammer were seen confidently strutting around the office after the announcements. 
☑️ Farmers rejoice (though, I doubt you're reading this), as China is buying soybeans again. Chinese buyers bought more than 1.5M metric tons of US soybeans last week, which is the biggest purchase of those soiboiz in over a year. In August, China bought nearly $1B worth, which was the most since January 2018, but nowhere near the peak levels of 2017 when China purchased $15B in the year. Hmmm, wonder what happened? Agricultural purchases are a good barometer of how the trade talks are going, and while there is not a deal in place, there's at least money changing hands. So we've got that going for us.
Related Articles: