"Yeah, that's gonna be a no from me, dawg." – GM CEO Mary Barra to Nikola
Markets fell yesterday… but November was still a huge month. The Dow had its biggest monthly gain since 1987.
Today we're discussing GM's change of heart.
Keep raging,
Jeff & Jason


GM pulls out
The pullout game is strong with this one…
GM has decided to "scale back" its pending contract (a decision needed to be made by Wednesday of this week) with Nikola.
And by "scaled back" we mean General Motrors will no longer take an equity stake in the company (read: inject nearly $2B into the pre-revenue carmaker) and won't produce Nikola's Badger (a pickup that NKLA said would only be made if a production partner was found).
But have no fear, suckers people who care about "a zero emission future," Nikola promises to reimburse deposits that customers made for the truck.
On the news the stock plummeted nearly 25%. You might remember that $NKLA was one of the man EV makers to go public via SPAC this year.
What went wrong?
What didn't go wrong is the real question?
Once one of the most promising EV startups in the US, Nikola has become a laughingstock.
Undoubtedly the biggest catalyst behind General Motor's decision was a scathing report dropped by short seller Hindenburg Research that, among other things, accused $NKLA of never having made a working prototype.
It probably didn't help that outspoken (and pretty big douche, tbh) CEO Trevor Milton resigned soon after the report.
The bottom line…
And you thought your Thanksgiving hangover was bad…
This was not a great way to start the week for Nikola… especially considering another big deadline approaching.
Today roughly 160M shares owned by insiders (including the CEO) will exit their lockup period and be eligible for sale. Keep in mind there are only about 360M total shares outstanding…
Can you say "perfect storm?"

Important Message From Kyle Dennis
While some companies were forced into bankruptcy, the financially-sound companies were able to weather the storm.
When most traders think about sectors that are set to emerge from the ashes, they automatically think about travel, leisure, casino, REITs, restaurants, and hotels.
That means they'll miss out on what could be the #1 turnaround story.
Right now, there's a stock in the consumer defensive sector trading under $10.
It's grossly undervalued, and I genuinely believe the stock can double very soon.
It's teamed up with arguably one of the most influential celebrities in the game…
And that's why I want to BUY this company hand over fist.
You can watch me trade it live…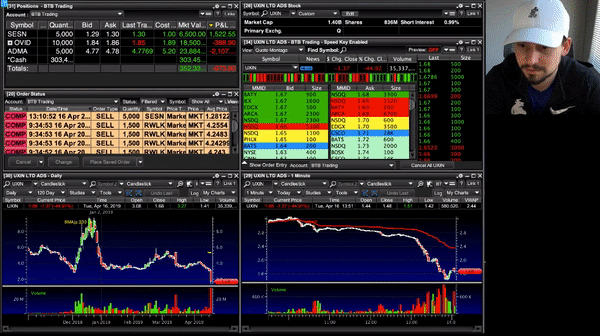 If you join in on the action and learn how to trade "longer-term" catalyst events from me.
The best part: You can gain access at this insanely low price.
Keep in mind, I can release this play any moment now…
So don't waste another second and take advantage of this unique learning opportunity.

Markit down
S&P Global (not to be confused with the S&P 500) is still hungry after Thanksgiving. The financial information company is buying IHS Markit for $44B in an all stock deal, making it the largest M&A activity this year.
Investors like the move for both companies as it brings together two of the larger Wall Street data providers.
Know your Kustomer
S&P isn't the only company getting its Cyber Monday on. Facebook is spending just over $1B for a customer-service platform that uses chatbots to help companies manage their customer interactions.
The 'book said it that customers message businesses 175M times per day, globally, using WhatsApp's messaging service to ask questions. Kustomer's technology will allow businesses to respond and interact on one screen, more easily.
The tech should integrate nicely with Facebook's Shops, which rolled out in May and allows businesses to create online store across Facebook and Instagram.
Upping the order
DoorDash made a filing with the SEC two weeks ago indicating that it planned to IPO. And now the meal delivery company is letting us know what's on the menu (spoiler: it's profits).
DoorDash announced that it is looking to raise up to $2.8B in its IPO as it will issue 33M shares priced between $75 to $85 per share, which values the company at $32B. That's double the $16B valuation it had in June.
Things have been going well in the food-delivery industry compliments of 'rona boi, and DoorDash rules the market with a 49% share. It reported $1.9B for the three quarters ended September 30th, up from $587M for the same period last year.
Flattening the curve
It appears Zoom's meteoric rise may be coming to an end. The company grew revenue by 367% on an annualized basis during the most recent quarter. The problem? Its growth rate is expected to slow.
Last quarter, revenues grew 355%, and 169% the quarter before that. The real killer, though, is that the preferred communication method of Jeffrey Toobin is forecasting revenue to grow just 325% vs. Q4 last year. As a result, Zoom's shares dropped 5%.
Zoom noted that it had 433.7k customers and is seeing major growth abroad. Overall, the company is up 591% on the year.
*Results presented are not typical and may vary from person to person. Please see our full disclaimer here: ragingbull.com/disclaimer